Things to do in London today
The day's best events, all in one place – it's your social emergency saviour for things to do today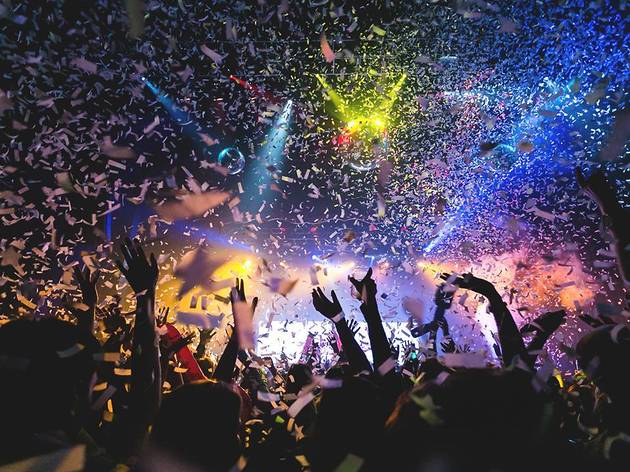 1
No, not 'Jeremy Kyle: The Musical'. Transferring from cult success at the Edinburgh Fringe is 'Shit-Faced Shakespeare', an anarchic adaptation of the Bard's 'A Midsummer Night's Dream' where one member of the cast gets tanked up before curtains up.
Read more
3
A big, bold new summer pop-up hits Brixton for 14 weekends of daytime parties on a rooftop beach. Miami circa 1982 is the inspiration and cocktails, DJs, retro film screenings, food stalls and live sports broadcasts are all on the cards, so slick back that hair, pull on a white tuxedo and hope for some suitably tropical weather.
Read more
4
Bag yourself a juicy discount at over 700 London restaurants celebrating National Burger Day this year. Patty lovers can sign up for the deal then dine at places like Honest Burger, Byron, Honest Burger and Patty & Bun for cheap. On top of that, Mr Hyde will be hosting a party at Hawker House for 3,000 of their readers.
Read more
This portrait of a fictional dictator as a 10-year-old boy is creepy as hell
Read more
Just when you thought it was safe to back into the cinema... It's Blake Lively vs shark in this riveting thriller
Read more
King of indie sadism Todd Solondz returns with a seriously non-heartwarming shaggy dog story
Read more
Don't expect it to make sense, and this punky, colourful supervillain flick is great fun
Read more
Pixar's long-awaited sequel to their beloved underwater adventure is lots of family fun
Read more
Show more
Find more films showing in London today
Explore more things to do this month
Welcome to our guide to the biggest and best happenings in London over the next few months.
Read more