Time Out Card
Make the most of London…for less
Questions?
10% off Thames Clippers services
Applies to single tickets, excluding the River Bus Express.
20% off River Roamer Tickets
Applies to Adult, Child and Family Tickets.
Free drink on board River Bus Express
On the journey to the O2. Applies to beer, wine or soft drink. One free drink per Card.
15% off on-board Costa Coffee Bars
Applies to Costa Coffee Bars on all Thames Clippers.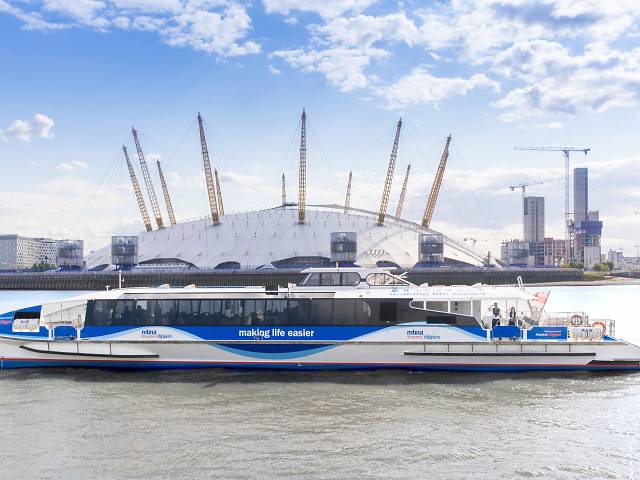 Please check offer for booking requirements
Find more great offers
Showing
1-50

of

791

results
Sort by:
The Alternative London Tour

Old Spitalfields Market

Walking tours

Spitalfields

Brushfield Street, Spitalfields

London

E1 6AA

07899 686 235

25 % off Street Art Tour and Workshop

Bookings can be made online here.

King Charles III

Almeida Theatre

West End

Islington

Almeida Street

Islington

London

N1 1TA

Online booking essential

10% off our normal price

Your discount will be provided on checkout. Booking essential. Click here to book

Offer expires 29 November 2014.

Matilda the Musical

Cambridge Theatre

Leicester Square

Earlham St

London

WC2H 9HU

0870 830 0200

Online booking essential

10% off our normal price

Your discount will be provided on checkout. Booking essential. Click here to book

Offer expires 21 December 2014.

Tate Modern

Galleries

Bankside

Bankside

London

SE1 9TG

020 7887 8888

Online booking essential

Tate Tour for Two with Afternoon Tea

Save 25% or more. Click here to book

The Curious Incident of the Dog in the Night-Time

Gielgud Theatre

Drama

Chinatown

Shaftesbury Avenue

London

W1D 6AR

0870 830 0200

10% off our normal price

Your discount will be provided on checkout. Booking essential. Click here to book

Offer expires 14 February 2015.

Online booking essential

10% off our normal price

Your discount will be provided on checkout. Booking essential. Click here to book

Offer expires 14 February 2015.

Charlie and the Chocolate Factory

Theatre Royal Drury Lane

Aldwych

Catherine St

London

WC2B 5JF

020 7492 9930

Online booking essential

10% off our normal price

Your discount will be provided on checkout. Booking essential. Click here to book

Offer expires 1 November 2014.

Billy Elliot the Musical

Victoria Palace Theatre

Victoria

126 Victoria Street

London

SW1E 5EA

020 7907 7071

Online booking essential

10% off our normal price

Your discount will be provided on checkout. Booking essential. Click here to book

Offer expires 16 May 2015.

Museum of London

Museums

Barbican

150 London Wall

London

EC2Y 5HN

020 7001 9844

25% off exhibition entry

Applies to adult admission. Cannot be used in conjunction with any other offer. Subject to availability. Does not apply to pre-booked tickets. One discount per Time Out Card, please present your card upon arrival.

War Horse

New London Theatre

West End

Covent Garden

Drury Lane

London

WC2B 5PQ

0844 412 2708

Online booking essential

10% off our normal price

Your discount will be provided on checkout. Booking essential. Click here to book

Offer expires 25 October 2014.

Wicked

Apollo Victoria

Victoria

Wilton Rd

London

SW1V 1LG

020 7492 9930

Online booking essential

10% off our normal price

Your discount will be provided on checkout. Booking essential.Click here to book

Offer expires 1 November 2014.

Houses of Parliament

Westminster

Palace of Westminster

London

SW1A 0AA

0844 847 1672

Booking essential

Online booking essential

20% off audio tours

Booking essential, please click here to book. Valid on full adult admission price and not in conjunction with any other offer.

Offer expires 31 March 2015.

Booking Office

Euston

St Pancras Renaissance Hotel

Euston Road

London

NW1 2AR

020 7841 3540

20% off total bill

Please note this offer is valid from 9:30pm onwards.

2-4 People
21:30 - 00:00
MTWTFSS

Gail's Kitchen

Bloomsbury

11-13 Bayley Street

London

WC1B 3HD

020 7323 9694

Free glass of wine or beer with dinner

Offer applies to house wine and beer. Valid for parties of 2 or more.

2+ People
12:00 - 22:00
MTWTFSS

Tower of London

Things to do

Tower Bridge

Tower Hill

London

EC3N 4AB

Visit Tower of London with Thames Cruise - save 25% or more

This offer is valid for 2 people. Click here to book

Loft

Clapham

67 Clapham High Street

London

SW4 7TG

020 7627 0792

Booking essential

50% off food

50% off food. Booking essential, please quote your Time Out Card. Offer not valid on bank holidays and Special occasions.

The View from the Shard

Towers and viewpoints

Southwark

Joiner St

London

SE1 9QU

0844 499 7111

Free 'The View from The Shard' Print

Applies when purchasing tickets. Please show Time Out Card on arrival.

Booking essential

10% off tickets to Silent Disco, exclusive to Time Out

Tickets cost £31.50 (usually £35). Choose from 4 dates. You must book online HERE. Tickets are limited to 26 per disco and subject to availability.

Les Miserables

Queen's Theatre

Chinatown

Shaftesbury Avenue

London

W1D 6BA

0844 544 3830

Online booking essential

10% off our normal price

Your discount will be provided on checkout. Booking essential. Click here to book

Offer expires 25 October 2014.

Club De Fromage

O2 Academy 2 Islington

Pop and rock

Islington

16 Parkfield St

(in the N1 Centre)

London

N1 0PS

£5 entry before 11:30pm

Applies to door sales only. Please present your Time Out Card on arrival.

Crazy Bear

Fitzrovia

26-28 Whitfield Street

London

W1T 2RG

020 7631 0088

Online booking essential

Dim Sum Afternoon Tea and Cocktails for Two-save 25% or more

Obika Mozzarella Bar - Charlotte Street

Fitzrovia

11-13 Charlotte Street

Fitzrovia

London

W1T 1RH

0207 637 7153

Booking essential

Complimentary glass of Prosecco or Wine

A minimum of two courses per person must be ordered. Booking essential, please quote 'Time Out Card'.

Shakespeare's Globe

Bankside

New Globe Walk

Bankside

London

SE1 9DT

Online booking essential

Tour of Shakespeare's Globe Theatre for Two-save 25% or more

Made in Brasil

Camden

12 Inverness Street

London

NW1 7HJ

020 7482 0777

2 for 1 on food

Booking essential, please quote Time Out Card. Applies to main courses. Cheapest meal is free. Cannot be used in conjunction with any other offer.

Happy Hour cocktails Monday to Friday 12pm - 8pm

Cannot be used in conjunction with any other offer. Applies to: flavoured caipirinhas £4.25, glasses of house wine and selected beers £2.85.

Pall Mall Fine Wine

St James's

6/7/8 Royal Opera Arcade Royal Opera Arcade

London

SW1Y 4UY

02073212529

Market House

Nightlife

Brixton

443 Coldharbour Lane

London

SW9 8LN

020 7095 9443

Booking essential

2 for 1 on food

Booking essential, please quote Time Out Card. Excludes Bank Holidays.

The Phantom of the Opera

Her Majesty's Theatre

St James's

57 Haymarket

London

SW1Y 4QL

0844 482 9672

Online booking essential

10% off our normal price

Your discount will be provided on checkout. Booking essential. Click here to book

Offer expires 25 October 2014.

Cinnamon Soho

Soho

5 Kingly Street

London

W1B 5PF

020 7437 1664

£10 for a cocktail and 10 balls

Cannot be used in conjunction with any other offer.

Jersey Boys

Piccadilly Theatre

Soho

4 Denman Street

London

W1D 7DY

0844 871 7618

Online booking essential

10% off our normal price

Your discount will be provided on checkout. Booking essential. Click here to book

Offer expires 26 October 2014.

The Scottsboro Boys

Garrick Theatre

Leicester Square

2 Charing Cross Road

London

WC2H 0HH

Online booking essential

10% off our normal price

Your discount will be provided on checkout. Booking essential. Click here to book

Offer expires 21 February 2015.

Kew Gardens

Parks and gardens

Kew, Surrey

London

TW9 3AB

020 8332 5655

Online booking essential

Visit to Kew Gardens and Palace for Two -save 25% or more

This offer also includes Afternoon Tea. Online booking is essential. Click here to book

The London Dungeon

Waterloo

Westminster Bridge Rd

London

SE1 7PB

Booking essential

Save 25%

Adult £18.44, Child £14.40. Not valid in conjunction with other offers. Booking 24 hours in advance essential. Call 0871 222 4001, quote 2014 THRILL and bring your Card on the day. Subject to availability. Please select More Details for opening times.

Offer expires 31 December 2014.

Battersea Park Children's Zoo

Zoos and aquariums

London

Battersea Park

London

SW11 4NJ

020 7924 5826

Buy one Adult ticket and get a Child's ticket free

One child admitted free with every full-paying adult. Please present your Time Out Card on arrival. Excludes 25th - 26th December.

Miss Saigon

Prince Edward Theatre

Leicester Square

28 Old Compton St

W1D 4HS

0844 482 5155

Online booking essential

10% off our normal price

Your discount will be provided on checkout. Booking essential. Click here to book

Offer expires 25 October 2014.

214 Bermondsey

London Bridge

214 Bermondsey Street

London

SE1 3TQ

020 7403 6875

£24 for Gin Tasting Experience

Usual price £27 - £42. Includes a Gin and Tonic tasting flight of your choice (a little game of who's who with three Gin and Tonics and an envelope that reveals all!) Followed by 2 gin cocktails. Excludes the month of December and Bank Holidays.

Hudson's House

Bars and pubs

Bloomsbury

Bedford Avenue

London

WC1B 3GH

020 7300 3229

25% off total bill

Offer valid at all times. Not in conjunction with any other offers

Hereford Road

Westbourne Grove

3 Hereford Road

London

W2 4AB

020 7727 1144

Free glass of wine with lunch

Must order a minimum of 3 courses per person. Not valid on Set Lunch and Express Lunch. Maximum party size of 2.

2 People
12:00 - 15:00
MTWTFSS

Ghost Bus Tours

Trafalgar Square

Designated bus stop on Northumberland Ave

WC2N 5BY

0844 5678 666

Booking essential

25% off tickets

To book this offer please call 0844 5678 666 and quote Time Out Card. Alternatively present your Time Out Card on arrival (however there is no guarantee that tickets will be available). Must arrive at least 10 minutes in advance. Excludes family tickets.

The Comedy Store Players

Comedy Store

Comedy

Leicester Square

1a Oxendon St

SW1Y 4EE

08448 717699

Booking essential

Comedy Store Players Improvisation Show - £5 off tickets

Was £17, now £12. Show time: 8pm Wednesdays and 7:30pm Sundays. Booking essential, please call to book and quote Time Out Card: 0844 871 7699. All bookings are subject to a booking fee. Valid for 1 discount per Time Out Card.

Slava's Snowshow

Royal Festival Hall

Southbank

Belvedere Rd

South Bank

London

SE1 8XX

0844 847 9910

Online booking essential

10% off our normal price

Your discount will be provided on checkout. Booking essential. Click here to book

Offer expires 5 January 2015.

East Is East

Trafalgar Studios

Trafalgar Square

14 Whitehall

SW1A 2DY

Online booking essential

10% off our normal price

Your discount will be provided on checkout. Booking essential. Click here to book

Offer expires 3 January 2015.

Sunny Afternoon

Harold Pinter Theatre

Trafalgar Square

6 Panton Street

London

SW1Y 4DN

Online booking essential

10% off our normal price

Your discount will be provided on checkout. Booking essential. Click here to book

Mamma Mia!

Novello Theatre

Aldwych

Aldwych

London

WC2B 4LD

0844 544 3830

Online booking essential

10% off our normal price

Your discount will be provided on checkout. Booking essential. Click here to book

Offer expires 25 October 2014.

Once

Phoenix Theatre

Soho

104-110 Charing Cross Rd

WC2H 0JP

020 7369 1733

Online booking essential

10% off our normal price

Your discount will be provided on checkout. Booking essential. Click here to book

Offer expires 5 July 2015.

White Christmas

Dominion Theatre

Holborn

268-269 Tottenham Court Road

London

W1T 7AQ

Online booking essential

10% off our normal price

Your discount will be provided on checkout. Booking essential. Click here to book

Offer expires 3 January 2015.

Salt'n Pepper

Restaurants and cafés

Leicester Square

32 Orange Street

London

WC2H 7HQ

02079302939

2 for 1 on food

Booking essential, please quote your Time Out Card. Offer not valid on bank holidays and Special occasions.

Evita

Dominion Theatre

Holborn

268-269 Tottenham Court Road

London

W1T 7AQ

Online booking essential

10% off our normal price

Your discount will be provided on checkout. Booking essential. Click here to book

Offer expires 1 November 2014.

Blitz

Independent retailers

Brick Lane

55-59 Hanbury Street

London

E1 5JP

020 7377 0730

10% off purchases

Applies to BLITZ London fashion lines only.

Brick Lane Brasserie

Brick Lane

67 Brick Lane

London

E1 6QL

020 7377 8072

Booking essential

50% off food

Booking essential, please quote Time Out Card. Cannot be used in conjunction with any other offer. Must order one main course per person to redeem the offer. Closed between 2.30 and 5.30pm Mon-Thu.

The Commitments

Palace Theatre

Chinatown

Shaftesbury Avenue

W1D 5AY

0844 412 4656

Online booking essential

10% off our normal price

Your discount will be provided on checkout. Booking essential. Click here to book

Offer expires 19 May 2015.

Daddy Donkey

Street vendors

Farringdon

Leather Lane Market

London

EC1N 7TE

07950 448 448

Voltaire

Fleet Street

Crowne Plaza Hotel

London

EC4V 6DB

020 7438 8054

Booking essential

20% off food

Offer valid on Lunch Menu only. Booking essential, please call 0207 438 8059 and quote Time Out Card. Please present your Time Out Card when asking for the bill. Maximum party size of 15. Opening Hours 5pm-1am