The best film events in London this week
One-off screenings, festivals, seasons, double-bills and more. Each week we bring you the very best of London's alternative film events
Every week, we round up the best film events happening outside London's multiplexes, from major international film festivals to classic seasons at the BFI, from double bills and all-nighters to one-off screenings and in person Q&As with stars, filmmakers or experts. London also has a thriving DIY film club scene in pubs, restaurants, galleries and pop-up venues, and in the summer months you'll find a wealth of outdoor screenings in parks and gardens across the city.
1
Inauguration special: 'Society'
On January 20, Donald Trump will be sworn in as the forty-fifth President of the United States. So there's literally never been a better time to sit down and watch 'Society', the 1989 subversive horror classic about how the rich don't just suck the poor dry economically, spiritually and politically, but physically too. The tone may be slick – there are times when it feels like 'The OC' with added goop – but the intention is deadly serious, and first-time director Brian Yuzna's slow reveal of information is wonderfully sly. The finale remains one of the most shocking in cinema.
Picturehouse Central, 20-24 Shaftesbury Ave, W1D 7DH.
Fri Jan 20, 9pm. £8.
2
BFI Cult: 'The Monster Squad'
A clever comic parody, this lively kids' horror pic delivers frights and laughs rooted in a sure and sympathetic grasp of Monster Movie mythology. To take advantage of a confluence of evil that occurs only once every 100 years, Count Dracula flies to America, then summons the Wolfman, Gill-Man, Mummy and Frankenstein's monster. Alerted to Dracula's evil plan, The Monster Squad – a gang of pre-teen kids and their slightly older tough-guy pal – whittle stakes in woodwork class, melt down their parents' cutlery to make silver bullets, and give the monsters hell.
BFI Southbank, Belvedere Rd, SE1 8XT.
Fri Jan 20, 8.40pm. £8.35–£11.75.
3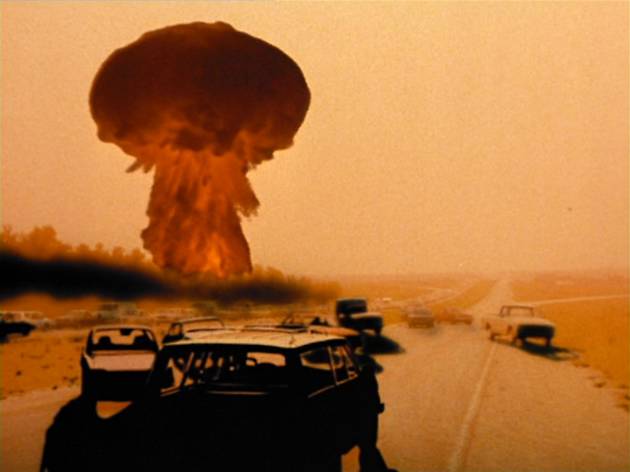 Science Fiction Theatre: 'The Day After'
Another timely screening in inauguration week is this rarely screened (but in its day hugely successful) American TV movie about the fallout, both literal and figurative, from a nuclear war on US soil. The cast is solid – Jason Robards, John Lithgow and Steve Guttenberg in a rare dramatic role – and the set-up is horribly convincing, as the residents of a Kansas town come to terms with the realities of the nuclear winter. The film will be introduced by Dr Daniel Cordle, who'll discuss the film's contribution to mid-'80s nuclear fear.
Deptford Cinema, 39 Deptford Broadway, SE8 4PQ.
Mon Jan 23, 7.30pm. £5.
4
Soul Jazz presents: 'Coffy'
The good folks at Soul Jazz Records screen another Blaxploitation classic. The first such film to feature a woman in a strong central role, 'Coffy' is distinguished by its unremitting moral darkness. With a pulp feel to the script and a welcome frankness, the world our eponymous ass-kicking heroine inhabits is one where social, sexual and political exploitation are the norms. Pam Grier is terrific in the title role, a nurse out to get the men responsible for her little sister's addiction. It's a performance that defies and subverts the genre.
Regent Street Cinema, 309 Regent St, W1B 2UW.
Fri Jan 20, 7.30pm. £12, £8 concs.
5
Close-Up on Robert Altman: 'Nashville'
Yet another perfect pick in the week of Trump's ascendancy. Robert Altman's breathtaking country and western epic has exerted a huge influence on indie cinema. A series of impressionistic vignettes, coupled with the expert use of overlapping dialogue, build slowly but surely to create a coherent and persuasive portrait of a society that has somewhere along the way carelessly abandoned its original ideals and turned instead to the false gods of fame, fortune, easy sentiment, self-congratulation and political expediency. A masterpiece.
Close-Up Film Centre, 97 Sclater St, E1 6HR.
Sat Jan 21, 7pm. £10, £8 concs.
6
Twentieth anniversary screening: 'Gummo'
A cult favourite – and the subject of one of the weirder moments on 'The X Factor' – this impressionistic portrait of a half-imaginary Midwestern suburb confirmed Harmony Korine as a creative force to be reckoned with in 1997. When the two teenage boys at its centre aren't killing stray cats, they're sniffing glue, paying for sex or messing with life support machines. But for all the fixation on depravity, Korine's refusal to condemn or condescend to his characters saves the film from freak-show voyeurism. The cutting edge still doesn't get any sharper than this.
Prince Charles Cinema, 7 Leicester Place, WC2H 7BP.
Fri Jan 20, 8.45pm. £7.50.
7
'Margaret'
As his extraordinary new film 'Manchester By the Sea' arrives in cinemas, check out writer-director Kenneth Lonergan's last film, a drama that took five years to get from shooting to the screen. A look at the effect a gruesome accident has on Manhattan teen Lisa (Anna Paquin), 'Margaret' bursts with ambition in its novelistic narrative. And though not all of Lonergan's conceits work (an upper-crust womaniser played by Jean Reno skews a bit too close to caricature), the film has a cumulative power that's staggering. This is frayed-edges filmmaking at its finest.
BFI Southbank, Belvedere Rd, SE1 8XT.
Sat Jan 21, 5.10pm. £8.35–£11.75.
8
Sunday French Classics: 'Masculin Feminin'
Jean-Luc Godard's magazine film offers '15 precise facts' about the children of Marx and Coca-Cola: a series of scattershot observations of young people in Paris in 1965. This is pre-political Godard, which means that it attacks on all cylinders without having any strong through-line of its own. But its parodies and satires are recklessly inventive, and its fundamental pessimism isn't as shallow as it may at first seem.
Ciné Lumière, 17 Queensberry Place, SW7 2DT.
Sun Jan 22, 2pm. £9, £7 concs.
9
'Full Metal Jacket' + talk
Dr Nathan Abrams of Bangor University will introduce this screening of Stanley Kubrick's remarkable war movie, exploring how the film relates to Kubrick's own life and specifically his Jewishness. It may be a film about Vietnam, but the first half of 'Full Metal Jacket' steers clear of South East Asia altogether, focusing on the dehumanising training programme undergone by a group of novice US Marines. Then, after a suitably melodramatic bloodbath, the action switches to 'Nam, where star recruit Private Joker soon tires of his behind-the-lines job as military journalist and provokes his CO into sending him forth into the shit.
JW3, 341-351 Finchley Road, NW3 6ET.
Wed Jan 18, 12pm. £15.
10
Cinema Matters: 'Pan's Labyrinth'
Another in the Barbican's year-long series exploring the art and wonder of cinema. In Guillermo del Toro's dreamlike fantasy, a girl on the cusp of adolescence is inducted into a threatening fantasy. It's set against the backdrop of the Spanish Civil War, as skirmishes continue between anti-fascist guerrillas and forces under the command of sadistic Captain Vidal – or 'father', as young Ofelia is instructed to address him when she arrives at his forest base with her pregnant mother. The girl is basically alone – until a cricket transforms into a fairy and leads her to a crumbling stone maze, where an ageing faun greets her as a lost princess, pending her completion of certain tasks…
Barbican Centre, Silk St, EC2Y 8DS.
Wed Jan 18, 8.45pm. £9.50, £8.50 concs.
See what's on at the cinema this week