Mark Hix interview: 'I killed and plucked chickens at school'
We talk meat, Shoreditch and YBAs with the London restaurateur and Wilderness Festival headliner
By Caroline McGinn Tue Jul 30 2013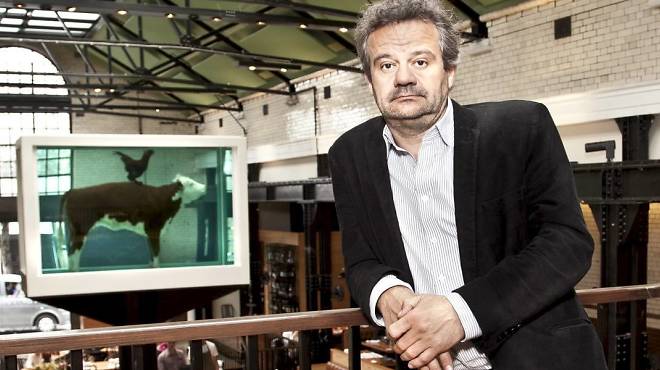 Mark Hix at Tramshed, London © Rob Greig, Time Out

Above the buzzing hipster hangout Tramshed in Shoreditch, with its Damien Hirst cow-in-a-vat, there's a kitchen-diner that looks like the ultimate London bachelor party pad. It's got a lot of leather and wood, a poker table, big shiny brass pans and a colossal fridge. Then there's the man who wields the pans, restaurateur Mark Hix: purveyor of no-bullshit British steaks and chickens to the trend-tracking crowd below.

Tanned, modest and quietly chirpy, Hix couldn't be further from the sweary alpha maleness you'd expect from a Shoreditch food entrepreneur who reputedly has Damien Hirst on speed-dial.

Ex-colleagues and friends paint a picture of a genuinely nice bloke whose success is all about his food: 'No one has a bad word to say about him,' says Tracey Emin, who first met Hix on a boozy night in Brick Lane's Golden Hart in the late '90s. 'Lots of artists are friends with him but the friendship comes first: it's not about wheeler-dealing. What's amazing about his success is how nice he is.'

That success has been impressive. After moving to London at 18, Hix rose to become chef director of Caprice. After he quit to launch the Hix Oyster and Chop House in 2008, he went on to open seven restaurants in four years, bucking the recession and proving that you don't need choice to pull crowds. With four of those restaurants thriving in London, Hix has influenced the taste of this city on every level: his Fish Dogs – a posh fish finger sandwich served from a vintage Citroën van – are the hallmark of a hip streetmarket and he has now piled in, along with Yotam Ottolenghi, to help revolutionise festival food at next weekend's Wilderness Festival in Oxfordshire.
A Hix 'Fish Dog' © Todd Pacey
As for the 50-year-old man himself, you're probably more likely to find him foraging for pineapple weed in Dorset than out on the lash in the East End these days – although he does still like to throw a big party here for friends, including the now middle-aged British artists. Chatting in his leathery Shoreditch kitchen-cum-office, with a pile of foraged herbs beside him, there's still plenty of the enthusiastic Dorset lad about him: listen and you can hear the sound of the sea in his voice.
But there's a bit of chipper cockney there too: that, and the lewd Tracey Emin plates on his wall are reminders of his success in this brash urban environment that he's made his own.
I like the dirty plates on your wall – are they meant to look like naked women?
'It's dirty plates. It's just sexual, isn't it?'
You're mates with a lot of the YBA crew – especially Tracey Emin, whom you taught to cook. How did you get into art and artists?
'I gave her confidence, because she didn't really cook. It would be late at night, drunk. I lived in London for a long time so I got to know a lot of the artists, and I've always done exchanges for the restaurants and the artists. Firstly to have a nice story on the walls and secondly to have interesting people come to the restaurants.'
So they come in and eat and they pay you in pictures, like Picasso?
'They hang their work in the restaurant and then eat and drink – it's a nice old-fashioned Parisian thing to do. Artists are up for it because it's a bit of fun and if you exhibit in a restaurant, more ordinary people see your work.'
You grew up in Dorset, and wondered whether to study catering or metalwork. It must have taken great self-belief to achieve what you have.
'I sort of fell into cooking. My grandparents brought me up so I was left to fend for myself. I went fishing a lot. My grandfather grew tomatoes and my grandmother cooked: cheap cuts, lambs' hearts and pork belly. I remember that smell of the ham in the kitchen. They died when I'd been in London for a couple of years. I still think about them.'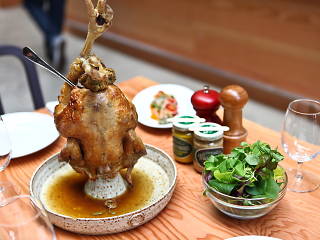 Chicken at Tramshed © Alys Tomlinson, Time Out

Has your country upbringing influenced your cooking?
'In Dorset there's lots of wild stuff knocking around, like sea veg, sea cabbage. A lot of it's very potent. Try sea spinach and you never want to touch cultivated spinach again. At school, one of our lessons was to kill and pluck a chicken. Everyone thinks I'm mad when I tell them that, but it was a subject at school. If you live in the countryside it's one of those things you do.'

Do you enjoy that element of cruelty in cooking?
'If you're going to have meat on the menu you've got to kill the things to eat them. If I had to choose my last meal it would probably be grilled lobster on the beach, and something that you're not supposed to eat, like foie gras.'

There's nothing cruel about displaying a dead cow in Tramshed?
'We had stick from the vegetarians but the cow wasn't killed for the art piece, it was going to the knacker's yard. The architect wanted to move the mezzanine to the middle of the restaurant. I thought we could put a sculpture up there, got in touch with Damien Hirst and he showed me this image of the cow in a tank. I was apprehensive but it fits perfectly. It's one of a kind.'

It's not just the dead cow in a vat: the roast chicken that you serve punters looks like it's been tortured as well as cooked...
'Well, in this country, no one serves the feet on the chicken. You can buy the feet in Chinatown, but no one serves the feet and I just think, you know, architecturally, it looks interesting.'

You were chef director at Caprice, which is the epitome of posh formal dining. But your own places are set up for people to have noisy fun...
'My philosophy's always been that a restaurant should be fun. But some restaurants are just too formal and stuffy. I always feel slightly on edge when I've been in those sorts of places.'

Your Fish Dog van is part of a London street-food revolution. Do you think good food has become more democratic?
'Absolutely. Street food is no longer necessarily hot dogs or hamburgers or dodgy deep-fried chicken. Lots of restaurants are doing farmers' markets and festivals now. I think it's interesting that you can go to a festival and actually have good food when years ago it wasn't the case.'

You're catering for Wilderness Festival next weekend, but what have you got planned for London – more chicken?
'I want to do more chicken and steak restaurants. We've got a few sites in London that we're looking at. But we won't use the name Tramshed – it will be specific to the building. The trouble is, I never plan anything. I've not got an idea what I'm going to be doing in two years' time – something might just come up.'
Visit a Mark Hix restaurant
---