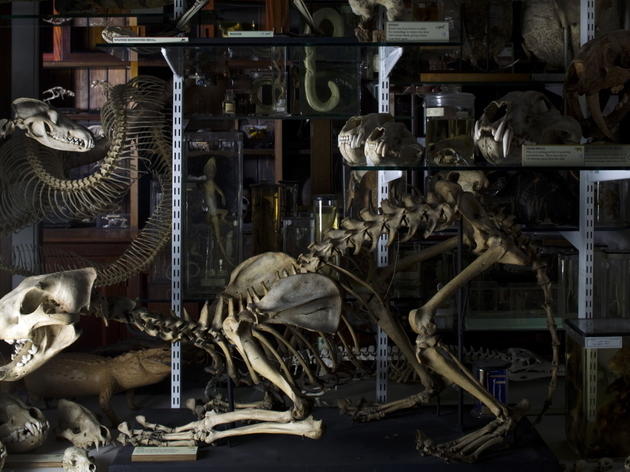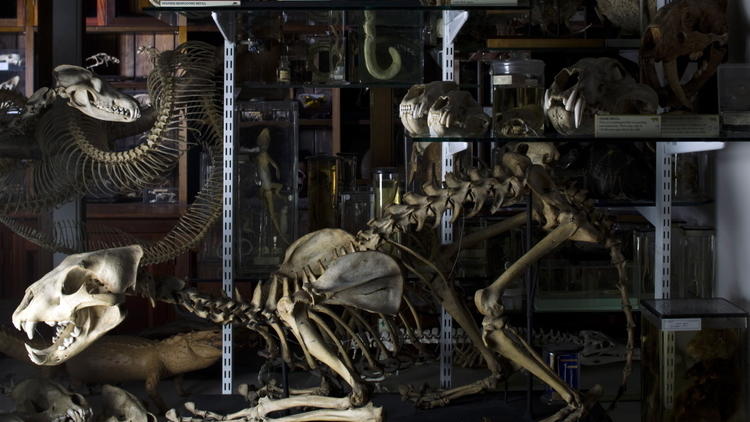 The Grant Museum may have moved in 2011 into new premises – a grand room in a former library in the UCL complex – but it looks as if this zoological museum, the only one of its kind in London, has been here for a century or more. Such is the transporting effect of seeing avenues of display cases stuffed to the gunnels with animal skeletons, taxidermy specimens and creatures preserved in fluid, like a true Victorian wunderkammer. Nods to current trends in museum display – iPads attached to displays invite you to ponder questions about the role of science today – are discreet; the museum doesn't need to distract or over-explain when its exhibits are among the most engrossing (and very occasionally gross-out) in London.
From a jar of tiny moles to a huge elephant skull that helps to explain the Cyclops myth (its large central cavity could well be a monocular eye socket), there is plenty here to draw gasps of amazement. Grimly fascinating is the museum's collection of bisected heads, created by Sir Victor Negus, which appear quite normal on one side but can be turned to reveal the brain within. They immediately bring to mind the work of Damien Hirst, and the overlaps between science, nature, art and design don't stop there – a skeleton of an anaconda twists round a branch like a zen modernist sculpture, sections of shark vertebrae look as if they could be maquettes for Constantin Brancusi's 'Endless Column'. Created in the mid-1800s, Leopold and Rudolph Blashka's glass models of jellyfish, sea anemones, gastropods, sea cucumbers and cephalopods are exquisite art works in their own right.
There's evidence that the curators have had fun with the displays – a trio of Hawksbill turtles are arranged on a wall in the manner of ceramic flying ducks. However, the serious work of the museum, not only as a reliquary for long lost species (a drawer of dodo bones turned up during the museum's move) but as a site of ongoing research, shines through – in fact the former library's pigeon holes are used by UCL zoology staff and students to present a visual (and visceral) A to Z of current projects.
Venue name:
Grant Museum of Zoology
Contact:
Address:
Rockefeller Building, University College London
21 University St
London
WC1E 6DE

Opening hours:
Mon-Sat 1-5pm; closed Christmas/Easter period.
Transport:
Tube: Euston/Goodge St
Do you own this business?
Average User Rating
4.8 / 5
Rating Breakdown
5 star:

11

4 star:

3

3 star:

0

2 star:

0

1 star:

0
Truly fantastic! so much variety of species - cant recommend it more highly
A gem of a museum, packed to the rafters with interesting zoological specimens. Home to the fantastic and unique Micrarium
A strange and wonderful place.
The most engaging, friendly and exciting natural history museum in the UK
A treasure trove of interesting-ness!
A fantastic hidden gem of a museum which is enthralling for kids and fascinating for adults. Great interaction with exhibits and knowledgable staff. Highly recommended.
I had no idea this small museum existed until about 4 months ago, when a friend suggested a visit. What a hidden gem - absolutely love the place. I am an artist and for years have collected found bones, stones, skulls etc to draw, or just to 'have'- this place is right up my street. I think the anaconda winding round the tree branch is sheer genius, goodness knows how long that took to assemble..
They really try to inform and entertain.
The only such in London! Inspiring.
A massive range of amazing specimens and it's nice and quiet
Amazing collection of specimens, enough to appeal to all ages and levels of curiosity. My favourite is the jar of moles, but the inclusion of someone's cloned pet and the opportunity to dig for millions of years old fossilised sharks teeth have kept me going back. There are rare screenings, bizarre talks and enthusiast fuelled exhibitions. Get on the mailing list and explore some of the quirkier sides of London's Natural History treasures.