Special Offers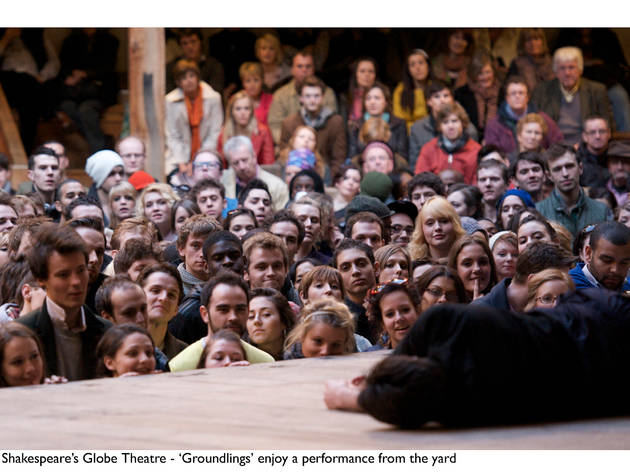 1/4
© Manuel Harlan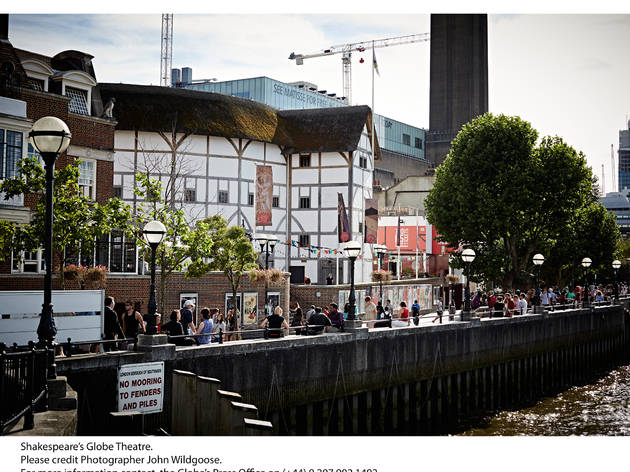 2/4
© John Wildgood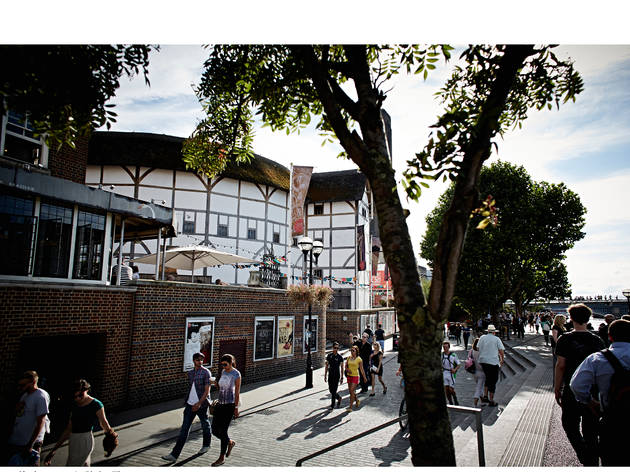 3/4
© John Wildgoose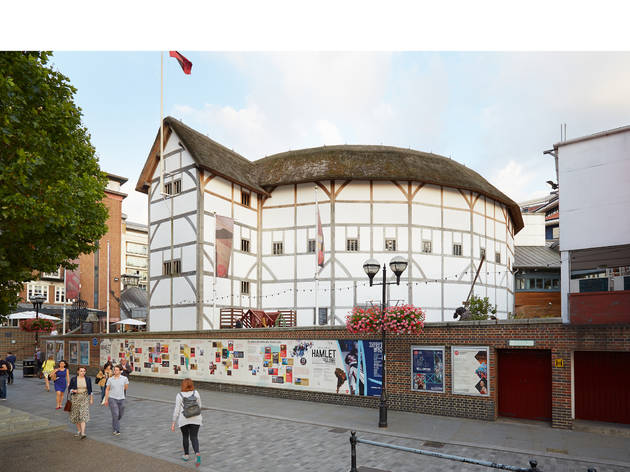 4/4
First-class theatre in a lovingly recreated Elizabethan setting
Built in 1599 and destroyed by fire in 1613, the original Globe Theatre was at the heart of London's seedy entertainment district in William Shakespeare's time. Here, productions were put on by the Lord Chamberlain's Men, who included in their company Shakespeare himself. Although the theatre was rebuilt after the fire, it was eventually torn down in 1644, and as London's entertainment centre moved west, this stretch of South Bank between Blackfriars and London Bridge was all but forgotten for generations.
Fast forward to 1997, when, after decades of campaigning led by the actor Sam Wanamaker, a recreation of the Globe opened very close to where the original had stood. With a design based on as much historical detail as could be found, Shakespeare's Globe was intended to bring a true theatrical experience to life, plays presented in a manner as close as possible to the kind of setting and conditions The Bard would have originally written for.
The modern Shakespeare's Globe only holds about half the capacity of the original, but you can still get a rich feel for what it was like to be a 'groundling' (the standing rabble at the front of the stage) when you come to see a play here, in the circular, open-air theatre.
However, a visit here isn't just a history lesson. The theatre productions here are among the best in London. Each season (spring to early autumn) includes several Shakespeare classics, performed by a company of established and upcoming actors, while works of other writers are also programmed. The Globe also now offers performances in the recently opened Sam Wanamaker Playhouse – a candlelit indoor theatre within the Globe's building, which presents plays in a traditional Jacobean setting. Even if you're not attending a play, you can do the Globe Exhibition and Tour. Open all year round, the tour explores the life and work of Shakespeare and theatre in his time.
Venue name:
Shakespeare's Globe
Contact:
Address:
21
New Globe Walk
Bankside
London
SE1 9DT

Opening hours:
Globe Exhibition and Tour daily 9am–5pm. Closed Dec 24 and 25. (Check in advance for dates when the tour is not available.)
Transport:
Tube: Blackfriars/Mansion House/London Bridge
Price:
Exhibition and tour: £15, £13.50 60-plus, £12.50 students, £9 under-16s, free under-fives, £41 family.
Do you own this business?
Macbeth

Dismembered limbs, ghostly chanting, smoke, and an unearthly soundtrack of bells: director Iqbal Khan has pretty much nailed the Scottish Play's famous witches scene.  Unfortunately, the rest of his 'Macbeth' struggles to follow its formidably stylish...

Shakespeare

Until Saturday October 1 2016

946: The Amazing Story of Adolphus Tips

'In the dark times, will there also be singing?' A quote from German dramatist Bertolt Brecht is an unlikely start to a family show. But it's no more unlikely than its bleak, knotty subject matter. Globe boss Emma Rice has brought in one she made earlier...

Drama

Until Sunday September 11 2016

A Midsummer Night's Dream

'Did Emma Rice send you?' spits Lucy Thackeray's Tina Quince as Margaret Ann Bain's Philostrate tries to confiscate her tambourine. 'I'll have you know this was given to me by Mark Rylance'. For all the blithe interviews in which new Globe boss Rice...

Shakespeare

Sunday September 4 2016 - Sunday September 11 2016

The Inn at Lydda

The odd show out in the Globe's summer season, this revival of John Wolfson's 'The Inn at Lydda' is the only play that's neither by Shakespeare nor Kneehigh. Based upon an allusion in the New Testament Apocrypha, Wolfson's 2000 play imagines a meeting...

Drama

Monday September 5 2016 - Saturday September 24 2016

Imogen

Famously, the only Shakespeare play Emma Rice had directed prior to taking change of the Globe was an anarchic RSC 'Cymbeline' back in 2006. So it's interesting that the play has reappeared in her first season at the Globe, albeit under a different director...

Shakespeare

Saturday September 17 2016 - Sunday October 16 2016

The Two Gentlemen of Verona

This early Shakespeare comedy certainly isn't one of his best loved, but Nick Bagnall's co-production for the Liverpool Everyman is a rare chance to catch it. It's a riotous, knockabout affair about love and crossdressing in Italy and should hopefully...

Shakespeare

Tuesday September 20 2016 - Saturday October 1 2016

The Merchant of Venice

This review is from May 2015. 'The Merchant of Venice' returns to the Globe for 2016, with Jonathan Pryce in the lead.  Shakespeare's Jewish money-lender Shylock, who demands his pound of flesh when the merchant Antonio is unable to pay back a loan,...

West End

Tuesday October 4 2016 - Saturday October 15 2016

Comus – A Masque in Honour of Chastity

The first indoor season of Emma Rice's tenure at the Globe – dubbed 'The Wonder Noir' season following from the outdoor 'Wonder' season – kicks off with this 1634 oddity from John Milton. In it, a woman becomes separated from her brothers and finds herself...

Drama

Wednesday October 26 2016 - Saturday November 19 2016

The Little Match Girl (and Other Happier Tales)

An actual proper Christmas show for Shakespeare's Globe this year, as new boss Emma Rice directs Joel Horwood's adptation of a smorgasboard of Hans Christian Andersen's most beloved stories, including the titular weepie. We're promised 'music' puppetry...

Children's

Thursday November 24 2016 - Saturday January 21 2017

All the Angels

The Globe's other Christmas show – alongside 'The Little Matchgirl' – is this sort of live 'the story behind the music' from poet Nick Drake. It concerns Handel's iconic 'Messiah', tracing its origins from shambolic singalong in a Chester pub to probably...

Drama

Tuesday December 6 2016 - Sunday February 12 2017

Show more
Average User Rating
4.7 / 5
Rating Breakdown
5 star:

16

4 star:

8

3 star:

0

2 star:

0

1 star:

0
Great Place for Theatre, Art lovers.. Must visit and if possible watch some plays..
For more than 400 years, we have had the amazing plays of Shakespeare - now we have the instrument for which they were written! Wonderful! :-)
Amazing shows and gorgeous building!
The finest way to experience the finest plays.
Enjoyed the Tour at the globe. The guide for the tour was quite amusing and funny. Lovely place.
Went to England in 2000 for the first time just to see the Globe - what a fantastic experience! I have been back several times and sat through 3 plays one day last July. I recommend it to everyone who is in town for more than a day or two.
Staying in London for almost two year , visit to the Globe is top 20 things to do in London .
WE love our visit to the Globe. The guide was fantastic. We enjoy the guided tour and love the lay out theatre. Absolutelly fantastic.
Visiting the Globe is a highlight of any trip to the capital and I recommend the standing tickets to be at the heart of the action!