David Attenborough: force of nature
The orangutan may be called the 'old man of the forest', but Sir David Attenborough runs it a close second. We put your questions to the great man
By Time Out readers Fri Sep 20 2013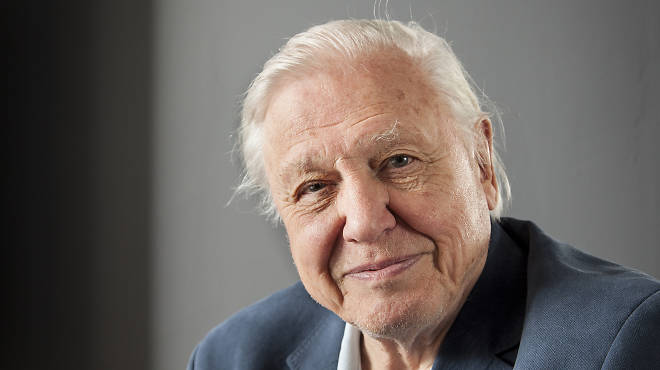 © Rob Greig
When we asked you for questions to put to naturalist and broadcaster Sir David Attenborough, the passion and knowledge behind them blew us away. Thanks to you, we got the Great Communicator discussing everything from his views on politicians and time working in BBC senior management to environmental campaigning and his favourite place on the planet – you'll never guess where it is. (And sorry, @joolygee, we didn't propose marriage on your behalf – but that's only because we ran out of time.) Questions asked by Time Out's TV editor, Gabriel Tate.
Attenborough on…
Everything else
How did living alongside your brother [film director Richard Attenborough] shape your life?
Arthur Davidson, 'wrinkly', west London
'Not at all. We were working in totally different fields. We were very good friends, we lived close to one another, we shared one another's careers, but my career is the antithesis of Hollywood. I would go to Dick's premieres, and he would come and see my shows and ring me up, but that's all. Speaking lines other people have written is not my game, and speaking lines that he has written is not my brother's game.'
Have you ever been tempted to give it all up and live in the wild permanently?
Kate Callaghan, 23, Stoke Newington
'Not at all. If I live in the wild for months on end I feel the loss of civilisation. I'm an urbanised man, but that doesn't mean I'm not interested in the natural world – and if you're interested in the natural world, it doesn't mean you want to stay there all the time.'
Where in the world haven't you been that you'd still like to go to?
Ed Mottram, 27, Ladbroke Grove
'Central Gobi. I've been to the fringe of the Gobi Desert, but there are some terrific fossils in the middle of the Gobi Desert. I wouldn't mind going with an empty lorry, but I think people would find that rather suspicious.'
Have you ever considered running for parliament?
Lisa Johnstone, 34, East Finchley
'Good God, no! Not at all. I'm always amazed at people who do, because they always know the answer to things. People say: "what should we do about euthanasia or free milk or…" I don't know, I don't know the answer to any of these questions. I'm amazed at how many people can get up and say "YES!". Life seems to me very much more complicated. I don't know enough answers, or I'm not convinced about enough answers to be a politician.'
Do you get as emotional as your viewers when covering sadder events?
James Fairfield, 24, Finchley
'Of course. You would be inhuman if you weren't moved by the death of an animal, especially a defenceless baby animal. What kind of person is it who doesn't care about that? But there are lots of things in life which you are saddened by – the trick is, not to deny it but not to exaggerate it.'
Do you mind your fans approaching you in public? I once saw you at the British Museum but was too shy to come and say hello.
Laura Cooney, 25, Lewisham
'Well, one is off-duty sometimes and it kind of changes things, if you just want to go to a museum and look at things… If everyone who recognised you felt they had to talk to you, you wouldn't get anywhere. But people are very nice, and why should I object to people saying they like the programmes I make? People are very complimentary, but it isn't something that needs go on all the time.'
If you could visit a fixed point in time, past or future, when would it be?
Alan Bradley, 38, Feltham
'Let's go to the Jurassic era, there's quite a lot I'd like to know about that. Why? Well, there are walloping great dinosaurs for a kick-off, but a lot of other things around.'
Do you have any regrets?
Alexander Eden, 26, Paddington
'A lot of private regrets, but I don't think any professional regrets. I have been fantastically lucky, I cannot believe how lucky I've been. To come into television when it was still so tiny and still so informal in 1952, and to have been there through all these developments has been huge, and I don't even regret spending eight years in administration [at the BBC]. That was good fun too, in the stages at which I had it, and I don't regret having resigned either.'
How would you like to be remembered?
Maribel Bennett, 41, Mitcham
'I won't be here, so I won't worry [about that].'
What are the pieces of work that you're most and least proud of?
Phil Harrison, 42, Time Out
'The thing I'm most proud of is making natural history programmes like "Life on Earth", which was a big ambitious series of 13 parts, told a coherent story about the natural world and was filmed in ways we hadn't done before. And least proud? Oh, I wouldn't tell you that!'
Do you have any fixed idea of when you're going to hang up your hat and retire?
Gabriel Tate, 35, Time Out
'Well, you can't tell. It's nothing to do with virtue or anything else, you can't tell what's going to happen to you, and there are plenty of people at my age who can't move out of a chair. That's just ill luck, in their case, and good luck in my case that I can. If I can make programmes when I'm 95, that would be fine. But I would think I'll have had enough by then.'
Watch a clip from 'Rise of the Animals'
Attenborough's legacy is already one of the most assured and noble in television history. Yet even now, he isn't content to coast and remains relentlessly determined to shed light, bring knowledge, vanquish ignorance. To inform, educate and entertain.
There are plenty of diverting asides on everything from echidna to wallabies, as well as an intriguing theory on the extinction of giant mammals. And we never thought we'd see the day that he'd experiment on a puppy. We'll miss him when he's gone.
---
Take a look at our guide to TV this week