Burlesque at the Beach at Sideshows by the Seashore: Then and now
Go behind the scenes at the birthplace of the neoburlesque scene, with anecdotes from the producers and burly-Q stars of this summer show at Coney Island USA.
By Raven Snook Tue Jul 16 2013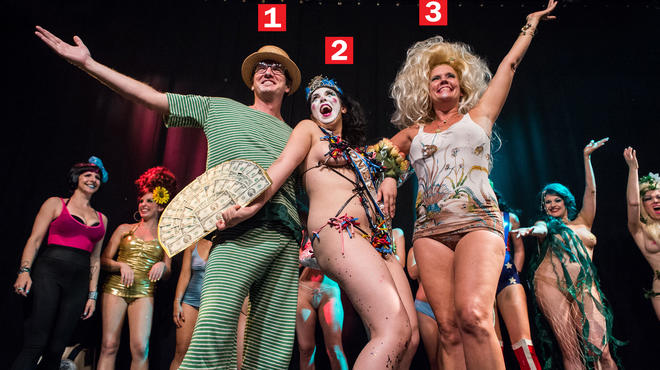 Photograph: Filip Wolak
It's hard to remember when the word burlesque didn't conjure images of naked flesh and twirling tassels. But when Coney Island USA founder Dick Zigun and Circus Sideshow stalwart the Great Fredini debuted Burlesque at the Beach in 1996 (then called Tirza's Wine Bath, in homage to an old-time Brooklyn burly-Q show), few knew what they were talking about. It birthed striptease superstars like Julie Atlas Muz, Dirty Martini, Bunny Love and Bambi the Mermaid, and was a major catalyst for the burgeoning neoburlesque scene in NYC and beyond. Its venue was wrecked by Hurricane Sandy, but after many hours of cleanup, the series successfully returned in time for summer. In honor of its resurrection, we asked luminaries to give us a peek behind the Coney curtain past and present. Sideshows by the Seashore, 1208 Surf Ave at W 12th St, Coney Island, Brooklyn (718-372-5159, coneyisland.com). Thu 9pm; $12. Fri 10pm; $15. Through Sept 27.

RECOMMENDED: Best burlesque shows in NYC

1. The Great Fredini, founder and co–executive producer
"This was before the whole burlesque scene really happened. It was just us and Blue Angel in Tribeca. It was really hard to find performers at first. There was this crazy Greek hippie chick who did striptease to Bob Dylan, there was Bambi the Mermaid. Dick ran into Julie and Dirty on the boardwalk and suggested they try performing. Today's stars cut their teeth at Burlesque at the Beach. It's where they developed their personalities and acts."

2. Miss Cherry Delight, performer and Miss Coney Island 2012
"When Bambi asked me to compete in the 2012 Miss Coney Island competition, I was scared out of my mind. I didn't want to do it unless I was going to win, because it's a once-in-a-lifetime opportunity. My evening wear consisted of pasties and a merkin that were the Steeplechase Funny Face, the mascot of Coney Island, and giant wings my mother painted and my grandmother sewed that looked like sideshow banners and said 'I Love Coney Island' on the front. My [winner's] sash is my most prized possession."

3. Bambi the Mermaid, co–executive producer
"That first year there were some real weirdos, but few strippers. I worked in regular strip bars like Billy's Topless, so Fred asked me to be in the show. I would wear a zebra mask and a whole zebra outfit, or I'd do snake charming as a mermaid. Sometimes I would be the only one taking off clothes. These days we have to turn performers away, even though we have about 50 shows from May to October. Everybody brings their A-game. They appreciate Coney Island's history and artistry."

RECOMMENDED: Summer party guide to NYC: 50 great parties and nights out

Julie Atlas Muz, performer
"It was cold and rainy on May 5, 2006, and I remember trying to get out of the show, but Fredini said that Mat Fraser, a great artist from the U.K., would be there. I knew that Mat had short arms [due to his mother's use of thalidomide during pregnancy], so I decided to perform my number where I get hypnotized, raped and killed by a disembodied hand. It sounds horrible, but it's really funny. Backstage during the show Mat told me how to kill someone with a three-point choke hold, and I fell in love with him. Six years and one day later we were married by Dick Zigun."

Dirty Martini, performer
"In the early days, we were a very close-knit group of new friends, thrown together in a colorful world that we each created from scratch. Every show we'd create brand-new acts, some destined to become new burlesque classics, others never to be seen again. Coney was a long trip from Manhattan to a magical world, and it still is."

RECOMMENDED: Coney Island and Luna Park guide
You might also like
---
Clubs & Nightlife events
The rooftop is what keeps crowds coming back to th...

This rooftop lounge, backed by restaurateur Jeffre...

You'd never guess from the Heidi Montag wanna-bes ...
365

more events »
Time Out videos
---
---
@TimeOutNewYork
Subscribe to Time Out New York on Spotify for playlists and recommendations from our Music team.


Check out New York's best restaurants, hottest street style, cool apartments and more.