Holiday gift guide 2012: Film
Let our film experts steer you toward squealworthy gifts for your favorite movie fanatic.
By David Fear, Joshua Rothkopf and Keith Uhlich Tue Nov 13 2012
Orson Welles called the movies the "biggest electric-train set any boy ever had." Honestly, we think we can do a little better than toy trains: Here are three gift ideas sure to bring out the misunderstood (yet major) auteur in your favorite cinephile.
RECOMMENDED: Complete holiday gift guide
Previous
Photograph: Anna Simonak

Bond 50

A special gift for your favorite little boy (regardless of age), this sturdily packaged set assembles all 22 official James Bond movies on glorious Blu-ray. Before you wonder if that's one too many martinis and explosions, know that such a threshold doesn't exist. Available at amazon.com, $149.99

Photograph: Anna Simonak

BFI 20th Anniversary Film Classics

The British Film Institute celebrates two decades of publishing monographs on canonized movies by reprinting a dozen of its most popular titles, from Salman Rushdie's love letter to The Wizard of Oz to Amy Taubin's take on Taxi Driver. Available at amazon.com or local bookstores, $14.95 each

Photograph: Albert Vecerka
Next
Photograph: Anna Simonak
Bond 50
A special gift for your favorite little boy (regardless of age), this sturdily packaged set assembles all 22 official James Bond movies on glorious Blu-ray. Before you wonder if that's one too many martinis and explosions, know that such a threshold doesn't exist. Available at amazon.com, $149.99
You might also like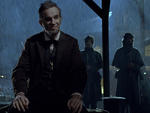 Rated as: 5/5
Critics choice
See more in Film
---