The best movies out right now
Find the latest reviews for movies playing in New York this week, including critics' picks and box office winners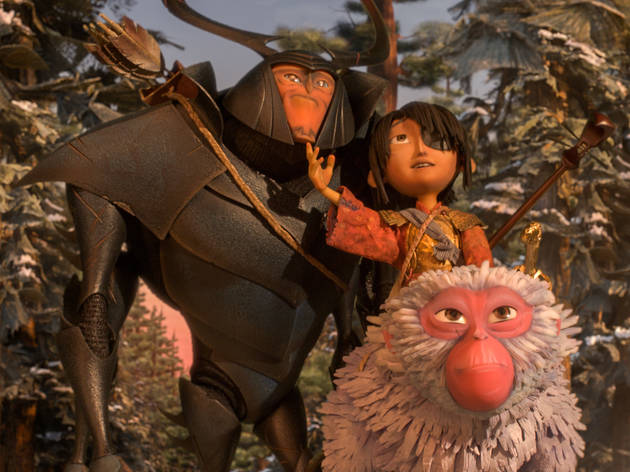 Looking for a movie to see tonight or this weekend? Check out our lineup of the best movies out right now, reviewed by Time Out New York critics. Click on a listing for full reviews, trailers and showtimes. Or consult our weekly curated list of the best movie screenings in NYC for more!

Box-office top 10
1
Is it safe to like superhero movies again after the ultra-dull Batman v Superman: Dawn of Justice? Yes, so long as they come with this much bad attitude. Here's the flip side to Guardians of the Galaxy.
Read more
2
In this animated sex fest about talking food in the supermarket, we meet horny Frank (Seth Rogen), a slick tube of meat who just wants to raw-dog it with Brenda (Kristen Wiig), the pillowy bun on the shelf next door. Had this rude movie stuck to that one joke, even its brief 89 minutes would have felt like an extra-long checkout line. But as with 1999's deceptively deep South Park: Bigger, Longer & Uncut, the script works hard to invest its scenario with an existential and political dimension, crudely but effectively expressed. Don't call it empty calories.
Read more
3
A curiously joyless movie that tries to channel the giddy amorality of Dr. Strangelove but forgets to add jokes or dramatic stakes, War Dogs is a major whiff from Hangover trilogy director Todd Phillips. Never once do you wonder if our narrator, David (Miles Teller), is going to be lured by the wild life of arms dealing, and his partner, Efraim (Jonah Hill, all Hebrew-school gags and playground boasting), gets tired fast. This needs more ammo.
Read more
4
A mature and gorgeous stop-motion–animated film about feudal Japan and a family's mythical legacy? Summer
should always be this smart.
Read more
5
What should you watch this summer if you're too scared to make it past episode two of Stranger Things? The answer is this solid remake of a 1977 Disney film about an orphan boy who lives in the forest with his pet dragon, a great, green cuddle monster of fur. (You get all the nostalgic Spielbergy stuff, minus the paranormal nosebleeds.) Since this is a kids' film, there is a "message," and it's about the destruction of nature. But the eco theme genuinely works with the film's wonderment.
Read more
6
Just because you're rolling in the chariot doesn't make you Charlton Heston. That's a lesson this weightless, instantly disposable remake of the 1959 sword-and-sandal Oscar winner learns the hard way. Taking the worst of it on the chin is star Jack Huston, whose Jewish prince turned galley slave, Judah Ben-Hur, suffers from a distinct lack of personality; he's like a boulder that someone forgot to chisel into a statue.
Read more
7
Matt Damon returns to his signature role for an undistinguished sequel nobody wanted or needed. We reconnect with Jason Bourne on a Rambo-style retreat, punching out musclebound chumps for cash in some East European backwater.
Read more
9
There are some funny-sweet observations here about pets and our projections onto them. And the animation is expressive (though the cat Chloe isn't nearly sociopathic enough for an indeterminate crossbreed). But the manic pace, piling on the action sequences, is exhausting. Still, what a savvy, stroke-of-genius idea for a film this is. In cities like New York and London, where spiraling property prices have created Generation Rent, pet ownership is declining. We need to get our animal fix from somewhere.
Read more
10
The wizardly Meryl Streep turns the nontalents of an awful amateur opera singer into sympathetic traits in this be-yourself drama based on an actual screecher from real life.
Read more
See all movies playing in NYC theaters