Chvrches concert photos: Live at Terminal 5
Time Out's favorite Scottish electropop trio returns to NYC for three sold-out gigs at Terminal 5
By Michael Chen Mon May 5 2014
Photograph: Michael J. Chen
Chvrches performs at Terminal 5 on May 2, 2014.

It was a full weekend of electropop bliss in Hell's Kitchen as Scottish synth band Chvrches delighted the Terminal 5 masses from Friday to Sunday with three sold-out shows. The fast-rising Glaswegian trio—Lauren Mayberry, Iain Cook and Martin Doherty—played every song from its debut LP, The Bones of What You Believe, ending its set with the dazzling "The Mother We Share."

If you missed Chvrches this weekend, fear not—you can catch the band next month in Williamsburg as it headlines a free Northside Festival show in McCarren Park on June 15.

Here's the full set list from its Friday night perfomance:

"We Sink"
"Lies"
"Lungs"
"Gun"
"Night Sky"
"Strong Hand"
"Science/Visions"
"Recover"
"Tether"
"Under the Tide"
"The Mother We Share"

Encore
"You Caught the Light"
"By the Throat"


Download The Bones of What You Believe on Amazon
---
Listen to The Bones of What You Believe on Spotify
Send tips and cat photos to:
Editor: Marley Lynch (@marleyasinbob)
marley.lynch@timeout.com
Read more music features
These New Yorkers, who both recently launched new solo ventures, get together for a chat on their home turf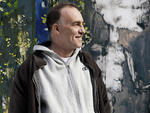 The Lounge Lizard, Jim Jarmusch star and all-around NYC alt legend gets a tribute worthy of his multimedia brilliance
Get ready for a busy season this fall, with shows from arena heavy-hitters to indie gems
See more in Music