Lady Gaga concert photos: Live at Roseland Ballroom
Miss Gaga and her rose-adorned keytar give the storied New York City venue a blockbuster send-off
By Time Out editors Tue Apr 8 2014
Photograph: Kevin Mazur/Getty Images
Lady Gaga arrives at Roseland Ballroom on April 2, 2014 in New York City.
In its 95-year history, Roseland Ballroom has surely had its share of grand spectacles—Fiona Apple's infamous meltdown in 2000, for one, comes to mind. But Lady Gaga, who closed down the venue with a seven-show run that concluded last night, may have outdone them all. See for yourself via the slide show above, which covers Ms. Germanotta's full Roseland stand.
Kicking off the affair on March 28, she arrived in a vintage checkered cab, eager to send the venue off in style. Her nude-colored bodysuit—complete with strategically placed roses—foreshadowed the extravagant stage set. Roses were everywhere, including on Gaga's keytar, and the set design was full of NYC flavor, most notably a side stage replica of an F train, where Gaga performed a couple of songs mid-set.

Pacing herself for a full-blown tour that kicks off in May (ArtRave: The Artpop Ball arrives at MSG on May 13), Gaga stuck to a succinct 11-song, 60-minute set throughout the Roseland run. Still, an hour was plenty of time to treat 3,200 Little Monsters per night to five costume changes and a sampling of their favorites—"Bad Romance," "Just Dance" and "Yoü and I" included, as well as the self-fulfilling "Applause" and encore closer "G.U.Y."
Last night, she professed to attendees that she shed tears before going onstage, "because this city makes me feel so strong." That makes 8.3 million of us, Stefani!
Download Artpop on Amazon
---
Listen to Artpop on Spotify
Read more music features
These New Yorkers, who both recently launched new solo ventures, get together for a chat on their home turf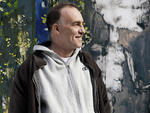 The Lounge Lizard, Jim Jarmusch star and all-around NYC alt legend gets a tribute worthy of his multimedia brilliance
Get ready for a busy season this fall, with shows from arena heavy-hitters to indie gems
See more in Music