Elton John concert photos: Live at Madison Square Garden
The legendary musician delivers a hit parade during his record-setting 64th Garden gig
By Michael Chen Fri Dec 6 2013
Photograph: Michael J. Chen
Elton John performs at Madison Square Garden on Dec 4, 2013.

Rocket Man vs. Piano Man. No, it's not the latest superhero blockbuster coming soon to a theater near you (note: we'd totally go watch that, and our money is on the intergalactic space traveler over the tickler of ivories), but rather an ongoing battle being waged between music legends Elton John and Billy Joel for supremacy of the World's Most Famous Arena (we'll call you back, 4–13 Knicks). On the same day that Madison Square Garden announced that Joel was set to become the venue's newest franchise, playing one show at the Garden every month until demand dries up, John began a two-night MSG run that culminated in a banner being lifted into the rafters celebrating his record-setting 64th performance at the arena (Joel is sitting on 46 performances).

It's a rivalry that the participants and occasional touring partners may not actually care about (though, given their on-and-off bickering about each other in the media, maybe they do), but in John's case, the number 64 serves to highlight the singer's incredible staying power. Also serving this purpose was the nonstop barrage of hits that John unleashed on the MSG audience—"Bennie and the Jets," "Goodbye Yellow Brick Road," "Don't Let the Sun Go Down on Me," "Crocodile Rock" and so on. The 66-year-old singer released his 31st album, The Diving Board, in September, but this stop at the Garden was all about celebrating the classics that have kept John's career thriving for "the longest time" (sorry, we couldn't resist).
Download The Diving Board on iTunes
Download The Diving Board on Amazon
What are your thoughts? Let us know in the comments box below or tweet us at @TimeOutNYMusic.
---
Listen to The Diving Board on Spotify
Read more music features
These New Yorkers, who both recently launched new solo ventures, get together for a chat on their home turf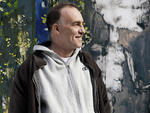 The Lounge Lizard, Jim Jarmusch star and all-around NYC alt legend gets a tribute worthy of his multimedia brilliance
Get ready for a busy season this fall, with shows from arena heavy-hitters to indie gems