Haim concert photos and review: Live at Terminal 5
The L.A. sister act supported its unstoppable 2013 debut with a winningly diverse set
By Hank Shteamer Mon May 12 2014
Photograph: Michael J. Chen
Haim performs at Terminal 5 on May 10, 2014.

Haim played a pair of covers during its Terminal 5 show on Sunday, the second of two consecutive sold-out gigs at the cavernous midtown room. Taken together, these performances—a brawny version of the Peter Green–era Fleetwood Mac blues-rocker "Oh Well" and a tender reprise of Beyoncé's "XO," with middle sister Danielle on drums and eldest Este on lead vocals—illustrate what makes this L.A. sister act special: For this band, pop is a vast pool of resources rather than a set of tight stylistic parameters. Yes, the songs from last year's outstanding Days Are Gone can feel instantly familiar—a little Rumours here, a little Thriller there—but just when you think you've got the band's formula down, it shows you a whole new facet of its uncanny talent.

The same was true of the live show. Playing NYC for the first time since Days Are Gone's release, Haim performed ten of the album's 11 songs, offering versions that highlighted the LP's diversity. "If I Could Change Your Mind," a sleek, immaculately retro dance-pop triumph on disc, served as a launchpad for one of Danielle's signature guitar-hero star turns (each one of the sisters is a virtuoso player, and unafraid to flaunt it); "Running if You Call My Name," featuring Alana "Baby" Haim at the mike, was a self-professed "emo" interlude, drumless and folky; and "Let Me Go" served as a perfect show closer, during which the trio upped the tempo and segued into an extended marching-band–style percussion jam with drummer Dash Hutton.

Speaking between songs, Este made a point to offer a Mother's Day shout-out to the sisters' mom, Donna, sitting up in VIP. (Apparently, Mama Haim makes a mean matzo-ball soup.) The real tribute, though, was the set itself. Sure, Haim's family-cover-band origin story seems like the stuff of rock & roll fairy tales, but what's so impressive about Haim is how they've channeled their parents' pop know-how into their own dizzyingly broad aesthetic, encompassing snarly Zeppelin-isms, post–Destiny's Child R&B and decades' worth of crisp, melodic rock. As the sisters showed on Sunday night, pop is whatever you make it.

Here's the full set list from the band's Saturday night perfomance:

"Falling"
"If I Could Change Your Mind"
"Oh Well"
"Honey & I"
"Days Are Gone"
"My Song 5"
"Running if You Call My Name"
"Don't Save Me"
"Forever"

Encore
"XO"
"The Wire"
"Let Me Go"


Download Days Are Gone on Amazon
---
Listen to Days Are Gone on Spotify
Send tips and cat photos to:
Editor: Marley Lynch (@marleyasinbob)
marley.lynch@timeout.com
Read more music features
These New Yorkers, who both recently launched new solo ventures, get together for a chat on their home turf.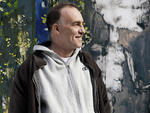 The Lounge Lizard, Jim Jarmusch star and all-around NYC alt legend gets a tribute worthy of his multimedia brilliance
Get ready for a busy season this fall, with shows from arena heavy-hitters to indie gems
See more in Music