Sky Ferreira concert photos: Live at Webster Hall
The electropop ingenue embraces the moment at her East Village stomping grounds
By Michael Chen Wed Nov 13 2013
Photograph: Michael J. Chen
Sky Ferreira performs at Webster Hall on November 11, 2013.
Kicking off a fall tour in support of her long-awaited LP, Night Time, My Time, Sky Ferreira took to the Webster Hall stage with her trademark cool-beyond-her-years panache. It's easy to forget that Ferreira, who has grown up in the spotlight—she was friends with Michael Jackson as a child, has a handful of acting and modeling stints to her credit, and has been a fixture on buzz lists for most of the 2010s—just turned 21 this past summer. Still, the bubbly vigor of youth surfaced onstage Monday night as Ferreira embraced the moment, celebrating last month's release of a debut album two years in the making, and headlining a show at the concert hall down the street from the East Village apartment where she wrote her first song, set closer "Lost in My Bedroom." Night Time, My Time's best tracks—second single "24 Hours," in particular, is all kinds of catchy—call to mind choice new-wave cuts from the '80s, but the precocious Ferreira is clearly thriving in the present.
Download Night Time, My Time on iTunes
Download Night Time, My Time on Amazon
What are your thoughts? Let us know in the comments box below or tweet us at @TimeOutNYMusic.
---
Listen to Night Time, My Time on Spotify
Read more music features
These New Yorkers, who both recently launched new solo ventures, get together for a chat on their home turf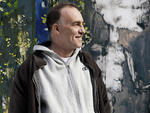 The Lounge Lizard, Jim Jarmusch star and all-around NYC alt legend gets a tribute worthy of his multimedia brilliance
Get ready for a busy season this fall, with shows from arena heavy-hitters to indie gems