Air Sex World Championships: Everything you ever wanted to know*
We present a handy, wipe-clean guide to the Air Sex World Championships: What is it? What are the rules? What the hell?
By Time Out contributors, edited by Jonathan Shannon Tue Jun 18 2013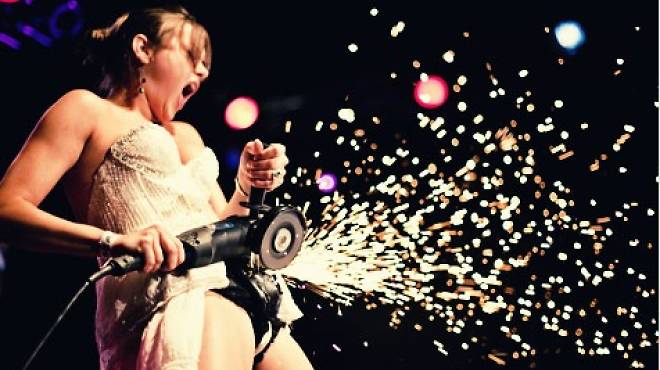 The World Air Sex Championships 2009 Photograph: Lizz Kuehl

*And plenty of stuff you would have preferred not to know.

While New York's frankly draconian legislation against holding a sex world championships wherever you damn please remains in force, we will make do with the Air World Sex Championships (okay, and these sex parties), which since 2009 have been dry-humping their way into NYC and our hearts. And our orifices.

Hosted by comedian Chris Trew, the young, virile and shameless take to the stage to show off their erotic technique. Thankfully, it's less creepy and more absurd, with comically pronounced movements.

Anyone can take part: Just turn up (preferrably in costume; perhaps peruse the wares at these NYC sex shops first) with a CD of music to perform to, and soon enough you'll be simulating sex with an imaginary partner in front of a baying crowd. Some sections of the business community pay a lot of money for that experience—but it's free at the Air Sex World Championships. (Thankfully, those sections of the business community have not cottoned on to that fact yet.)

The rules are simple: no nudity, and all orgasms must be simulated (see reference to draconian legislation, above). Also, there must be an imaginary person or object involved in your act.

A panel of judges (comics, sex professionals) adjudicate the first round, with the audience choosing the eventual winner. New York is but one stop on the Air Sex World Championships' nationwide tour, with the regional winners throwing down in Austin at the end of the year.
When is the Air Sex World Championships?
The Air Sex World Championships 2014 tour dates are yet to be announced; usually the finals take place in December in Austin, TX after a multi-city tour.
Air Sex World Championships
---
Related Air Sex World Championships photos, videos and interviews
---
---
Time Out videos
---
---
@TimeOutNewYork
Subscribe to Time Out New York on Spotify for playlists and recommendations from our Music team.


Check out New York's best restaurants, hottest street style, cool apartments and more.