Chicago on Broadway
Daniel Craig and Hugh Jackman prowl Uptown.
By Christopher Piatt Tue Sep 22 2009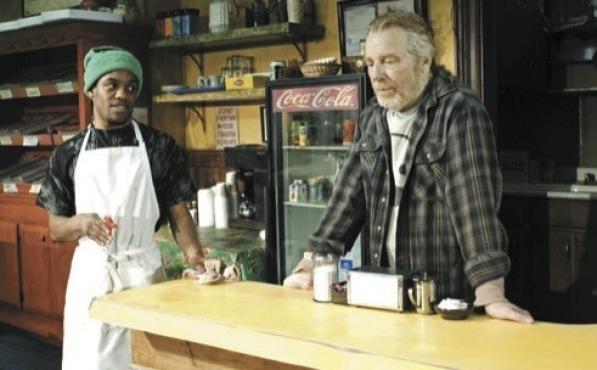 LOCAL HEROES Jon Michael Hill, left, helps out Uptown vendor McKean in Superior Donuts. Photograph: Michael Brosilow
Conventional wisdom is that London supplies the best Broadway imports. This fall, we'll see Jude Law mooning around Elsinore in Hamlet; Brit scribe Patrick Marber's Strindberg riff, After Miss Julie, stars English eye candy Sienna Miller and Jonny Lee Miller; and there are rumors that Trevor Nunn will remount his acclaimed U.K. revival of A Little Night Music in December. But in recent years, Chicago has emerged as a rival source of fresh shows and talent. In fact, the same Windy City neighborhood, Uptown, is the setting for two high-profile Broadway plays: Tracy Letts's Superior Donuts and Keith Huff's A Steady Rain, both now in previews.
Uptown, on the North Side of Chicago, is a rapidly gentrifying polyglot district, home to 60 languages and dialects, that is evolving into a condo-filled destination 'hood. For the moment, the place remains an ethnic melting pot on medium boil in a famously segregated town. As with any neighborhood "on the rise," local denizens and developers are in conflict. That combustible, transitional vibe is evident in Superior Donuts, in which a hangdog pastry peddler resists change. This salty boulevard comedy had already been started by Pulitzer-winner Letts before August: Osage County clobbered the 2008 season. Like August, Donuts arrives directly from its debut at Steppenwolf Theatre Company, original cast intact. Most of its actors will make their Broadway debuts (just as a Target store prepares to make its Uptown debut).
On the other hand, A Steady Rain—about two disillusioned cops who find ugly work realities on their Uptown beat—has an A-list cast: Hugh Jackman and Daniel Craig. Obviously, the action stars are why Huff's play is on Broadway. There's a big difference between the no-brainer transfer of Jude Law's Hamlet and the virtually unknown A Steady Rain. Huff's two-hander premiered at the small nonprofit venue Chicago Dramatists in 2007, where the two cops were played by local stalwarts Peter DeFaria and Randy Steinmeyer. Real cops in the audience made the play a Chicago hit—and none of them went stargazing. Huff got his Broadway break when over dinner, James Bond franchise producer Barbara Broccoli handed the manuscript to Craig, who jump-started the project.
The one recognizable face in Donuts is Michael McKean, Spinal Tap frontman and frequent star of Christopher Guest's mockumentaries. But there's another face to get to know: Cliff Chamberlain. Back in Chicago, he not only starred with McKean in the Letts show, but immediately afterward, shared the staged with McKean's wife—actor Annette O'Toole—in Magnolia, Regina Taylor's adaptation of The Cherry Orchard. (In that instance, the play wasn't such a hit; Taylor relocated the action to 1963 Atlanta, made the gentry characters white and the servants black—and also made the audience bored).
So it's clear that Chicago, which gave us Mamet (yeah, he's all over the season too), is home to two-fisted drama; what about musicals? We have yet to see a Broadway song-and-dance show that fully originated over there. Director David Cromer made a dent last year with his production of Adding Machine, a dark, pessimistic tuner that transferred to Off Broadway for a respectable five-month run. Now Cromer has become a local fixture in New York. His revival of Our Town keeps running at the Barrow Street Theatre, and he's putting the finishing touches on his remount of two Neil Simon plays: Brighton Beach Memoirs and Broadway Bound.
If these recent productions are any indication, Chicagoans and their theatrics are part of our local scene and should stay on your radar for the foreseeable future. As for Donuts's shabby, yokel-populated coffeeshop and A Steady Rain's carnal violence, it's fitting that they should be exported to New York; for new residents of Uptown, that imagery is increasingly in the rearview mirror.
A Steady Rain and Superior Donuts are now in previews.
RELATED
Tracy Letts serves up Superior Donuts
Superior Donuts' Michael McKean
Fall preview: A Steady Rain