Play Time Out New York's Tony Awards Drinking Game: everybody wins!
After the Tony Awards on Sunday night, show folk will be popping champagne or crying in their beers; you should drink along with them!
By Time Out Staff Fri Jun 6 2014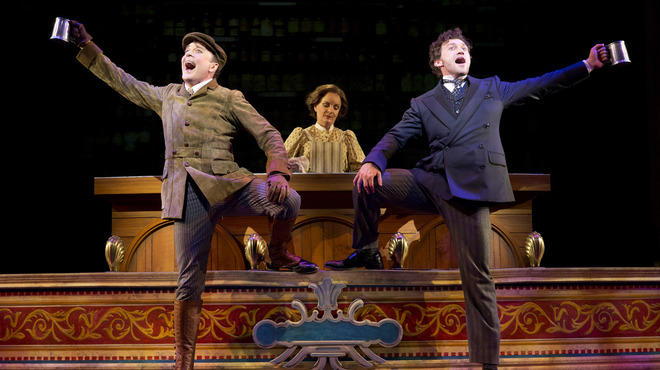 A Gentleman's Guide to Love and Murder Photograph: Joan Marcus

Okay. You've filled out your play-at-home Tony ballot. You've alienated workplace colleagues with incessant talk of how The Bridges of Madison County was robbed of a Best Musical nomination and how Lady Day at Emerson's Bar & Grill is a musical, dammit, not a play. You've been getting pumped up with the OBC recordings of If/Then, Aladdin and Beautiful on shuffle. And you have all your Tony-obsessed friends over to see the broadcast, everyone refreshing the Time Out New York Twitter feed for piercing insight and witty observations.

What's left but to drink? Following are rules for getting royally sloshed on Tony night, which is one guaranteed way of enjoying it.

Round one:
• Every time Neil Patrick Harris gives Hugh Jackman hosting tips, get busy with a margarita.

• Every time there's a crack about men in dresses (A Gentleman's Guide to Love and Murder, Hedwig and the Angry Inch, Casa Valentina, Twelfth Night, Kinky Boots, Matilda…), suck down a Cosmo.

• Take a polite sip every time there's a celebrity presenter who was on Broadway this year but was not nominated for a Tony but is gamely presenting anyhow because they want to show they're not bitter about not having been nominated for a Tony.

• When a celebrity presenter mangles Idina Menzel's name, run and get a Wickedtini.

• Every time they cut to Audra McDonald trying to look like she doesn't care if she wins a record-setting SIXTH MOTHERFUCKING TONY AWARD, pound it like Billie Holiday.

• Any time someone cries while accepting their award, take a shot of anything. (Note: This is for professional drinkers or actual rhinoceroses only. If you are a normal human being, you will be dead inside 30 minutes if you attempt this.)

• For every reference to Cats (it's now and forever, after all) crack open a Bud.

• Sip bitchily on your white-wine spritzer every time someone gets pitchy.

• Take a sip from a Virgin Mary every time there's an obvious attempt to connect with younger viewers: Lin-Manuel Miranda rapping; unnecessary mentions of Aladdin; or gratuitous cutting to Daniel Radcliffe, even though he wasn't nominated.

• Every time there's a Breaking Bad joke about Bryan Cranston, take a shot of Cuervo.

• Two sips for every double entendre.

• If Brooke Shields screws up her lyrics, finish your drink.
Liver-exploding round: Down a shot when you see:
• Awkward, nonsensical excerpting of play and play revival nominees

• Embarrassing speeches attempting to justify the existence of the Tony Awards or even theater itself

• Strange special material including opening and closing numbers clearly conceiving the Tony Awards for an audience that does not have any idea what goes on in theater

• LGBT winner kisses their partner

• Mismatched pair of stars copresents, à la Carol Channing and LL Cool J

• The orchestra plays all or part of "There's No Business Like Show Business"

• A Broadway legend in the audience reacts uncomfortably to an off-color joke

• A Broadway legend claps off-rhythm or otherwise engages awkwardly in some more current music

• A nominee gives the stink-eye in the split screen before or after winner announcement

• A winner complains about another award they or their production should have won

• Either live performance or clips of still-running shows that opened years earlier

• Open criticism by presenter of Teleprompter shtick

• Desperate a cappella warbling by presenters who wish they were in a musical

Well, kids: It's all over except for the stomach pump! Be sure to follow our live-tweeting of the Tony Awards ceremony starting Sunday at 8pm: @TimeOutNewYork.
---
---