Hurricane Sandy benefits and fund-raising events in New York City [updated]
Help with relief efforts after Hurricane Sandy by attending one of these benefits or fund-raising events.
By Amy Plitt Fri Nov 2 2012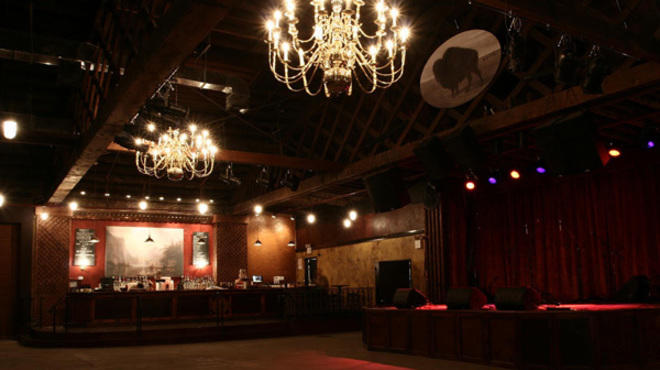 The Bell House Photograph: Sam Horine
As New York City and other parts of the northeast continue to recover from the devastating effects of Hurricane Sandy, plenty of folks are pitching in and finding ways to help out. There are many ways to volunteer your time with various organizations, but some venues are also staging benefits and fund-raisers in the coming weeks to help relief efforts. We've compiled a list of these, and will be updating continuously; if you have an event you'd like us to add, leave a comment or e-mail thisweek@timeout.com with details. You can also check out a list of benefits being held at bars and restaurants in New York, compiled by our Food & Drink staff.
Thursday, November 8
Jean Grae, Jennifer O'Connor, Kevin Devine and more will gather for East Coast Relief, a benefit concert whose proceeds will be donated to the American Red Cross. Knitting Factory, 361 Metropolitan Ave at Havemeyer St, Williamsburg, Brooklyn (347-529-6696, bk.knittingfactory.com). Nov 8 at 7pm; $40.
Saturday, November 10
Trinity Church will host Concert for New York: Bach's Mass in B Minor, featuring performances from the Choir of Trinity Wall Street and the Trinity Baroque Orchestra. The show will be free, but the organization will solicit donations for the Mayor's Fund to Advance New York City, which has been providing relief to victims of Sandy. Trinity Church Wall Street, 89 Broadway at Wall St (212-602-0800, trinitywallstreet.org). Nov 10 at 7:30pm; free.
The long-running stand-up show If You Build It presents a special Sandy relief fund-raising show, with the proceeds going toward Lower East Side Recovers. UCBEast, 155 3rd St between Aves A and B (212-366-9231, east.ucbtheatre.com). Nov 10 at 8:30pm; $10.
Sunday, November 11
SoulCycle is inviting people to ride a good cause during Sandy Relief Rides at its NYC studios. All of the proceeds from classes held on November 11 ($32 apiece) will go toward the Mayor's Fund to Advance New York City. Additionally, the Tribeca studio will hold special a all-star ride with NYC luminaries (including City Council speaker Christine Quinn)—although you'll have to pony up $1,500 for those. Locations vary; visit soul-cycle.com for details. Nov 11, times vary; $32.
Monday, November 12
A whole host of Kings County luminaries, including Jonathan Ames and Amy Sohn, will tell stories at Brooklyn Relief: A Night of Words, Music and Comedy to Benefit Hurricane Sandy Relief Efforts at Union Hall. All of the proceeds will go toward charities working to help victims of the storm. 702 Union St between Fifth and Sixth Aves, Park Slope, Brooklyn (718-638-4400, unionhallny.com). Nov 12 at 8pm; $20.
Tuesday, November 13

Show off your knowledge of pop-culture minutiae and do some good at the same time: TrivWorks' latest pop-culture trivia night, hosted by Pat Kiernan, is now a benefit for Sandy relief; 100% of the proceeds will go towards recovery efforts. The Bell House, 149 7th St between Second and Third Aves, Gowanus, Brooklyn (718-643-6510, thebellhouseny.com). Nov 13 at 7:30pm; $15.
Wednesday, November 14
A number of Dumbo businesses—including Governor, One Girls Cookies, Smack Mellon and Almondine—band together for Help Dumbo Rebuild, a fund-raising event at Galapagos Art Space. There will be a silent auction and proceeds go toward recovery efforts in the Brooklyn neighborhood. 16 Main St at Water St, Dumbo, Brooklyn (718-222-8500, galapagosartspace.com). Nov 14 6–10pm; tickets start at $25.
Saturday, November 17
The crew behind the Party Like It's 1999 bash is holding a benefit for the Brooklyn Recovery Fund, which is helping with relief efforts in Kings County. You can donate normally, or drop a few bucks in the Pay to Play jar—if you give cash, you can request a song, and the more money you give, the faster your song will be played. The Bell House, 149 7th St between Second and Third Aves, Gowanus, Brooklyn (718-643-6510, thebellhouseny.com). Nov 17 at 10:30pm; free.
Sunday, November 18
The powerHouse Arena will host a book fair, the proceeds from which will go toward the store's clean-up and restocking efforts. 37 Main St at Water St, Dumbo, Brooklyn (sandyhatesbooks.tumblr.com). Nov 18 noon–8pm; free.
Sunday, November 25
Eugene Mirman will host a special fund-raiser titled Pretty Good Friends' Hurricane Relief Benefit: A Very Funny F*ck You to Sandy. That pretty much says it all. (Guests include Mike Birbiglia, Jon Glaser, Wyatt Cenac and, we're assuming, more awesome comedians.) All of the proceeds will benefit the Brooklyn Recovery Fund. The Bell House, 149 7th St between Second and Third Aves, Gowanus, Brooklyn (718-643-6510, thebellhouseny.com). Nov 17 at 10:30pm; free.
---
Users say
Great events in Brooklyn! Anything additional events going on out there in Manhattan?
HI, I am the Director of Marketing for Ngam NYC in the East Village. I wanted to share our Hurricane Relief events that we are holding next week. We will be working with the American Red Cross Monday Nov. 5th-7th by donating 20%of proceeds during dinner service to them. We will also be holding a free cooking class on Wednesday at noon to make Pad Thai for the shelters in Lower Manhattan. No reservations needed for the cooking class and reservations recommended for Dinner. Here is a little info from our Chef: Chef Hong and the staff of Ngam in East Village is hosting dinner on Monday Nov. 5 through Wednesday Nov. 7th to raise funds for the American Red Cross. 20% of proceeds will go to the Red Cross. "East Village and New York is home for us. It is important that we support and help our neighbors and those who are in need...This is our chance to serve others and give back" - Chef Hong. Thank you so much!