Learn to dance at these house and hip-hop dance classes
If you want to learn to dance, get fit and bust out moves in a club, take one of these house or hip-hop dance classes.
By Sarah Rammos Tue Sep 11 2012
Photograph: Kyle Froman
House Dance at Alvin Ailey Dance
If you want to learn to hot-step to house-music DJ mixes or break and pop like New York B-boy crew the Dynamic Rockers, try one of these house and hip-hop dance classes, including one offering from a dancer that appeared in the video for Michael Jackon's "Bad."
RECOMMENDED: Fitness guide to NYC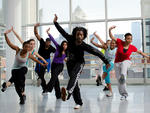 House Dance at Alvin Ailey Extension
Eddie Stockton's class starts with hopping in place and stretching, before transitioning into choreographed sequences. One pattern might feature jumps interspersed with quick twists and low-spinning sweep kicks, followed by side-to-side leaps paired with snaking footwork. Part of the fun is that the Brooklyn-born teacher blasts his own DJ mixes and circulates through the room to help students master each attitude-enhanced move before adding another. If you still get tripped up, don't stress: Stockton supplies encouragement, reminding students that it's okay to add their own flavor to the prescribed routine. • 405 W 55th St at Ninth Ave (212-405-9500, aileyextension.com). Thu 8–9:30pm; single class $16.50, first two classes $25.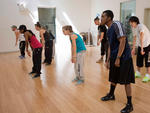 Beginner Popping at Peridance Capezio Center
According to instructor Tweetie, the trick to making these jerky movements look cool is the quick flexing and releasing of your joints. Since popping is a new type of internal motion for most people, she demonstrates how to isolate muscles in your arms, legs, chest and neck through simple routines set to super-loud music. You'll be sore by the end of 90 minutes, but ready to come back and try it again. • 126 E 13th St between Third and Fourth Aves (212-505-0886, peridance.com). Wed, Fri 1–2:30pm; single class $18.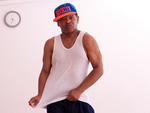 Hip-Hop at Cumbe Dance
Want to learn hip-hop from a master? Take a class with Roger G, who appeared in Michael Jackson's "Bad" and other videos. His pro experience shows as he breaks down the street-friendly moves, making them easy for both novices and experienced dancers. Roger's newest class quickly blends separate components into a solid routine that the group performs at the end of the hour-and-a-half session. • 558 Fulton St at Flatbush Ave, Fort Greene, Brooklyn, second floor (718-935-9700, cumbedance.com). Tue 6–7:30pm, Sat 4:30–5:30pm.
---