Macy's Thanksgiving Day Parade
It's almost that time! (Yes, again.) Suck it up and join the party: This guide tells you when to go, what to watch for and where to find free hot dogs when it's all over.
By Amy Plitt Wed Nov 19 2008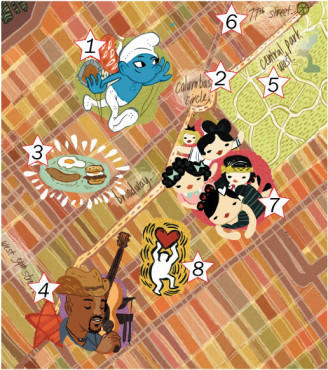 1. Smurf balloon and float
A member of the original blue-man group makes its 58-by-39-by-47-foot-tall debut this year. He will be accompanied by a Smurf Village float outfitted with a 'shroom-shaped home. Trippy, man!
2. Where to watch
The best view in the house is actually above the house: the Shops at Columbus Circle. The multilevel, mostly glass mall offers plenty of vantage points as the parade turns from Central Park West to Broadway, and it's open from 9am to 5pm on Thanksgiving Day. Use the entrance at 58th Street between Eighth and Ninth Avenues to avoid barricades.
3. Shine On Jimmy Dean float
This sausage party is led by pro-Bush country star Trace Adkins, and features a gigantic plate and an animated sun and moon. Here's hoping they fling free sausage biscuits into the crowd.
4. Musical Innovation Bigger than Life float
Nothing says rock & roll like a jumbo Gibson Les Paul guitar and dancing piano. Nothing except former Hootie and the Blowfish frontman Darius Rucker, who'll be in tow and belting "It Won't Be Like This for Long." Over and over and over.
5. Wanna blow off early?
Nab a spot at the start of the parade, near 77th Street and Central Park West. You won't see any of the special performances—marching bands, Broadway stars, Miley (!)—but you also won't be anywhere near the hell that is sure to be Herald Square.
6. Balloonatics, go here!
If you only get blown up over the actual blow-ups, hightail it to Central Park West between 77th and 81st Streets on Wednesday 26 from 3 to 10pm and observe the inflation process; you'll be joined by a scarily devoted crowd of balloon junkies.
7. Harajuku Lovers float
Tokyo's most vibrant subculture takes to the streets with Stefani backup dancers Love, Angel, Music and Baby, boogying down alongside balloon versions of…themselves. Weird, we know.
8. Keith Haring balloon
Downtown art meets midtown commerce: Macy's pays tribute to the legendary artist, who would've turned 50 this year, with a 48-foot-tall "balloonicle" (their word, not ours). It's based on Haring's 1987 ink drawing Untitled (Figure with Heart).
---
Where to eat after the parade
Hide from the screaming tourists and holiday cheer at Hell's Kitchen dive Rudy's (627 Ninth Ave between 44th and 45th Sts, 212-974-9169). The beer is cheap, and the hot dogs are free; what more do you need?
MARK YOUR CALENDAR! 82nd Annual Macy's Thanksgiving Day Parade: Starts at 77th St and Central Park West, then moves onto Broadway at Columbus Circle, and ends at 34th St and Seventh Ave (212-494-4495, macysparade.com). Nov 27 9am–noon, free.