The Macy's Thanksgiving Day Parade 2021 guide
The Macy's Thanksgiving Day Parade 2021 is a beloved NYC tradition, and our guide tells you everything you need to know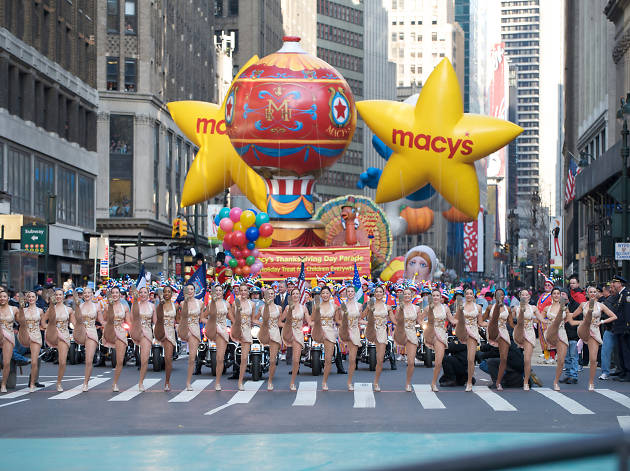 Before America gets turnt on turkey and settles in to watch some football, all eyes turn to Manhattan during the Macy's Thanksgiving Day Parade. This November, after a year where celebrations looked very different, things are getting back to normal. The annual pageant of giant balloons, floats, cheerleaders, clowns, marching bands,
Broadway
performances and celebs is one of the best
NYC events in November
.
This year, spectators will be able to enjoy live bands, high-flying balloons and more. All volunteers and staff will have to be vaccinated and will also be wearing masks. The number of parade participants will also be reduced this year as an extra precaution, down about 20 percent from past years.
"We are thrilled to welcome back in its full form the Macy's Thanksgiving Day Parade, a world-renowned celebration that ushers in the magic of being in New York City during the holiday season," New York City Mayor Bill de Blasio said in a statement.
Marching bands that had been planning to participate in the 2020 parade will be taking part in this year's parade instead.
RECOMMENDED: Full guide to Thanksgiving in NYC
When is the Macy's Thanksgiving Day Parade?
Thanksgiving Day, of course! But we'll spell it out for you: Thursday, November 25.
Where is the Macy's Thanksgiving Day Parade?
The Macy's Thanksgiving Day Parade usually starts at 77th St and Central Park West and heads down to 34th Street to Macy's Herald Square.
What time does the Macy's Thanksgiving Day Parade start?
The parade kicks off promptly at 9am and ends at noon.
Who is performing during the Macy's Thanksgiving Day Parade?
There will be Broadway performances, live pop performances, marching bands and more—all yet to be announced.
Past Macy's Thanksgiving Day Parade coverage
The Macy's Thanksgiving Day Parade will look very different this year
The Macy's Thanksgiving Day Parade has ushered in the holiday season for 96 years—and this year is no different. America's most beloved parade will still go forward on Thursday morning (9am-noon) despite a very different reality. However—like most things this very difficult year—it'll take a new form. Instead of a parade for thousands on the streets of New York, it is being re-made for television, specifically for NBC's broadcast. This means that there is no need for hundreds of balloon handlers this time. Balloons will be carried by 25 people (per balloon) who'll share the duty with utility vehicles across just one block on 34th Street (in front of Macy's Herald Square) instead of across two miles, according to The New York Times. RECOMMENDED: The Macy's Thanksgiving Day Parade 2020 guide There will be two new balloons this year—"Boss Baby" and the Red Titan from the YouTube series, "Ryan's World." There won't be any live marching bands, but pre-taped bands, including New York Fire Department's Emerald Society band and the Lesbian & Gay Big Apple Corps Marching Band, will perform. We'll also see pre-taped Broadway performances (arguably one of the best parts of the whole shebang). The following will be broadcast: Mean Girls, Ain't Too Proud—The Life and Times of the Temptations, Hamilton and Jagged Little Pill. Additionally, Ashley Bouder, a New York City Ballet principal dancer, will perform as the pink tutu-ed Sugarplum Fairy, and 18 Rockettes from Radio City Music Hall will perform a socially-distanced number sans kickline, The Times notes. Patti LaBelle, Bebe Rexha, The Goo Goo Dolls, (patron saint) Dolly Parton, Jordin Sparks, Pentatonix, will also perform. New this year: performers from other canceled parades, including the West Indian Day Parade, The Puerto Rican Day Parade, the Pride Parade, the St. Patrick's Day Parade and the Mermaid Parade will also make pre-recorded appearances. Thankfully, Santa Claus will close out the parade as in years past. So, how do you watch the Macy's Thanksgiving Day Parade this year? NBC will be broadcasting it, but you can watch a livestream of the celebration on YouTube.com/Verizon, on Verizon's Twitter account and on macys.com. Our fave "Saved By the Bell" alum Mario Lopez will be hosting. And when the parade is over and the turkey is all gone, check out these fun things to do on Thanksgiving weekend. Most popular on Time Out - Here are the Broadway numbers you'll see in the 2020 Macy's Thanksgiving Parade- Best Thanksgiving movies for kids and families- The 100 best movies of all time- NYC holiday traditions that aren't happening this year- How to get a rapid COVID test in NYC Want to know what's cool in the city before your friends do? Sign up to our newsletter for the latest and greatest from NYC and beyond.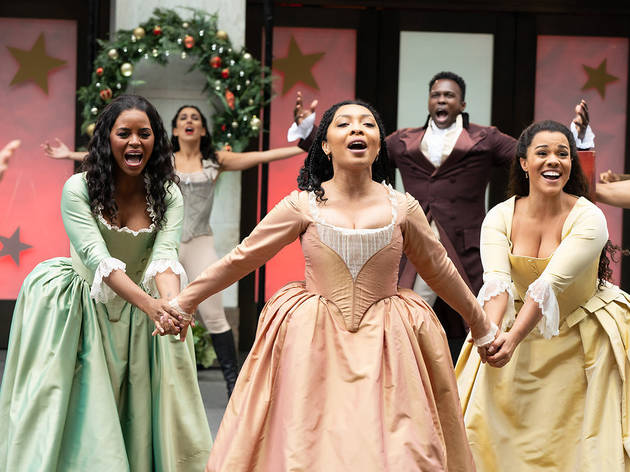 Here are the Broadway numbers you'll see in the 2020 Macy's Thanksgiving Parade
This year's edition of the annual Macy's Thanksgiving Day Parade will be different from the usual one in many ways, but one major ingredient is still in the recipe: Broadway musicals, thankfully, still have a role in the pageant. Although all Broadway productions have been dark since March, and won't resume performances until at least June, cast members from four shows have reunited to record musical numbers from their shows that will be included in NBC's morning broadcast of the Thanksgiving Parade on Thursday, November 26. All four of the sequences have already been filmed outdoors, with an eye toward the safety of the performers. Here's what to expect from Broadway musicals in this year's parade: Mean Girls: Reneé Rapp, playing the stung queen bee Regina George in Tina Fey's high-school musical, belts out the James Bond theme song–like "Someone Gets Hurt," joined members of the company. Ain't Too Proud—The Life and Times of the Temptations: The five triple threats (that's a quindecuple threat in total!) playing the most famous lineup of the Temptations—Nik Walker, James Harkness, Jawan M. Jackson, Matt Manuel and Jelani Remy—perform a medley of the Motown hits "My Girl" and "Get Ready." Hamilton: Eighteen cast members of Lin-Manuel Miranda's history-making musical sing "The Schuyler Sisters"—which includes a paean to NYC as "the greatest city in the world"—with Joshua Henry as Burr and Jennie Harney and Krystal Joy Brown as Anjelica and Eliza (and Alysha Deslorieux as Peggy). Jagged Little Pill: A dozen cast members sing the Alanis Morissette jukebox musical's finale, "You Learn," including 2020 Tony Award nominees Elizabeth Stanley, Celia Rose Gooding, Derek Klena, Sean Allan Krill, Lauren Patten and Kathryn Gallagher. (The cast will also reunite on Sunday December 13 for Jagged Live in NYC, a concert of songs from the show.) RECOMMENDED: Our day-by-day roundup of the best theater, opera and dance to stream online Photograph: Virginia Sherwood/NBC | Mean Girls Most popular on Time Out - 11 ridiculously cozy outdoor dining spots in NYC- NYC releases new rules for outdoor dining- The fastest places to get a Covid-19 test in NYC- NYC holiday traditions that aren't happening this year- Best Thanksgiving movies for kids and families Want to know what's cool in the city before your friends do? Sign up to our newsletter for the latest and greatest from NYC and beyond. Photograph: Virginia Sherwood/NBC | Ain't Too Proud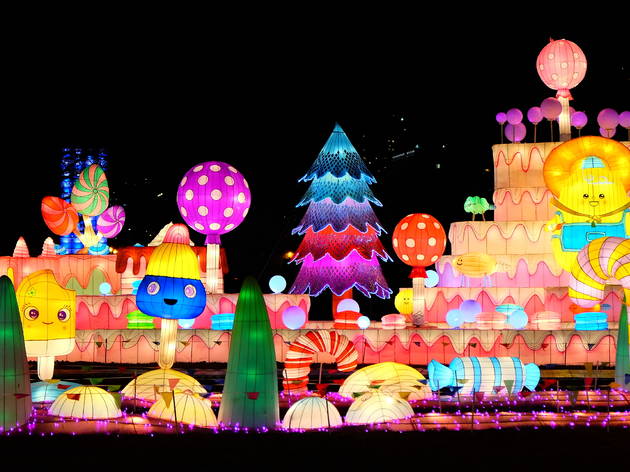 The best things to do on Thanksgiving
You might be sticking around NYC for Thanksgiving this year, but don't worry, it has its many perks! Instead of the hustle and bustle of traveling use this time to visit New York's iconic ice-skating venues like The Rink at Rockefeller Center and take in its incredible holiday lights displays (there are plenty this year!). Plus, you can get in the Christmas spirit while Black Friday shopping or wandering around NYC's wonderlands like the Bryant Park Winter Village. Follow our agenda below to optimize your time off with the best activities to do before and after your turkey-filled feast. RECOMMENDED: A full guide to Thanksgiving in NYC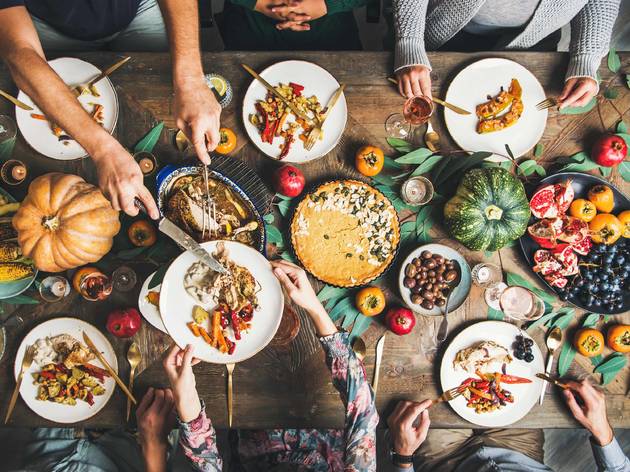 Thanksgiving in NYC guide
Thanksgiving in NYC is going to look a lot different this year, especially with the mayor asking New Yorkers to stay at home and the Macy's Thanksgiving Day Parade taking on a different format, but it's still possible to have a memorable Turkey Day. Whether you're just in town for the long weekend or a Gothammite trying to make the most out of your days off, there are plenty of epic things to do this fall in NYC. If you want to get ahead on your Christmas or Hanukkah gift-buying, take advantage of the slew of holiday markets going on or wander around the city to see the most stunning Christmas window displays and stop in to shop! RECOMMENDED: Full guide to the best things to do in the fall When is Thanksgiving? Thanksgiving is held on the fourth Thursday in November. This year, Thanksgiving falls on Thursday, November 26, 2020. Video: Nine things you didn't know about the Macy's Thanksgiving Day Parade
Macy's Thanksgiving Day Parade photos
Archive Macy's Thanksgiving Day Parade content