The Macy's Thanksgiving Day Parade 2018 guide
The Macy's Thanksgiving Day Parade 2018 is a beloved NYC tradition, so use our guide to find out everything about it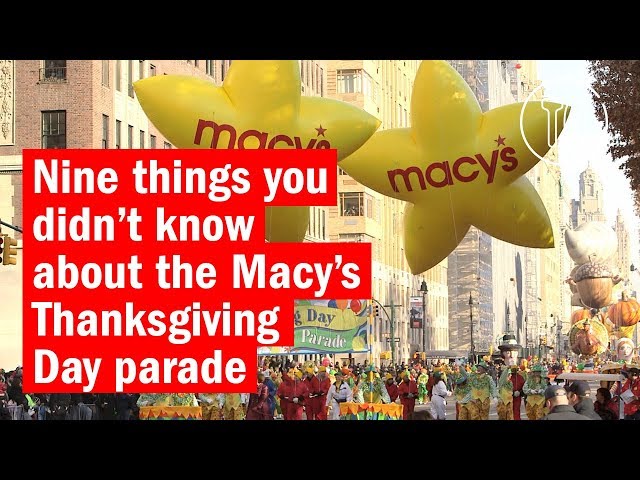 Before America gets turnt on turkey and settles in to watch some football, all eyes turn to Manhattan during the Macy's Thanksgiving Day Parade 2017. The annual pageant of giant balloons, floats, cheerleaders, clowns, marching bands, theater and Broadway in New York performances and celebs is one of the best NYC events in November. Sure, it's fun to watch in your PJs, but there's nothing like watching the procession in person. Use our guide to examine the parade route and get a sneak peek of this year's balloons and floats (or watch the pre-Thanksgiving balloon inflation). We'll also tell you about nearby restaurants open on Thanksgiving as well as bars and festive New York attractions to check out for the full NYC experience.
For a guided tour of the Thanksgiving Day Parade, click here.
RECOMMENDED: Full guide to Thanksgiving in NYC
When is the Macy's Thanksgiving Day Parade?
Thanksgiving Day, of course! But we'll spell it out for you: Thursday, November 23.
Where is the Macy's Thanksgiving Day Parade?
The Macy's Thanksgiving Day Parade starts at 77th St and Central Park West and heads down to 34th Street in Herald Square.
What time does the Macy's Thanksgiving Day Parade start?
The parade kicks off promptly at 9am.
Who is performing at the Macy's Thanksgiving Day Parade?
You can expect to see performances from Dear Evan Hansen, Anastasia, the upcoming Once On This Island and the new SpongeBob SquarePants musical, all sandwiched between giant inflatable cartoon characters. On the pop front, highlights includes 98 Degrees, Jimmy Fallon and The Roots, Flo Rida, Wyclef Jean and...The Goo Goo Dolls, we guess?
Macy's Thanksgiving Day Parade 2017
Macy's Thanksgiving Day Parade photos
Archive Macy's Thanksgiving Day Parade content