May 2013 events calendar for New York City
Plan your month with our events calendar of the very best activities, including Memorial Day activities, free things to do, and our picks from the arts and music.
Start planning your summer now with our events calendar for May. This guide has all of the best things to do this month, including Memorial Day activities, Fleet Week, and the best arts and music events. Plus, get information about popular attractions like Governors Island.

RECOMMENDED: New York City events calendar for 2013
Featured events in May 2013
---
Free events in May 2013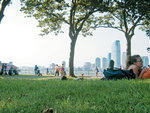 The car-free oasis in Upper New York Bay typically opens to the public each summer over Memorial Day weekend.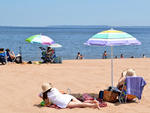 Beaches open
Hurricane Sandy threatened to put the kibosh on idyllic summer days of crashing waves, sun-drenched picnics and walks in the surf. Thankfully, the parks department has been hard at work rebuilding the devastated and debris-littered oceanfront areas. With the exception of Fort Tilden in storm-battered Breezy Point, all of the city's public beaches will reopen on Memorial Day. Work on your tan at family-friendly standby Coney Island Beach (Surf Ave between Ocean Pkwy and W 37th St, Brooklyn), foodie and Ramones favorite Rockaway Beach (Boardwalk between Beach 9th and 149th Sts, Queens) or Orchard Beach, a mile-long stretch that's been dubbed "The Riviera of New York" (Park Dr at Orchard Beach Rd, Bronx). Suck it, Sandy. Visit nycgovparks.org for details. Beaches are open for swimming May 25–Sept 2.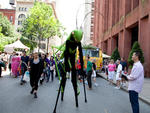 This four-day affair combines scientific innovation with cutting-edge arts and culture. Past special guests have ranged from super genius Stephen Hawking to downtown darling Maggie Gyllenhaal, and discussions have covered everything from string theory to the cultural importance of beer. This year's events remain under wraps, but expect Saturday-night stargazing in Brooklyn Bridge Park and a display of new inventions at the festival's "Innovation Square." Visit website for schedule (212-352-3101, worldsciencefestival.com). $10–$40.
---
Theater events in May 2013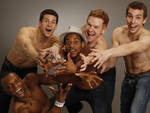 Price band: 2/4
Critics choice
Broadway chorus boys strut their stuff in a Miss America–style competition that will include talent and bathing-suit segments (which in some cases may be redundant).
---
---
Arts events in May 2013
---
You might also like
---
Users say
Queens Taste is a must event for Manhattan foodies
Umm I thought Fleet Week was cancelled because of the Sequester?
hello, love your site. do you accept any submissions for upcoming art events, please provide email for submissions. Thanks