The best Coney Island attractions
Luna Park opens for the season this weekend—and there are plenty other reasons to visit Coney Island this summer
By Jennifer M. Wood Thu Apr 10 2014
Coney Island beach Photograph: Melissa Sinclair
Amid several decades of redevelopment efforts and more recent rebuilding in the wake of Hurricane Sandy, Coney Island remains one of New York City's quintessential summertime destinations. Around 14 million people ride to the end of the D, F, N and Q lines each year to enjoy the beach and historic boardwalk. Here are a few more Coney Island attractions that make the journey worthwhile.
Rendering of the Thunderbolt at Coney Island
Though Luna Park (1000 Surf Ave at 10th St; 718-373-5862, lunaparknyc.com; various times and prices) reopens on Sunday 13, it's Memorial Day that has thrill-seekers atwitter: That's when the Thunderbolt is makes its glorious debut. The 115-foot-tall roller coaster—which will move riders along 2,233 feet of track at speeds of up to 55 miles per hour—is Coney Island's first in more than a century to turn riders completely upside down in a 100-foot vertical loop. Until then, adrenaline junkies can get their kicks on the Sling Shot, which flings patrons 150 feet into the air at 90 miles per hour, and the terrifyingly rickety 87-year-old Cyclone.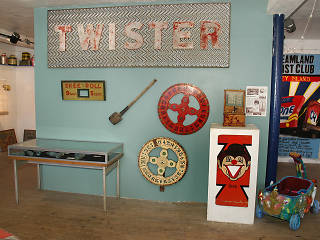 Coney Island Museum Photograph: Norman Blake
Memorial Day is also when the Coney Island Museum (1208 Surf Ave at 12th St; 718-372-5159, coneyisland.com; various times; $5) reopens, after an 18-month closure and $1 million renovation that, among other improvements, restored the building's Spanish terra-cotta roof parapet. See highlights from the museum's permanent collection of nostalgia-inducing photographs and memorabilia, including fun-house mirrors and an impressive assortment of vintage thermoses. There's also an installation by artist Africasso on life today in Coney Island's west end, and a 3D-printed diorama of the original Luna Park, which was destroyed by a pair of fires in 1944.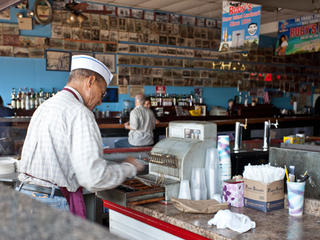 Ruby's Photograph: Virginia Rollison
Ruby's (Boardwalk between Stillwell Ave and 12th St; 718-975-7829, rubysbar.com) has been threatened by real-estate developers, narrowly avoided eviction in 2010 and had its power knocked out by Hurricane Sandy, forcing owners to run an extension cord from the diner next door to stay open. But the dive is still standing, and this year, the oldest bar on the boardwalk celebrates its 80th birthday. Burgers, wings and plastic cups of beer are about as fancy as it gets here, and we wouldn't want it any other way.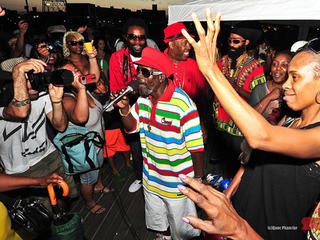 Coney Island Reggae Beach Party
Beginning in May, WKCR radio host Carter Van Pelt brings his love of reggae back to the beach for Coney Island Reggae on the Boardwalk (Boardwalk at 21st St; May 25, June 28, July 27, Aug 31 4–8pm; free). The monthly party offers ska, rocksteady, dub and other laid-back summertime sounds from a rotating lineup of guests, which has previously included producer Clive Chin (who worked with the Wailers) and veteran DJ-producer Sir Tommy. For updates on who's playing this season, visit facebook.com/groups/coneyislandreggae or follow @CarterVanPelt on Twitter.
You might also like
---
Here are the ten New York experiences you simply can't miss.
Don't fret, penny-pincher—each of these fun cheap date ideas will cost you $30 or less.
Tired of swamped tourist traps, huh? Check out these alternative things to do in New York.
Find more popular Things to Do features