The best of Brooklyn: Bloggers' favorite local spots
We asked a few of our favorite Brooklyn bloggers for their recommendations of the borough's best restaurants, shops, parks and more.
By Nadia Chaudhury Tue Sep 25 2012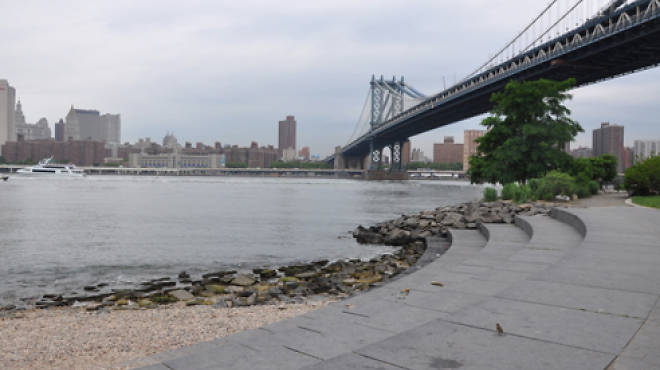 Brooklyn Bridge Park, Main Street section Photograph: Elyssa Goodman
RECOMMENDED: What's new and what's best in Brooklyn
Hideyoshi, founder of Dumbo NYC (dumbonyc.com)
"[Though] I blog about Dumbo, I love walking around Vinegar Hill, especially just after sunrise—the lighting, the solitude in a city of million[s]. People, especially photographers, talk about Vinegar Hill and Dumbo having a magical light during sunrise and sunset. The light seems to bounce off the buildings in a dreamy haze. That is, until you see a lot of others walking around."

"If I had some free time, I could spend half of it at ZAKKA Bookstore, this independent retailer of art, photography, design, architecture and graphic-design books. It's a place for creative people to get inspired." ZAKKA, 155 Plymouth St between Jay and Pearl Sts, Dumbo, Brooklyn (718-801-8037, zakkacorp.com)

"Not only does Brooklyn Roasting Company have the best espresso in Brooklyn, they're involved in the Dumbo (and Brooklyn) community. They love their coffee, and it shows when you taste their brews." Brooklyn Roasting Company, 25 Jay St between John and Plymouth Sts, Dumbo, Brooklyn (718-522-2664, brooklynroasting.com)

"With one of the largest collections of antique Japanese cabinetry and furniture in America, it's hard not to browse for a while in Shibui Japanese antiques' huge warehouse. Ask proprietor Dane Owen about any of the pieces, and he will tell you the history behind each one. Because Shibui is located in an out-of-the-way location, they were struggling for visitors for a while. It's easy to overlook, but it's worth a visit to Vinegar Hill. Shibui, 306 Water St between Gold St and Hudson Ave, Dumbo, Brooklyn (718-875-1119, shibui.com)

"The newer areas of Brooklyn Bridge Park, Piers 1 through 6, get all the attention, but I still love the Main Street section of the park under the Manhattan Bridge. Even with the subways running above you, there's a calm air about the area." Brooklyn Bridge Park, 1 Main St at Plymouth St, Dumbo, Brooklyn (718-802-0603, brooklynbridgepark.org)
Users say
503 Service Unavailable
No server is available to handle this request.