50 things to do in New York City on a Sunday 2012
Close out the weekend in style with these Sunday musts.
By Time Out editors Fri Apr 13 2012
Looking for the best brunch options in New York? We've got you covered, no matter where you are in the city. Whether you're dining with a group or rolling solo, we've found the finest places to quell your Sunday-morning hunger pangs (and/or hangover). Click through for our complete guide.
Spend some time getting reacquainted with the green stuff (that's grass and trees, in case you've forgotten) at an outdoor yoga class on the bucolic grounds of Wave Hill. Each session is taught by Neem Dewji, who is certified in both hatha and therapeutic yoga by the Integral Yoga Institute. Once you've made it through a few sun salutations, wander around the grounds of the 28-acre garden, which was once a private estate. Look for spring wildflowers, such as Virginia bluebells or celandine poppies, or simply take in the views of the Hudson River from the comfort of an Adirondack chair.
W 249th St at Independence Ave, Bronx
More info
3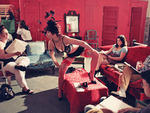 Draw semiclad models at Dr. Sketchy's
"Dr. Sketchy's is what happens when cabaret meets art school," says founder and artist Molly Crabapple. A boozy good time is what happens when you and your ticket ($12 advance, $15 at the door) meet free cupcakes, booze and prizes, say us.
Various locations, visit drsketchy.com.
Every Sunday from May through October, the Brooklyn eco-eatery hosts alfresco films like Batman and Elvira.
757 Fulton St at South Portland Ave, Fort Greene, Brooklyn
More info
Price band: 2/4
Critics choice
Few experiences in New York City can compare with taking in a lieder concert, piano recital or chamber-music performance in this stately old mansion's elegant music room, where scores of prominent musicians have made their first local appearances.
1 E 70th St between Fifth and Madison Aves
More info
At the southern end of Hudson River Park, you'll find glorious views of the river, the Jersey City waterfront and an 18-hole professional-grade miniature-golf course. Decked out with a cave, two waterfalls, footbridges and a pond, it's a great place to perfect your putt while taking in the splendid vista.
Pier 25, Hudson River at North Moore St
More info
Corral your crew and head to the races for a day of equine-inspired revelry at Belmont Park. In planning your race-day wardrobe, keep in mind that there is a "tradition of elegance" at the track. You don't have to dress to the nines, but an ascot never hurt anyone.
2150 Hempstead Tpke at Cross Island Pkwy, Bronx
More info
Vince Averill and Jesse Popp have built a following at this East Village bar, which books some of the local scene's brightest rising stars.
231 E 14th St between Second and Third Aves
More info
Every third Sunday of the month, the LGBT Center in Chelsea hosts a book club for lesbians only. Call the Center at 212-620-7310 to find out what's on the syllabus, and then all you have to do is read and show up. The group, originally part of Slope Activities for Lesbians, has been meeting for ten years, and the selections tend to be distinctly female-focused (duh).
208 W 13th St between Greenwich and Seventh Aves
More info
On Sundays, shows at Soho Rep, one of our favorite Off Broadway theaters, cost only 99¢. Just make sure you're on the ball when they go on sale; since performances are typically $30, these tix understandably disappear fast.
46 Walker St between Broadway and Church St
More info
---
---