Long Island City hotels: The best places to stay
Long Island City hotels offer good value, convenience and great views—get a room at one of these properties near the East River.

Neighborhood cultural institutions like MoMA PS1, a growing collection of restaurants and bars and reasonable rates have made Long Island City a more attractive base for visitors. Long Island City hotels offer one thing you can't get in Manhattan: a view of the skyline from the other side of the river. In fact, the neighborhood boasts some of the best rooms with a view in the city.

RECOMMENDED: Full guide to Long Island City, Queens, New York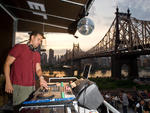 Although its industrial surroundings are somewhat desolate, Ravel, a complete rebuild of an exisiting motel, occupies a prime spot on the waterfront beside the Queensboro Bridge. Perhaps in keeping with its former incarnation, owner Ravi Patel has given it a vaguely 1960s feel—the lobby is decked out with cream leatherette seating and silver-bubble ceiling lights. It's also equipped with a 'virtual' wine bar: buy a card at the front desk and use it at a self-serve bank of more
8-08 Queens Plaza South, (at Vernon Blvd), 11101
More info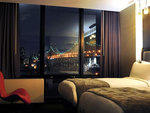 It was only a matter of time: Long Island City's rampant residential development is spreading to hotels. The Z shares a gritty industrial side street with tool suppliers and flooring wholesalers, but the Queensboro Bridge–side setting and largely low-rise neighbors facilitate its most stunning feature. Architect Andres Escobar built the 11-story property so that each of the 100 rooms faces the river, offering knock-your-socks-off midtown views through floor-to-ceiling windows.
11-01 43rd Ave, (at 11th St), 11101
More info
You might also like
Share your thoughts