East Village hotel guide: The best places to stay in the area
Our East Village hotel guide highlights the best boutique properties in the area plus our favorite B&B.
The East Village was once an accommodations wasteland, but now visitors drawn to its excellent restaurants, bars and shops can choose from a pair of standout boutique hotels. For lower rates and a taste of local life, our East Village hotel guide also includes a funky neighborhood B&B.

RECOMMENDED: Full guide to East Village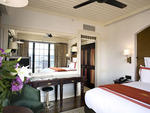 This fanciful boutique hotel from prominent hospitality duo Eric Goode and Sean MacPherson is the capstone in the gentrification of the Bowery. Shunning minimalism, they have created plush rooms that pair old-world touches (oriental rugs, wood-beamed ceilings, marble washstands) with modern amenities (Wi-Fi, flat-screen TVs, DVD library). Floor-to-ceiling windows offer views of the neighborhood's historic tenements, and the property includes an antique--looking trattoria, Gemma.
Popular with European travelers, this East Village B&B (minus the breakfast) embodies quirky downtown culture. Each of the nine guest rooms has a unique theme: For example, the "Black and White Room" or the "Treehouse" (not as outlandish as it sounds, with an ivory and olive color scheme, animal-print linens and a whitewashed brick wall). Owner Anne Edris encourages guests to mingle in the communal areas, which include fully equipped kitchens and three loftlike living rooms
110 Avenue C, (between 7th and 8th Sts), 10009
More info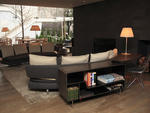 Carlos Zapata's curved, 21-story glass tower is hard to miss, but approaching the unmarked entrance to the city's second Standard, formerly the Cooper Square Hotel, you might wonder what it is. A doorman ushers you into a dramatic, double-height lobby, where you should be greeted by staff. Checking in over a glass of wine, admire the contemporary lodgelike library-lounge, stocked with diverse reading matter from Housing Works—you can buy the books, benefiting the charity—and
25 Cooper Sq, (between 5th and 6th Sts), 10003
More info
You might also like
Share your thoughts