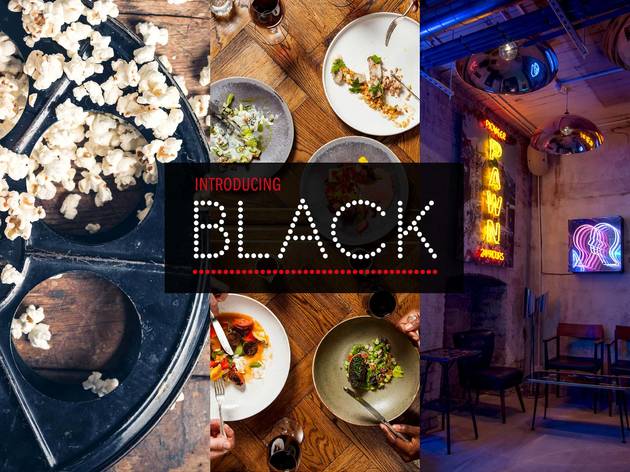 A new members' club for Londoners offers exclusive perks, invitation-only events and 50% discount in some of the capital's trendiest restaurants
Posted: Monday November 7 2016, 1:27pm
London is getting a new kind of members' club. It's brimming with the capital's coolest perks, hand-picked events and access to unique experiences: Time Out Black launches today and with an annual fee of £59 the club allows members to enjoy the best of London all year round, meet like-minded people and save money.
Created for film enthusiasts, foodies and experience-hungry urbanists, members of Time Out Black get access to a raft of privileges that go beyond discounts. They will become part of one of London's greatest film clubs with free movie screenings often in breathtaking venues, free monthly previews from leading documentary producers Dogwoof and reduced tickets for two at The Lexi cinema every Tuesday. Even dining out gets yummier with 50% off for up to four people in nearly 20 of the hottest, hand-picked restaurants across the city.
Additionally, members get tickets for new live music with Sofar Sounds and Woodburner, theatre previews in the West End and comedy every Thursday at Backyard Comedy – all for free. There's also 20% off London's best boozy brunch at Hip Hop Brunch and members-only invitations to events like cocktail master-classes and cooking courses with Michelin trained chefs. And what would a London club membership be without a home from home, just much more inspiring than home: the annual fee also includes access to two Soho members' clubs, Lights of Soho and Phoenix Artist Club.
Time Out Black was created to make all the fun and the best bits of London accessible without breaking the bank. Londoners go out almost five times a month, spending nearly £280, according to a Time Out survey of 7,300 Londoners. Time Out Black can cut these costs by almost a half*.
Sarah Bartlett, CMO Time Out Group, said: "With Time Out Black we wanted to create a unique and new kind of members' club for Londoners. A club that makes exclusive events others can only dream of and fantastic experiences both more accessible and more affordable. Every single day of the year, our members get to enjoy great value and to meet like-minded people. Time Out has always been about curating the best of the city –Time Out Black really brings this to life."
Time Out Black is available now through timeout.com/london/black for £59 a year.
*A month of going out in London – cost comparison with and without Time Out Black
Cost without

Time Out Black

Cost with

Time Out Black

Bone Daddies dinner for four

£90

£ 45

Lights of Soho monthly membership fee

£17

---

The Lexi – cinema for two

£21

£7

Café Monico – dinner for four

£100

£50

Hip Hop Brunch

£40

£32

ThinkTap Talks

£10

£5

Time Out Black membership monthly cost

------

£4.92

Total Cost

£278

£144
Full list of Time Out Black benefits:
· Film – every month, members can access:
o Film preview screenings – free tickets of the best general release films
o Backyard Cinema and Rooftop Cinema – free tickets to season preview screenings of cult classics in alternative venues
o Dogwoof – free tickets to monthly previews from leading documentary producers
o The Lexi – £3.50 tickets for two every Tuesday at these independent cinemas
· Food – every month, members get 50% off food for up to four people at once at:
o Bone Daddies – High Street Kensington
o The Harcourt – Marylebone
o Arancini Brothers – Dalston, Shoreditch, Kentish Town
o Champagne and Fromage – Brixton
o Mommi – Clapham
o Heirloom – Crouch End
o 100 Hoxton / 100 Islington
o Plum & Split Milk – Kings Cross
o Paradise by Way of Kensal Green
o Romulo Café – Kensington
o Hotbox – Spitalfields
o Bo Drake – Soho
o Chicken Shop – Wimbledon, Kentish Town
o Café Monico – Soho
o No67 – Peckham
· Experiences – every month, members can access:
o Lights of Soho – year round access to the members' club for member plus 1, including invitations to their exclusive programme of events and parties and 10% off at the bar
o Phoenix Artist Club – year round access and a free glass of fizz at this legendary Soho institution
o Streetfeast – free tickets and drinks for 2 every month at one of London's leading street food markets
o Hip Hop Brunch – 20% off tickets to the best boozy brunch in the capital
o ThinkTap Talks – monthly half-price tickets
o Theatre previews – free tickets to West End and fringe productions
o Backyard Comedy – free comedy every Thursday
o Sofar Sounds and Woodburner – free tickets to see new live music in unique locations
o Club Du Fromage – 50% off tickets and priority access to the club nights
o Unique City Experiences – 25% off thousands of top attractions, experiences, days out and cultural sites across London and beyond