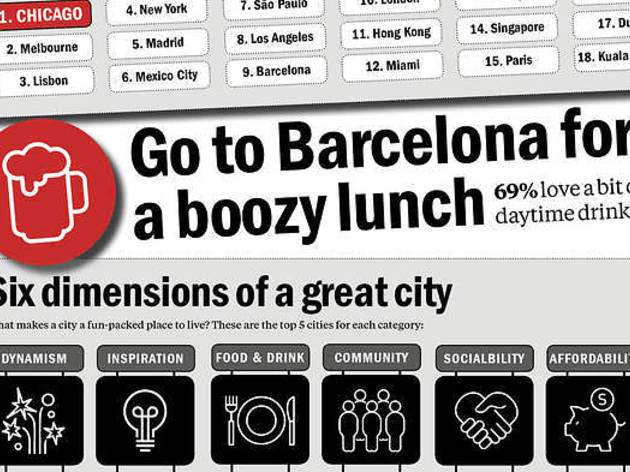 The most fun cities in the world revealed: Chicago wins overall, but Melbourne is best for quality of life and Lisbon for love and friends
Posted: Monday November 21 2016, 2:18pm
Chicago tops the global ranking of the world's most fun cities, while Melbourne came in second, Lisbon third and New York fourth. This was today revealed by the Time Out City Index, a survey of 20,000 people across 18 cities worldwide that tracks what makes (and breaks) cities when it comes to enjoying city life across dimensions such as food & drink, inspiration, dynamism, community, affordability and sociability.
Time Out City Index 2016 – cities measured by their fun factor
| | |
| --- | --- |
| 1. Chicago | 10. London |
| 2. Melbourne | 11. Hong Kong |
| 3. Lisbon | 12. Miami |
| 4. New York | 13. Tokyo |
| 5. Madrid | 14. Singapore |
| 6. Mexico City | 15. Paris |
| 7. Sao Paolo | 16. Sydney |
| 8. Los Angeles | 17. Dubai |
| 9. Barcelona | 18. Kuala Lumpur |
The research by Time Out, the trusted global brand for inspiring and enabling people to make the most of their city, found that Chicago is officially the world's chief fun city. Chicago also scores highest for restaurants, bars, neighbourhoods and affordability. More than in any other city, residents have a friendly chat with a stranger, go on dates and enjoy a great work-life balance.
Melbourne claims second place but beats all other cities when it comes to quality of life, with 58% finding it an easy place to live and three quarters saying they love living there – nowhere else do people feel more inspired by their city.
Lisbon, number three in the overall Index, is also the world's most sociable city. This is by far the best place to make friends and find love (beating even Paris, the city of love). Lisboans are the most likely to bump into someone they know when out and about in the city and to be on good terms with their neighbours so it's no surprise they feel the least lonely. Lisbon is also the city where a typical night out is the cheapest ($34, same as in Mexico City, compared to $118 in Miami and $119 in Dubai).
New York comes in fourth in the Index but compared to others is the most dynamic and exciting city. Unbeatable for the latest culture – think arts, nightlife, style and music – it always offers something new (say 82%) or fun to do 24/7 (72%), ensuring New Yorkers go out the most often (6.4 times a month). On the downside, NYC officially has the most challenging dating scene (only 3% like it, vs a lucky 42% in Mexico City) and less than one in ten find it an easy place to live. But what matters more is that this is a hugely tolerant city, it's the most accepting of all kinds of people and lifestyles (67%).
Sydney and Kuala Lumpur might rank lower on the list of the world's 'funnest' cities, but Kuala Lumpur rises into the top five when it comes to affordability and inexpensive, good quality dining and Sydney ranks fifth for community with people genuinely enjoying their diverse neighbourhoods.
Not all cities can boast top rankings in the Time Out City Index, but they all have features that make them stand out and paint a picture of life there.
Tokyo and Paris are the most cultured cities; residents go to the theatre or museum the most often (28 times a year vs. 16 in Hong Kong and Miami).
Paris lives up to its amorous reputation as people have more sex than anywhere else (1.6 a week vs 0.6 in Tokyo). While Singapore is the most faithful with people cheating on their partner the least, Mexico City is #1 for affairs and Miami for threesomes and drugs.
Londoners are the loneliest of all (55% say the city can feel lonely), just ahead of New York (52%) and Dubai (50%). New Yorkers are also the most likely to take anti-depressants (10%) and Londoners the least likely to bump into someone they know when out and about.
Barcelona leads when it comes to sex in the office (31%) despite having the shortest working hours (38 hours a week). Madrid follows with 39 hours but is the least happy when it comes to work-life balance. Dubai clocks up the longest working hours (47) which might be the reason that this is where friends are mostly made through work (say 33%).
People in Mexico City are the least stressed by their job (22%) while people in Tokyo (44%), Hong Kong (37%) and London (34%) are the most. London is also vying with Sydney for the title of the world hangover capital and one-night stand hotspot.
Urbanites are very tired: In all 18 cities residents would choose a good night sleep over more sex. In fact, Tokyo and Sao Paolo are the real cities that never sleep - not New York - with people staying up till sunrise the most (the least: Los Angeles and Chicago).
Making friends is the hardest in Dubai (a tiny 2% say it's easy), they have the smallest number of good friends and Sydney the biggest (9 vs 17). Miami and Sao Paolo residents claim an average of 756 and 681 social media friends respectively compared to a network of 119 in Lisbon, the most sociable city. People in Hong Kong connect most often with friends online but are the least likely to know their neighbours whereas Kuala Lumpur is most likely to use dating apps (19%).
Mexico City and Sao Paolo take the crown for the longest commutes with over 45 minutes a day, compared to an enviable 27 minutes in Lisbon.
Time Out London's Editor-In-Chief, Caroline McGinn commented: "If there's one thing that Time Out really knows and loves, it's cities. We've been dedicated to discovering their best bits for many years. Now we thought it was about time to document urban life. Because cities are important. They're fun. But they're also crucibles for new opportunities, new ideas, and new ways of living.
So this year, we surveyed 20,000 urbanites in 18 cities across the world to find out two things. First: where are the most dynamic, gastronomic, culturally unbeatable urban hotspots right now? And second: what are people up to and how is that changing? We found out some fun stuff along the way. Looking for sex? Better head to Paris. Food and culture? Chicago and NYC are buzzing. And Lisbon is the place to fall in love and make friends."
The Time Out City Index also identified the key factors that make a city an exciting place for people who want to enjoy life to the fullest. It needs a great bar and restaurant scene, an ever-evolving cultural life, a good work-life balance and diverse neighbourhoods, and it needs to inspire optimism and connect people in real-life rather than online. If a city offers these things, it can afford to have some flaws and will still be loved: It doesn't have to be always easy to live in, long commutes are a pain but not enough to not enjoy a city and having a large social network doesn't necessarily make city life more fun. Finally, affordability is great but not a deal-breaker: the top three cities Chicago, Melbourne and Lisbon are rated as the most affordable; New York and Madrid are both considered pricey by their residents but still rank highly on the overall Index whereas Singapore and Kuala Lumpur are both more affordable, but its residents aren't having more fun as a result.
To read the full Time Out City Index story, go to www.timeout.com/cityindex
Cities best for…
| | | | | | | | |
| --- | --- | --- | --- | --- | --- | --- | --- |
| | Overall Index Winner | Food & Drink | Community | Affordability | Sociability | Dynamism | Inspiration |
| 1. | Chicago | Chicago | Chicago | Chicago | Lisbon | New York | Melbourne |
| 2. | Melbourne | Melbourne | New York | Melbourne | Mexico City | São Paolo | Chicago |
| 3. | Lisbon | Mexico City | Melbourne | Lisbon | São Paolo | Chicago | Lisbon |
| 4. | New York | Lisbon | Barcelona | Singapore | Madrid | Los Angeles | Madrid |
| 5. | Madrid | New York | Sydney | Kuala Lumpur | Chicago | Melbourne | Barcelona |