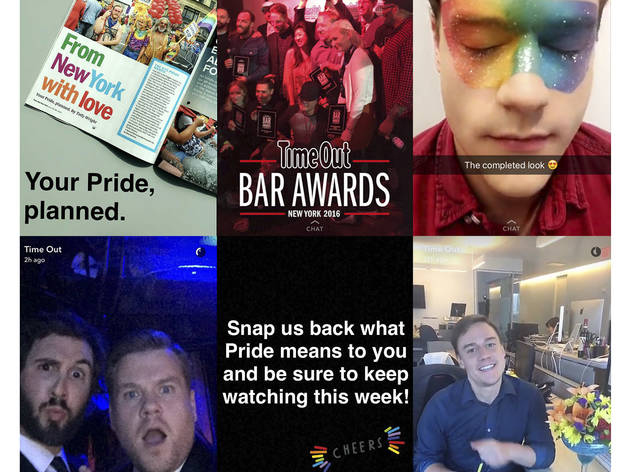 Time Out Group Becomes Global Launch Partner for Tumblr Live Video
Posted: Wednesday July 6 2016, 3:09pm
Time Out Group has become a launch partner for Tumblr's new video streaming function, Live Video. Alongside ten other leading media partners, including Mashable and AOL, Time Out's editorial teams in New York and LA have already begun streaming video content on the social media platform and will be joined by London and Chicago throughout July.
The latest competitor to live streaming services such as Facebook Live and Periscope, Tumblr Live Video allows users to integrate live video content from YouTube, YouKnow, Kanvas and Upclose. The Time Out editorial teams in London, New York, Chicago and LA will be streaming live content over the next month showcasing a mixture of live Bar Program talent, City Life exclusives such as the Skyscraper Slide and experimental pieces such as Live Body Piercing.
Additionally, Time Out London, Time Out New York and Time Out Sydney have launched Facebook Instant Articles with global advertising partner AKA. The launch campaign, which goes live this week, will promote their productions of Matilda and Fiddler on the Roof.
Following a period of increased investment, Time Out Group has seen strong growth across its social channels in the past six months. The growth includes a 40% increase of followers on Instagram across Time Out's owned and operated cities since January and an 85% increase of followers on Snapchat in the past month alone.
The growth has largely been driven through Time Out becoming a Snapchat Stories Partner, building out unique content for Time Out's organic Snapchat account in cities across the world for major events and covering city life. This has included a takeover with American actor and singer-songwriter Josh Groban, covering red carpet and backstage at the Tony Awards for Time Out, as well as series of exclusive content pieces with high profile talent, including James Corden.
Additionally, for each day of the Pride Festival last week, there was a dedicated Pride takeover across Time Out's owned and operated cities sharing Pride-themed content. This included a Pride Parade make-up tutorial and exclusive behind-the-scenes coverage at parades in London, New York and Chicago, courtesy of LGBT talent takeovers who bring with them their own followers.
"We're delighted to be selected as a launch partner for Tumblr's new Live Video function, which is a key part of our strategy to increase on-brand video content, and particularly social video, from our editorial teams across the world," said Noel Penzer, CEO Time Out Digital. "Our editorial mission is to help our users unlock their city like no other brand. We're committed to realizing that goal by providing unique content across emerging as well as established digital platforms—reaching our highly social audience members wherever they're active, and wherever they'll be active next. This strategy is driving new levels of dialogue and engagement with the Time Out brand, and in turn delivering dramatic growth in our total global reach."