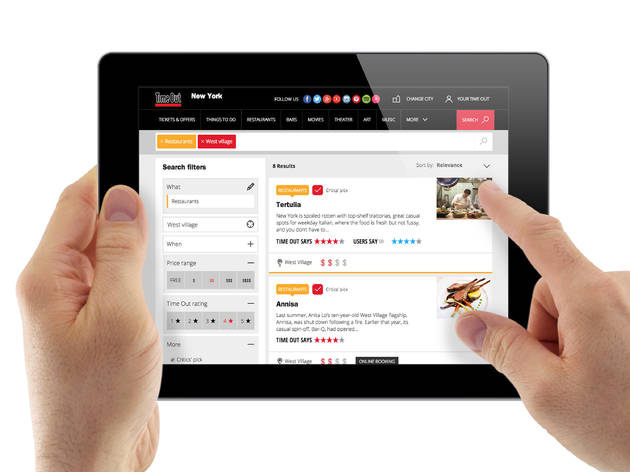 Time Out launches new business platform: Get Listed in New York
Posted: Monday May 18 2015, 9:37pm
Time Out has launched a new platform that allows businesses to list and manage their venue profile on Time Out websites. Launched in London and Paris with "Premium Profiles," a paid-for local advertising platform, New York is debuting a free-to-list service that allows businesses to be feature on the Time Out New York's website (timeout.com/newyork). Venues will be able to manage their venue profile through a web-based dashboard, including adding images, descriptions and contact details.
Get Listed is the latest addition to Time Out's range of business opportunities. Venues that are currently listed will be able to "Claim Their Listing" – receiving control of their venue profile, with the ability to add content to it. Venues will receive access to the simple-to-use, mobile-friendly dashboard, so will be able to manage details such as address, website, phone number and venue description wherever and whenever they want.
Get Listed not only enhances Time Out's consumer proposition with rich, accurate content provided by the venues themselves, it also converts browsers into customers by connecting local businesses with our socially active millennial audience, who dine out on average 3.2 times per month, and go out 3.4 times a week.
Time Out will subsequently roll out additional opportunities with the platform including paid-for, enhanced Premium Profiles, which will increase a venue's visibility to a relevant audience.
For more information, please visit timeout.com/newyork/get-listed-submit-a-venue.