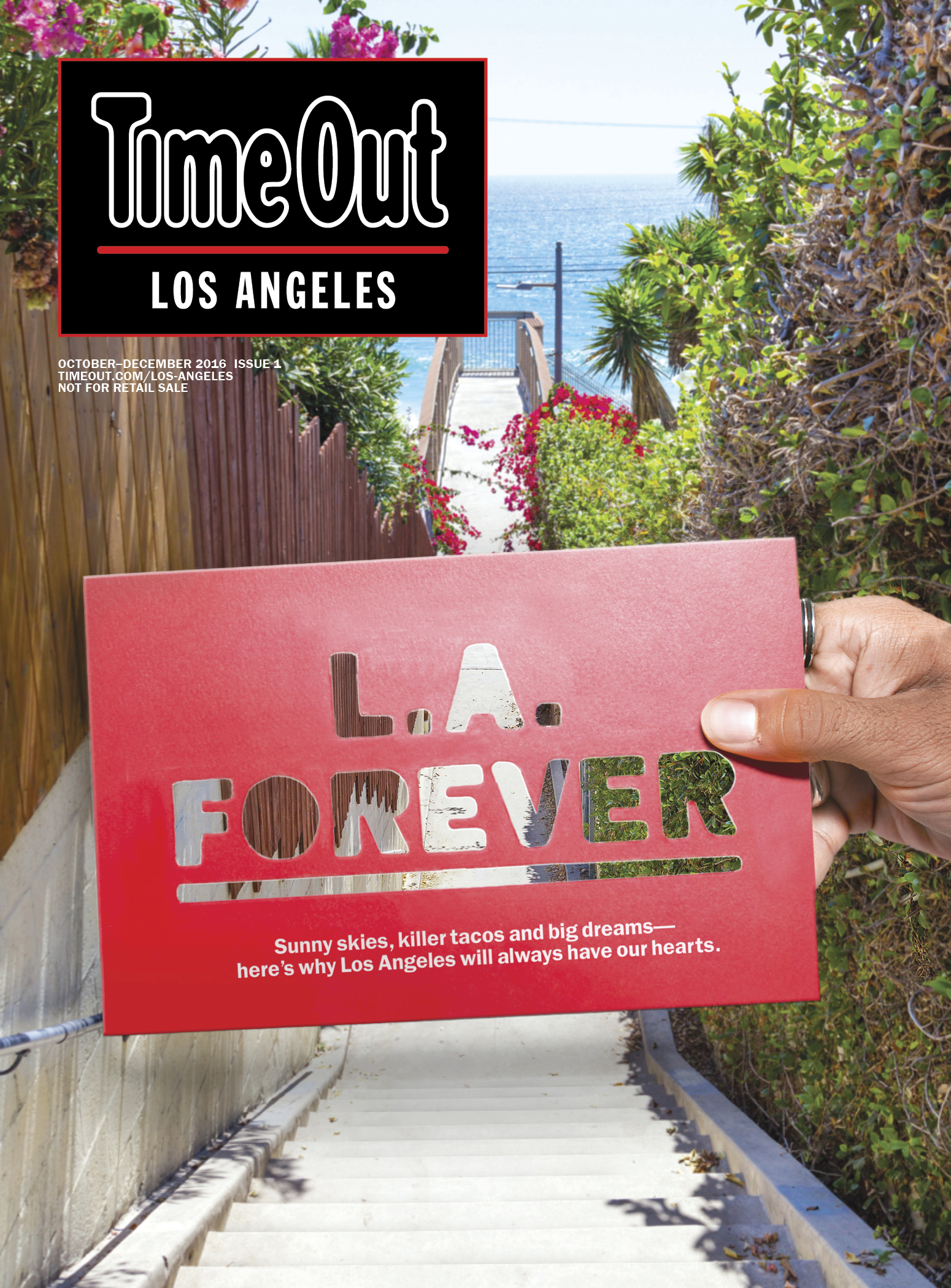 Time Out Los Angeles today announced the launch of its first print magazine. The free quarterly magazine will be out from October 5 and will cover the very best things to do in L.A. up through the end of the year.
With a circulation of 75,000, free copies of the magazine will be available at local venues such as restaurants, bars, retailers, hotels and cultural institutions across the city. For additional reach, street teams will hand out free copies of the magazine directly to readers in DTLA and Santa Monica.
Inspirational and entertaining content previewing the best things to do in Los Angeles will be at the heart of the Time Out Los Angeles magazine, spanning the latest eating and drinking trends, movies, festivals, theater and culture. Readers can also expect unique features, including Cheap Eats in L.A., a look at five female brewers changing the city's craft beer scene and an ode to the city, filled with all the reasons we love L.A. now and forever.
The new magazine complements Time Out's digital presence at timeout.com/los-angeles where even more curated content of the city's best things to do is available for both locals and visitors seeking information and inspiration in Los Angeles.
The first edition of Time Out Los Angeles comes hot on the heels of its sister titles' successful launch as free magazines. Time Out London went free in 2012 while Time Out New York and Time Out Chicago followed last year as part of a wider group strategy which has seen the international brand taking a new approach to print distribution.
The aim is to grow the brand's audience and engagement by further expanding its reach through print and digital channels. Re-creating Time Out's success in cities like New York, Chicago and London will demonstrate increasing value to advertisers who can connect through new creative opportunities across the brand's global print, digital, mobile and event platform. In fact, demand from advertisers has been strong, making the magazine in L.A. profitable from the outset.
"Time Out is about inspiring people to discover, book and share the very best of the world's cities so we're very excited about launching our Time Out Los Angeles magazine. It's full of inspirational content and insightful features and I hope Angelenos will love it as much as we do," said Justin Etheridge, President of Time Out North America. "Launching a free magazine in L.A. is an important strategic step for us and our growing national footprint. With our unique take on the free magazine model and an exciting local events program, our mission is to re-create in L.A. the incredible halo effect on our digital metrics and ad revenues that we have seen in New York and Chicago."
Erin Delahanty, Associate Publisher of Time Out Los Angeles, said: "Time Out is dedicated to discovering and championing the best of the city and I'm absolutely thrilled to launch our first Time Out Los Angeles magazine. It means we can now offer our unique, curated content not just online but also as a print edition. A publication like ours has been missing so far in this city and we're excited to respond to the desire of both consumers and advertising partners. We're looking forward to inspiring and enabling the people of L.A. to make the most of the city with our hyper-local content and know-how."