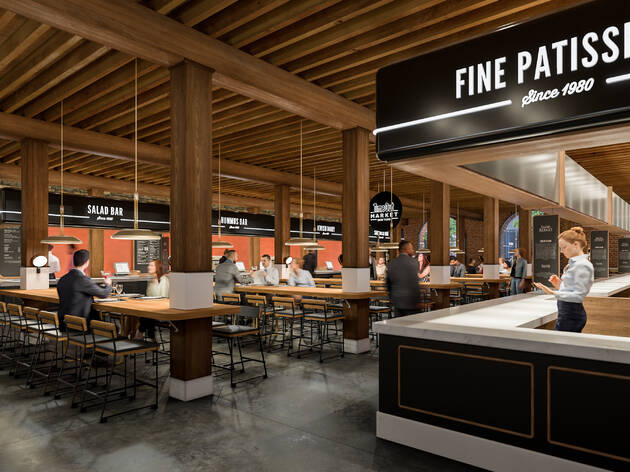 Time Out Market New York announces the latest additions to its stellar lineup of chefs and restaurateurs
Posted: Tuesday March 26 2019, 10:04am
As Time Out Market New York prepares for its Spring opening in DUMBO, Brooklyn, the latest additions to its impressive culinary lineup have been revealed. Joining the curated mix of some of the city's most acclaimed chefs and much-loved restaurateurs are Nur, Breads Bakery, Chef Ivy Stark, Pat LaFrieda, Mr. Taka, Ice & Vice Craft Ice Cream and Loco Coco. Juliana's Pizza, Alta Calidad, Clinton St. Baking Company & Restaurant and more have previously been announced.
Time Out Market is a food and cultural market bringing the best of the city under one roof: its best chefs, drinks and cultural experiences, based on the editorial curation Time Out has always been known for. Spanning 21,000 sq ft across two floors of the historic Empire Stores at 55 Water Street, Time Out Market New York will offer 21 eateries to choose from, three bars, a performance stage and an exhibition space. From its rooftop overlooking the East River, visitors will get to enjoy epic views of the Brooklyn Bridge and Manhattan's skyline.
"The opening of Time Out Market New York is fast approaching, and it is exciting to see how our curation evolves to truly reflect one of the greatest cities in the world—from its cultural experiences to design, and especially the excellent food scene," says Time Out Market CEO Didier Souillat. "The culinary landscape in New York City is so diverse, and we are extremely proud to be showcasing many different cuisines, cooking styles and such outstanding personalities. Time Out Market is unlike anything else: We are making fine dining casual, and casual extraordinary—we call it the democratization of fine dining. That's why our local Time Out critics test and taste the best of the city and then invite the very best to join Time Out Market. Our mission is to serve New York on a plate."
The chefs and restaurateurs to join Time Out Market New York announced today include celebrated chefs, popular NYC staples and a never before seen concept from notable Chef Ivy Stark. Further rounding out the stellar roster are:
Nur will serve a modern, bold and playful take on couscous at Time Out Market New York
Pete Wells, food critic of The New York Times, said of Nur's couscous that it "has to be the finest couscous I've ever eaten in a restaurant." Nur, the modern Middle Eastern restaurant in Gramercy is excited to bring some of its iconic dishes to Time Out Market New York with the opening of NURish. The menu at NURish draws from the rich and flavorful cuisine of the Middle East. It has a modern, bold and playful take on the authentic dish of the region, couscous.
Breads Bakery will come with two concepts: the Bakery and the Sandwich Shop
Breads Bakery is a New York bakery known for producing artisan breads and pastries, baked in small batches throughout the day to ensure unparalleled freshness. The bakery has received various accolades including "Best of NY Chocolate Babka" by New York Magazine. Breads Bakery will come to Time Out Market New York with two outlets to bring its freshly baked goods to Brooklyn. One, the Bakery, will offer amazing coffee made by highly-skilled baristas as well as signature items such as rugelach, croissants, cookies, burekas and, of course, chocolate babkas. The second, a Sandwich Shop, will highlight an iconic Middle Eastern bread—the Jerusalem Bagel. Different than a traditional bagel, the Jerusalem Bagel is fluffier, airier, less doughy and the perfect sandwich bread. The Sandwich Shop will be offering all sandwiches on Jerusalem Bagels, including its Tunisian Tuna sandwich with Italian tuna, hard-boiled egg, potato, parsley, house-made harissa and preserved lemon; and daily specials such as smoked trout, egg salad, shakshuka and more.
Ivy Stark will introduce a new, fully plant-based concept to Time Out Market New York
Chef Ivy Stark has earned her rank as one of New York's top chefs by leaving an inimitable footprint on some of the most beloved restaurants across the city—from Dos Caminos to Dream Hotel's esteemed Amalia. Now as her first solo venture, Stark will use her global culinary experience and passion for nourishing ingredients and bright flavors to introduce to Time Out Market New York a new, fully plant-based concept. 'BKLYN Wild' will use fresh, market-driven ingredients to create crave-worthy and healthy comfort dishes which can be adapted for any type of eater. Stark will work heavily with the purveyors and artisans of Brooklyn to showcase the culinary diversity and amazing array of the neighborhood's products.
Pat LaFrieda will offer a mix of tasty sandwiches, juicy burgers, and other favorites
For over 100 years, Pat LaFrieda Meat Purveyors has become synonymous with high-quality meat of all kinds —not only in New York City, but across the country. An authority on all things beef, LaFrieda and his team have gained the reputation as New York's premium butcher, popping up on menus all over the country. His arrival at Time Out Market New York will serve as a Brooklyn home base, where fans can enjoy a mix of tasty sandwiches, juicy burgers, and other favorites. Menu highlights will include the Black Angus Cheesesteak with American cheese, sautéed Vidalia onions and house sauce on a freshly baked and toasted baguette; The Mel's Double Burger with American cheese and house sauce on a freshly baked bun; and The World's Greatest Hot Dog served with sautéed Vidalia onions on a freshly baked and toasted baguette.
Mr. Taka will serve their outstanding and creative takes on Tonkotsu Ramen
Chef Takatoshi Nagara and Takayuki Watanabe opened Mr. Taka in New York's Lower East Side in 2015 with no shortage of rave reviews. The restaurant is the result of a long-standing childhood friendship, many years of research and travel across Japan, and an unparalleled pedigree when it comes to ramen-cuisine, earning a coveted spot on Michelin's Bib Gourmand list. While lines continue to form outside of the much-lauded Lower East Side outpost, Nagara and Watanabe will now bring their outstanding and creative takes on Tonkotsu Ramen to Time Out Market New York. Guests can expect favorites such as the Miso Ramen with chicken and bonito fish broth, wavy flat flour noodles, sliced pork belly, ground pork, scallions, bean sprouts, chives, cilantro and the Taka's Vegan in a vegetable broth with soy milk, wavy flat flour noodles, avocado, zucchini, tomato, mushrooms, tofu, leeks and scallions.
Ice & Vice Craft Ice Cream will bring edgy and ultra-premium sorbets, ice creams and frozen yogurts
Ice & Vice, founded by Paul Kim and Ken Lo, has been serving experimental and creative scoops out of its Lower East Side shop since 2015. With each announcement of its playfully inventive new flavors, Ice & Vice landed on yet another list of the best ice cream parlors and guests have been quick to line up around the block, have a lick and snap a shot of their "cool" cones. With a menu of edgy and ultra-premium sorbets, ice creams and frozen yogurts—handcrafted in small, customized batches—Ice & Vice continues to push the boundaries of what frozen treats can be. At Time Out Market New York, there will be permanent and seasonal flavors including imaginative takes such as Koala Chip with eucalyptus, black pepper, and chocolate chips; TV Dinner with carrot, clove, sweet pea frosting; 9AM with Vietnamese coffee and donut truffle; and Tea Dance with Nilgiri black tea and lemon charcoal caramel.
Loco Coco will refresh, refuel and power-up Time Out Market visitors with their most popular creations
Loco Coco will bring its vegan superfood smoothies, smoothie bowls and fresh juices to Time Out Market New York. With an emphasis on functional foods, menu items will receive a pop of color—making them not only delicious but also vibrant and 'instagrammable.' Loco Coco's CEO and co-founder Max Alcobi is dedicated to coupling healthy eating with stellar presentation, earning his shop in the Upper East Side a big and feverish following. Max has instilled his values in sustainability in all aspects of the business, from sourcing fruit responsibly and locally to using compostable utensils in order to achieve a net zero carbon footprint. At Time Out Market New York, guests can refresh, refuel and power-up with some of Loco Coco's most popular creations like the Enter the Dragon Fruit bowl with pitaya, banana, strawberry, pineapple, fresh lemon, fresh basil and coconut water and the signature Matcha Latte. Loco Coco will also be debuting several Time Out Market exclusives, like the Superfreak smoothie with wild pink guava, strawberry, banana, elderberry, CBD honey and Omega-3 hemp milk.

These latest additions will join the ten previously announced chefs and restaurateurs, including: New York institution and one of America's best pizza places, Juliana's Pizza; the first fully Kosher concept to join a food and cultural market, Reserve Cut; creative and innovative Mexican fare and must-have tacos from Alta Calidad; Miss Ada with sumptuous creations and its exquisite twist on modern Mediterranean cuisine; a casual spin on Manhattan's Bessou and their dishes inspired by Japanese family recipes; a highly anticipated second location of beloved hot-spot Clinton St. Baking Company & Restaurant with their eclectic takes on classic American food and melt-in-your-mouth pancakes; authentic Italian pasta and fresh antipasti from FELICE PASTA BAR; Southern-style comfort food and artisanal back-to-basic-dishes from Jacob's Pickles; whimsical and indulgent safe-to-eat cookie dough from DŌ, Cookie Dough Confections; and Avocaderia with their healthy, tasty and fun avo-creations.
Following the success of the wildly popular Time Out Market Lisbon—which the editorial team behind Time Out Lisbon opened in 2014 and with almost 4 million visitors a year is now Portugal's most visited site—the New York location is one of five North America-based food and cultural markets Time Out Group will open in 2019, including Miami, Boston, Chicago and Montreal. New Time Out Markets are also set to open in London-Waterloo and Prague in 2021.
What connects all Time Out Markets is a carefully curated mix of top culinary and cultural talent, however, the execution of each market is distinctly local to give a true taste of the city it is in. Visitors get to explore local culture and affordable fine dining from a diverse range of eateries and then come together with family and friends to enjoy their meals—on china with flatware—at communal tables in the center of the market.
Time Out Market is rooted in the heritage of Time Out—a magazine created in London in 1968 to inspire and enable people to make the most of the city. Since then, Time Out editors have been writing about the best food, drink and cultural experiences to help people go out better. Today, a global team of local expert journalists is curating the best things to do in 315 cities across websites, magazines, social media and live events. Now this curation is brought to life at Time Out Market.
To stay up-to-date on which chefs and restaurants, beverage and cultural programs are next to be added to Time Out Market New York please visit www.timeoutmarket.com/newyork and follow Instagram - @timeoutmarketnewyork and @timeoutchefs