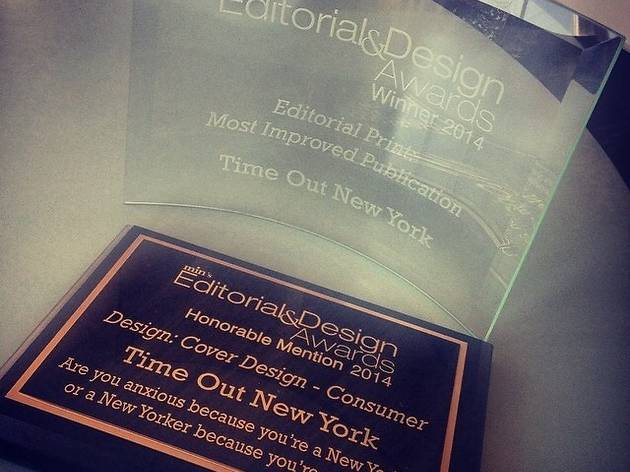 TIME OUT NEW YORK RECEIVES MIN'S 2014 EDITORIAL & DESIGN AWARD FOR MOST IMPROVED PUBLICATION
Posted: Friday November 21 2014, 11:43am
Thursday, November 20, 2014, New York: At the min's 2014 Editorial & Design Awards yesterday morning, Time Out New York received an award for Most Improved Publication. min honored editorial leaders and influential designers in more than 30 categories highlighting design, editorial print and online.
The finalists of the awards were top consumer, business-to-business and specialized information media brands that are redefining a new wave of industry standards for consistency and ingenuity.
Time Out New York was nominated for Most Improved Publication and Best Cover Design – Consumer for our Anxiety NYC issue.
Time Out New York's Editor-in-Chief Terri White says, "We are thrilled with receiving the Most Improved Publication award! 2014 has been a year of rebirth for Time Out New York. We are continuing to make Time Out New York the essential guide to the world's greatest city with a new digital strategy and redesigned print product. This award is a true testament to our mission!"
Time Out New York was up against Lucky, National Journal and Spafax-APEX Experience magazines in the Most Improved Publication category.