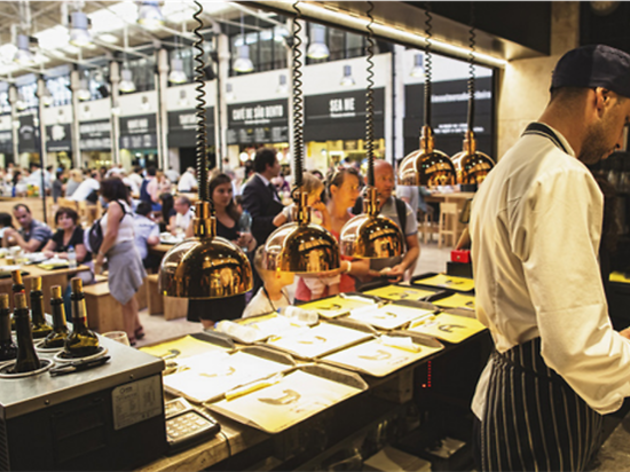 Time Out to Launch New Culture And Food Markets in London and New York
Posted: Monday July 13 2015, 6:14pm
Time Out announces its intention to open two new food and cultural markets in London and New York, following the phenomenal success of the Time Out Mercado de Ribeira in Lisbon.
Time Out Market will bring the best each city has to offer – the most exciting chefs and bars, with innovative arts and cultural events. Leveraging the global multimedia platform's presence in over 89 of the world's best cities, the markets will also showcase new talent from around the world.
Time Out Market is partnering with Oakley Capital Investments Limited, an investor in Oakley Capital Private Equity, the majority owner of the Time Out Group, which will provide additional financial and operational support to fund its international expansion. Talks with leading landlords in London and New York City to expand the reach of the concept into major cultural centres where the Time Out brand has strong resonance are well progressed.
Peter Dubens, Managing Partner of Oakley Private Equity, commented: "In just eight months, Time Out Mercardo da Ribeira has become one of the most visited venues in Lisbon. The combination of Time Out's local insight, with Oakley's financial support and expertise of growing businesses internationally, is an incredibly powerful mix and we plan to open markets in major conurbations where Time Out is trusted and loved. The markets will not only showcase the finest food and drink the cities has to offer, but also use the power of the Time Out brand, which is currently trusted by over 36 million users, to curate cultural hubs - showcasing fantastic art and cultural events."
"The Time Out Mercardo da Ribeira has been a phenomenal success in Lisbon and we are delighted to be partnering with Oakley to elevate the markets and launch them on a global stage", said João Cepeda, President and Creative Director of Time Out Market. "There has been an explosion in pop-up food markets in recent months, and our audience love them. Our intention is to build on that and create permanent markets where people can enjoy the best these great cities have to offer. Over 45 years, people have relied on Time Out to help them discover the best of their city – now they'll be able to find it under one roof. Initial talks with landlords in London and New York have been encouraging and differentiated by the major success already achieved in Portugal."
Time Out Mercado da Ribeira, is a 75,000sqft market hall that brings together some of Lisbon's favourite food shops and restaurants and culture. It attracts over 40,000 people per week during peak season, making it one of Lisbon's top five visited tourist destination within eight months of opening.