The 20 best restaurants in Ann Arbor
From a legendary sandwich to fine dining that will tickle your taste buds, these are the best restaurants in Ann Arbor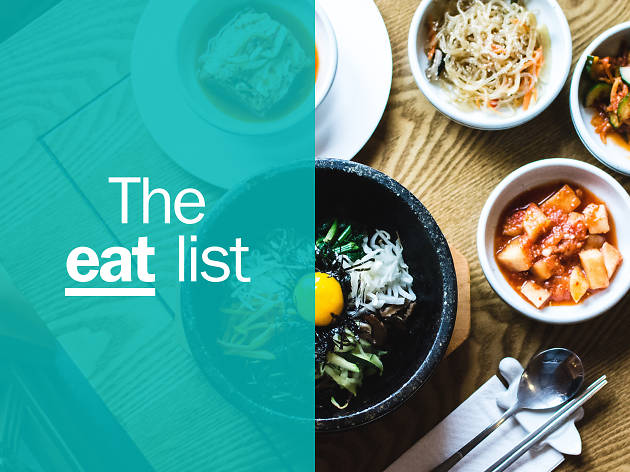 Considered one of the most exciting cities in Michigan, Ann Arbor offers locals and tourists a terrific amount of things to do. Think family fun, shopping galore and a famous college campus with tree-lined streets so pretty, you'll want to spend most of your time outdoors. But we especially want to talk about the city's fabulous foodie options, highlighting the very best restaurants in Ann Arbor. Whether you're in the mood for a sandwich (we've got a legendary one in town) or blow-out fine dining, you're bound to find something that'll tickle your taste buds within the city's friendly confines. Just follow our lead.
Best restaurants in Ann Arbor
1
Photograph: Courtesy Yelp/Taylor H.
What is it: Ask the average person who has lived or worked in Ann Arbor about the city's top dining options and Aventura will likely be at the top of their list. The Spanish tapas menu is filled with fresh, tangy, fragrant and flavorful main dishes and accompaniments—all made that much more inviting with Spanish bread on the side.
Why go: Have you ever tried bacon-wrapped dates? Well, now you can… and really should. Vegetarian-prone palates can opt for the coles de bruselas dish instead. That would be Brussels sprouts with pistachios, apples, olive oil and honey.
Price: Average
2
Photograph: Courtesy Yelp/Valerie B.
What is it: Known for its great bar scene and award-winning French and Italian cuisine, The Earle looks like a place where Dean Martin or Frank Sinatra could swing by at any minute.
Why go: Its impressive wine list, which boasts over 1,200 selections, all ready to accompany a niçoise salad, sea scallops or a grilled salmon.
Price: Pricey
3
Photograph: Courtesy Yelp/Paul E.
What is it: The seventh property in the Zingerman's roster of Ann Arbor presences, the Roadhouse focuses "solely on the amazing array of really good American food that we've got right here at home."
Why go: University of Michigan college graduates still regularly dream of the sky-high sandwiches, creamy mac and cheese and delectable desserts on offer here. Why would you not want to eat here?
Price: Average
4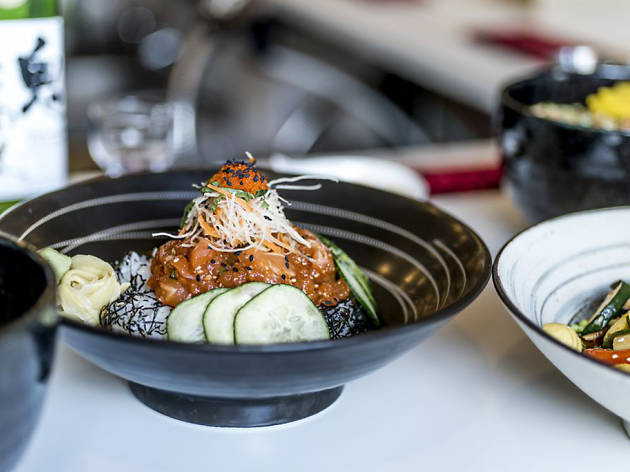 Photograph: Courtesy Yelp/Slurping Turtle
What is it: With a cute cartoon turtle as their logo and an enjoyable ethos of slurping, you can guarantee a good meal out at this ramen joint.
Why go: While in the west, slurping is seen is rude, in the East it's taken as a huge compliment to the chef. So leave your Western manners at the door when you enter the Slurping Turtle and prepare for a hearty Japanese bowl of noodle soup. The classic is the Tokyo shoyu, with pork belly, egg and bok choy. The adventurous might prefer the spicy miso tonkotsu. Alternatively, there's sashimi and maki on offer too.
Price: Average
5
Photograph: Courtesy Yelp/Annette J.
The Standard Bistro & Larder
What is it: A relative newcomer to Ann Arbor's list of fine-dining establishments, The Standard Bistro & Larder is helmed by James Beard award-winning chef Alex Young and comprises both the restaurant, Standard Bistro, and the combination butcher shop and bakery next door, Larder.
Why go: Chef Young is an innovator and tasty creator, characteristics made apparent in the French restaurant's menu of mussels frites and buckwheat crepes. Come to eat his amazing food.
Price: Pricey
6
Photograph: Courtesy Yelp/Louis L.
What is it: A very cool French style bistro in the heart of Ann Arbor.
Why go: This is a good alternative date venue if you're trying to impress. The walls and ceilings are covered in artwork, posters and nicknacks – there's so much to look at, it's almost enough to distract from the European cuisine, but thankfully not quite. Expect typical French items on the menu: muscles, onion soup, steak frites and whitebait.
Price: Average
7
Photograph: Courtesy Yelp/Taste Kitchen
What is it: Think of this as an amalgamation of the very best aspects of Vietnamese, French and American cuisines.
Why go: The menu, heavy on local produce and meat, changes widely pretty often—so you'll get to eat something different every time you visit. Some regular items do, however, take permanent spot on the menu, like the tuna poke, shrimp spring rolls, eggplant cannelloni, shaking beef and Berkshire pork.
Price: Average
8
Photograph: Courtesy Yelp/Cassidy T.
What is it: Picture that popular street cart that emanates the kind of smell that fully distracts you when you're walking around town and you'll have a pretty good idea of what Frita Batidos is all about.
Why go: Cuban street food served within four walls in America? Yes, please. Definitely try the Frita, a traditional Cuban burger, which can be made with chorizo, chicken, black bean, beef or fish and includes a sunny-side-up egg, avocado spread and bacon.
Price: Average
9
Photograph: Courtesy Yelp/The Ravens Club
What is it: Generosity is the norm at The Ravens Club, where the farm-to-fork menu and well-poured drinks take center stage.
Why go: Heavily focused on local vendors, the menu here changes often. Some standout (and standard) favorites include the deviled eggs, pork belly buns and steak carpaccio bruschetta alongside main course offerings that include the lobster mac with big chunks of seafood, pad Thai and cilantro lime chicken.
Price: Average
10
Photograph: Courtesy Yelp/Todd K.
What is it: Forget the kebab, when it comes to late-night hunger pangs, beeline for Tio's tacos.
Why go: This sizeable spot on East Liberty Street is a favourite with night owls and early birds alike, as it's open 11am-2am Monday to Saturday. So whether you're popping in for brunch, lunch or a snack in the wee hours, Tio's got your back. Tacos, burritos an dhuevos rancheros are the big-hitters, with a load of sauces available and lip-smacking guac.
Price: Average
11
Photograph: Courtesy Yelp/Gandy Dancer
What is it: If you're looking for white tablecloths, exquisite waitstaff and an overall memorable dining experience, Gandy Dancer is your destination. Located inside a restored 1886 Michigan Central Depot, the popular eatery has hosted a whole lot of weddings, graduation dinners and family get-togethers as well.
Why go: The menu is well rounded with a sizable selection of the day's seafood catches, lamb, steaks and prime rib options. Great dining awaits.
Price: Pricey
12
Photograph: Courtesy Yelp/Saran S.
What is it: Boasting high ceilings, exposed brick and communal tables, Café Zola has earned its spot as a trendy yet comfortable dinner meeting spot. The menu features a delightful array of tastes, showcased in dishes like the Moroccan chickpeas and parmesan and rosemary pommes frites.
Why go: This is a zingy café that's ideal for a group of diners of all different tastes. We promise you'll find something for everyone on the menu. Whether you feel like trying the Hawaiian ahi tuna or the classic Kobe burger, there is something for everyone in your party at this zingy café.
Price: Average
13
Photograph: Courtesy Yelp/Vienna T.
What is it: Hidden in the back of a suburban shopping center, you might miss Ayse's Turkish Café if you're not looking for it. You can call it a hidden gem but, to us, this is just a great local destination.
Why go: There's the whole "let's see if we can find it" aspect to dining here. But let's overlook that. The food is actually really good! Try the pepper lamb dolma and chicken with chickpeas and grab some dessert before leaving.
Price: Average
14
Photograph: Courtesy Yelp/Vinology
What is it: The restaurant, which describes itself as a curated food-and-wine experience (expect over 150 varieties of vino on premise), focuses on offering patrons a well-rounded meal at an upscale wine bar boasting a tastefully crafted menu of food.
Why go: The wine here takes center stage but the food is just as good. If you're really just looking to munch on something while reveling in the wines, order the charcuterie board of meats and cheeses.
Price: Pricey
15
Photograph: Courtesy Yelp/Mani Osteria & Bar
What is it: When you first walk into Mani Osteria & Bar ("mani" means hands in Italian), what hits you is that pleasant, smoky aroma that accompanies a wood-burning oven. Next, you'll pick up the faint scents of oregano, basil and other traditional Italian spices used to make pizza, pasta and everything else that pleases the stomach.
Why go: Small plates, local ingredients and homemade flavors make this a must-visit. Be prepared for generous portions of cheese, olive oil and spices in everything from the pappardelle to the butternut squash soup and the "pasta messy" for the kids.
Price: Average
16
Photograph: Courtesy Yelp/Annette J.
What is it: Practically every Ann Arborite thinks of Jerusalem Garden with affection. Located just outside of the University of Michigan's campus, the small restaurant features a trio of like-minded cuisines that work deliciously together: Lebanese, Middle Eastern and Mediterranean.
Why go: There is something so right about enjoying a chicken shawarma sandwich with a side of golden French fries. Right?
Price: Average
17
Photograph: Courtesy Yelp/The Quarter Bistro
What is it: European dining in An Arbor, but with a Creole/Cajun twist.
Why go: If you're looking to enjoy a glass of wine and a few small bites while people watching, come here.
It's quirky to say the least, but wholly worth a try. Expect items like catfish with red beans and rice on the menu, alongside rosemary chicken, calamari and shrimp jambalaya.
Price: Average
18
Photograph: Courtesy Yelp/Kang's Korean Restaurant
What is it: Fuss-free Korean eating that's especially popular with the students. Probably because you can easily eat for under ten bucks here.
Why go: The hot stone bowls – known as bibimbap – are a classic Korean dish and something that Kang's does very well. But if you want to be a little more adventurous, have a go at the bu dae jigae, a firey beef broth with various pork cuts and kimchee.
Price: Bargain
19
Photograph: Courtesy Yelp/Aparna B.
What is it: A couple of comfortable vegan joints that'll serve a hungover brunch session perfectly.
Why go: For vegan options in Ann Arbor, there are few better places than The Lunch Room's Diner & Canteen and Bakery. But even if you're not vegan, you'll delight in the menus at these two locations. Think churro donuts, apple cider pancakes, pad Thai and hot dogs – and it's all vegan to boot!
Price: Average
20
Photograph: Courtesy Yelp/Jeff P.
What is it: The steakhouse has been an Ann Arbor mainstay since 1952, and for good reason: the drinks are strong, the portions are sizable and the steaks are phenomenal.
Why go: Steak. Steak. Steak. Steak. Steak. Steak. Fine, you might want to start with a shrimp cocktail and oysters Rockefeller, or a French onion soup and Caesar salad. But, really, have a steak.
Price: Pricey
Discover Time Out Market: the best of the city under one roof
Don't miss out on essential attractions and activities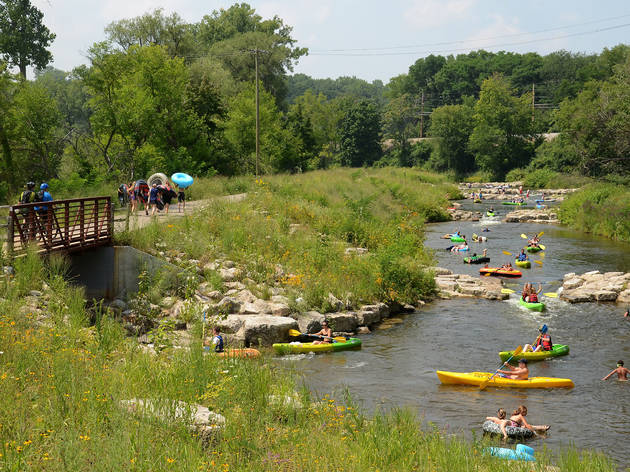 Now that you've checked out the city's can't-miss restaurants, plan out the rest of your trip with our guide to the best things to do in Ann Arbor. From unique Downtown shops to charming dive bars and football games, here are the ten best places to start.