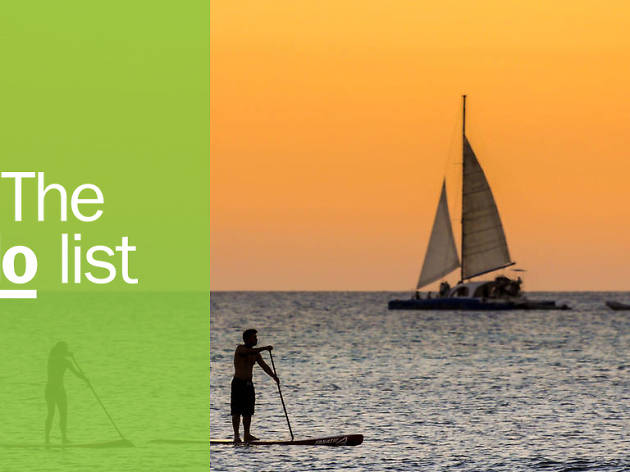 The 15 best things to do in Aruba
Tennis, off-roading, even tours of the island's aloe factory—it's all here in our list of the best things to do in Aruba
With its 19 miles of white-sand beaches, tilted Divi trees, mind blowing sunsets and sparkling Caribbean Sea, the tiny island of Aruba is a true hidden gem. It's dubbed "One Happy Island," and for good reason; it's hard to have a bad day on Aruba. Visit and you'll see what we mean! From spa treatments, beach tennis and water sports to off-roading desert adventures, an Aloe factory, fresher-than-fresh seafood restaurants, SUP yoga and even a private island where you can hang with free-roaming flamingos, there's plenty to do in Aruba to keep you smiling.
Done something on this list and loved it? Share it with the hashtag #TimeOutDoList and tag @TimeOutEverywhere.
Find out more about how Time Out selects the very best things to do all over the world.
Best things to do in Aruba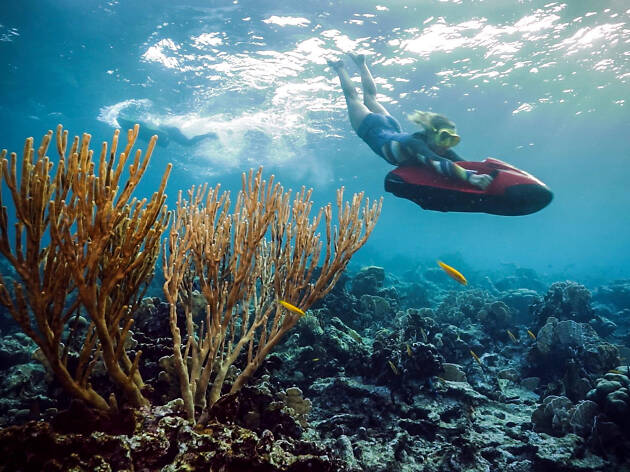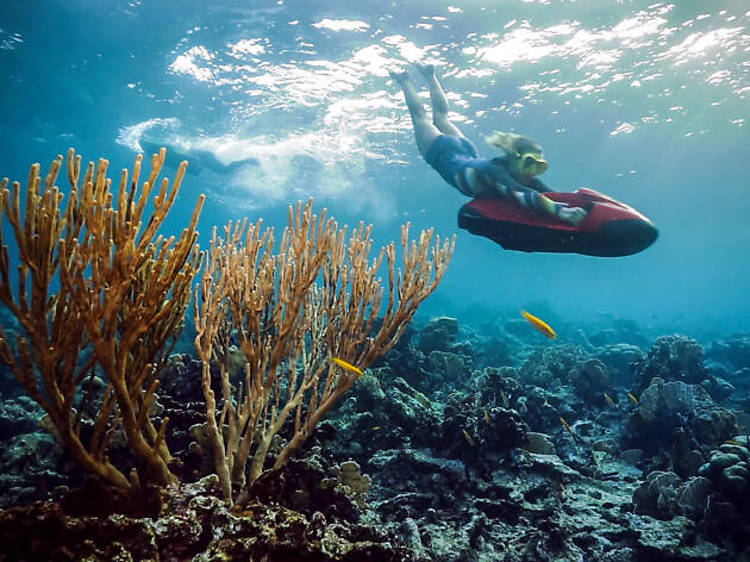 Photograph: Courtesy Seabob Aruba
What is it: A tour above and below the sea's surface on underwater electric scooters.
Why go: Seabobs are no bigger than a backpack, easy-to-use, self-controlled, and able to both skim above the surface of the water and dive 130 feet below it. Reserve a Seabob tour with Seabob Aruba, and they'll pick you up and drop you off at your hotel, give you a wetsuit and a tutorial, and show you a whole new world under the Caribbean Sea.
Photograph: Courtesy CC/Flickr/Eliot Phillips
What is it: A daily two-hour catamaran sail with open bar, appetizers and good music.
Why go: You can't ignore the sunset in Aruba. (If you forget to look, trust us: someone will remind you.) This sail is the most fun way to see it, and it's hosted by young tour guides that double as comedians. The boat leaves five nights a week from Hyatt pier, so if you're staying on Palm Beach, it's easy to find; just walk there.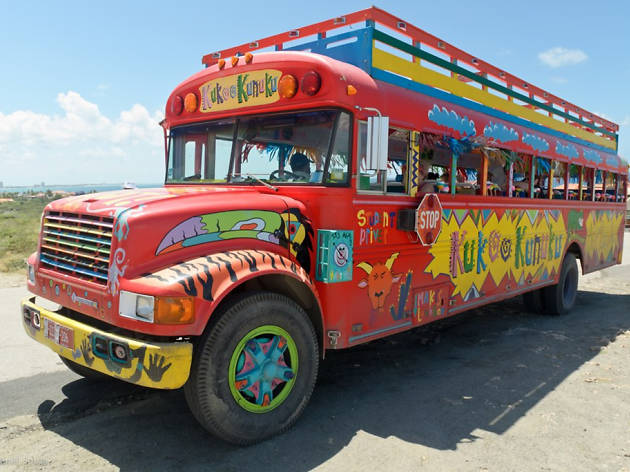 Photograph: Courtesy CC/Flickr/Dan Souza
What is it: Your not-so-average party bus.
Why go: No other party bus compares to the Kukoo Kunuku. It looks like a Caribbean-colored, open-air school bus complete with a dancing pole, '90s hip-hop soundtrack and lots of drunk people. It'll take you to three or four bars or clubs, give you a shot at each one and even do donuts in an abandoned parking lot late into the night.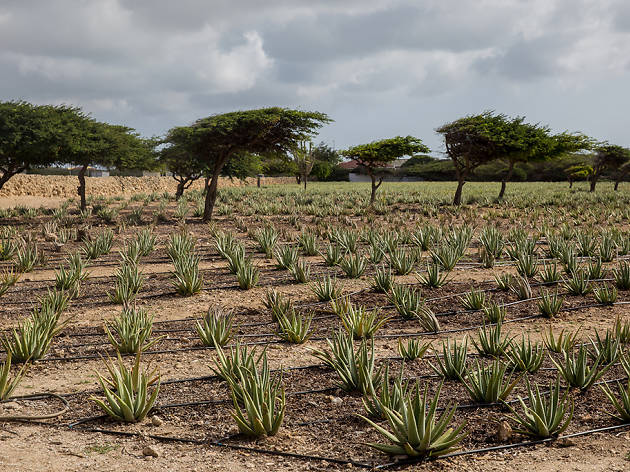 Photograph: Courtesy CC/Flickr/Terry Robinson
4. Aruba Aloe Museum & Factory
What is it: The place where all the world's Aruban aloe is made.
Why go: Aloe has been growing in Aruba since the late 1800s, and today, there's a modern factory that produces all of the island's aloe products. You can tour the factory and museum for free from Monday through Saturday, and buy soothing soaps, lip balms, shampoos, conditioners, lotions, bath bombs and more. It's all made with the aloe harvested right from those lots.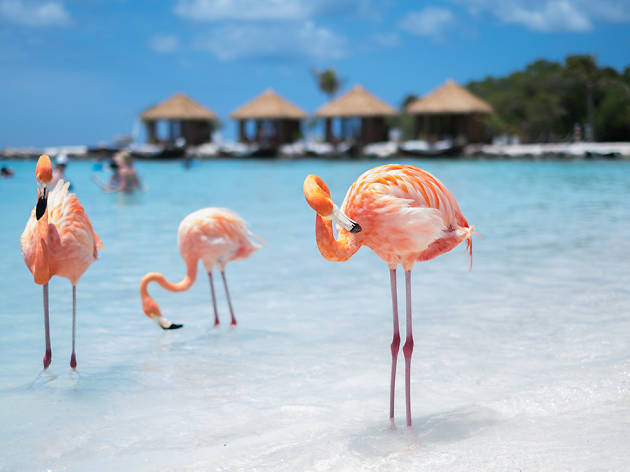 Photograph: Courtesy CC/Flickr/Karl Stanton
5. Private boat to Flamingo Beach
What is it: A private island with friendly, free-roaming flamingos.
Why go: It's an Instagrammer's dream. Part of the Renaissance Hotel, this private island has hammocks over the water, private huts, separate adults-only and family areas, a bar a restaurant, and of course, the flamingos. It's hard to access if you're not a hotel guest (only 30 $99 passes are available each day for purchase), but get one and you might find your new Instagram co-star—these flamingos love the spotlight.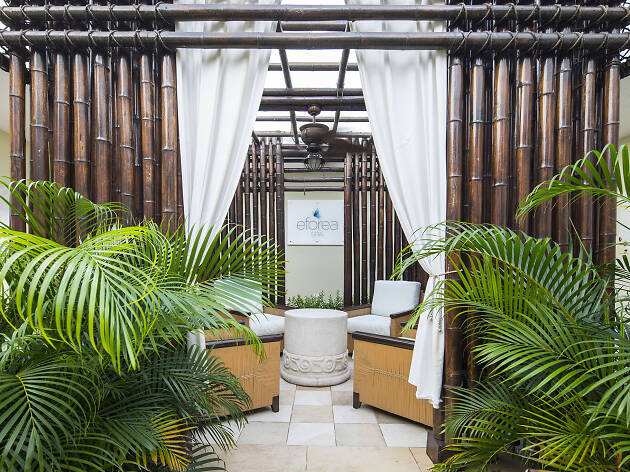 Photograph: Courtesy Hilton Aruba
6. Hilton Aruba's eforea spa
What is it: An aloe vera, rum and hot stone massage you won't forget
Why go: You'll lay on a massage table in a dimly-lit room, while a therapist douses you in warm rum, rubs you down in cold aloe vera, places healing hot stones in all the right places and massages you for 80 dreamy minutes. This service is only available at eforea spa, and in case you're still unsure… yes, you want one.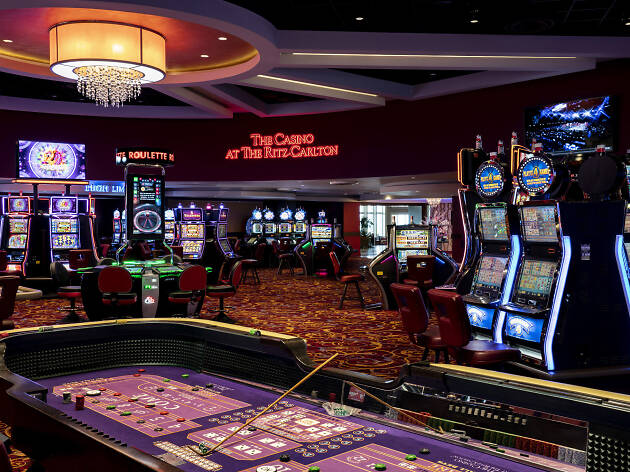 Photograph: Courtesy The Ritz-Carlton Aruba/Don Riddle Images
7. The Casino at Ritz-Carlton Aruba
What is it: Roulette. Also known as that game you play at casinos that no one really understands.
Why go: The tables are always crowded at this chi-chi casino. Don't like roulette? Try something else; there are 265 slot machines, two sports-betting kiosks and 17 table games, from Black Jack and Let it Ride to Caribbean Stud Poker and Ultimate Texas Hold' Em. Fun fact: you can play all the tables until 4am.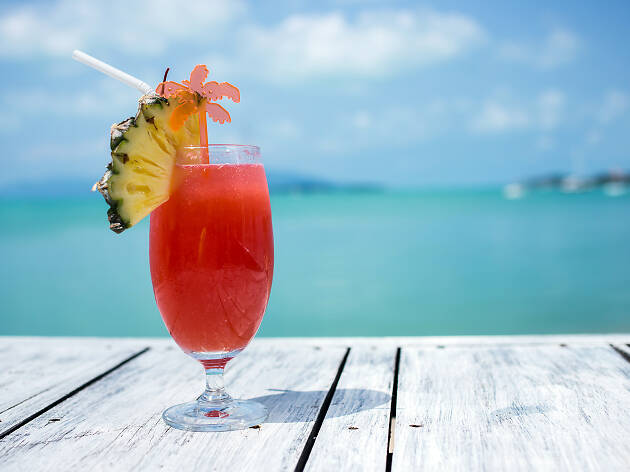 Photograph: Shutterstock
What is it: It's basically Aruba's national cocktail.
Why go: Aruba Aribas are an Aruban pastime—some might say a rite of passage. This bright red drink is made with vodka, rum, Coecoei, crème de banana, fruit punch and a splash of Grenadine and Grand Marnier. Coecoei is a local liquor that comes from agave sap and not exported out of Aruba, so when we say this drink is local, we mean it. You literally can't get it off the island.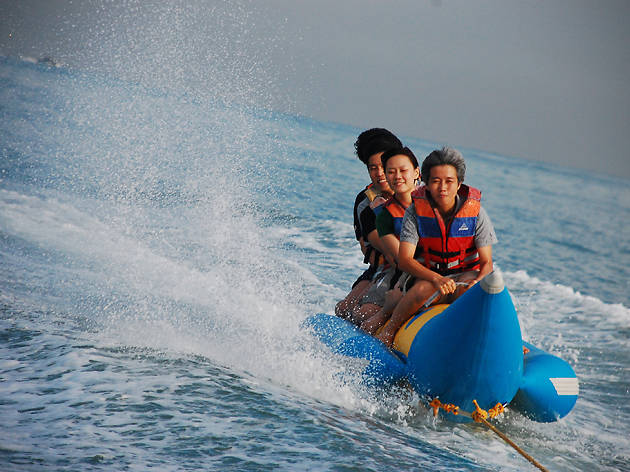 Photograph: Courtesy CC/Flickr/Vernon Chen
What is it: A private island with water sports, buffets and an open bar.
Why go: De Palm Tours is Aruba's most popular tour company, and this 9am-5pm boat excursion goes to its namesake island. Spend the day eating, drinking, snorkeling, getting beach massages, taking banana boat rides and salsa lessons, and even getting temporary tattoos. While there, keep those Aruba Aribas coming—De Palm Tours will drive you home, so you don't have to.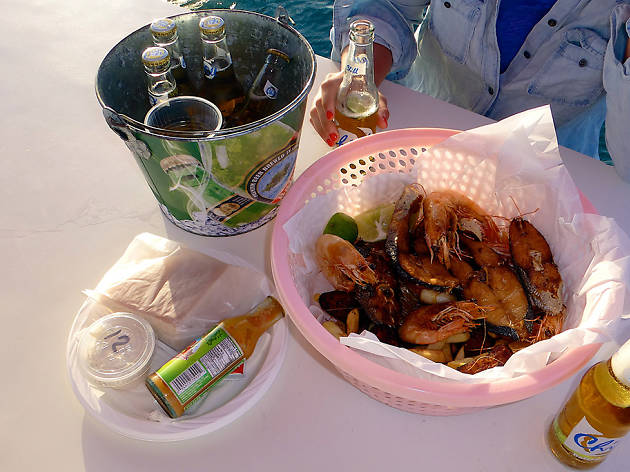 Photograph: Courtesy CC/Flickr/Jay Colbath
What is it: A seafood shack on a fisherman's pier.
Why go: Named after the Dutch word for "sea pirates," Zeerovers is as no-frills as it gets. Sit at one of the long picnic tables under a tiki hut, and get served colorful baskets of fried fish and shrimp caught and cleaned by the fishermen docked right beside you. Pair it all with a local Balashi beer, and you're in paradise for less than $10.
Photograph: Courtesy Yoga Girl
What is it: A yoga class on a paddleboard, on the Caribbean Sea, led by Instagram's most famous yogi.
Why go: Swedish native and author Rachel Brathen (or as the Instagram world knows her, "Yoga Girl") teaches the only SUP yoga classes in Aruba. You can find her studio, Island Yoga, by the Fisherman's Huts behind the Ritz-Carlton. Take private lessons or join a group class, and you'll be doing your downward dog right on the Caribbean Sea.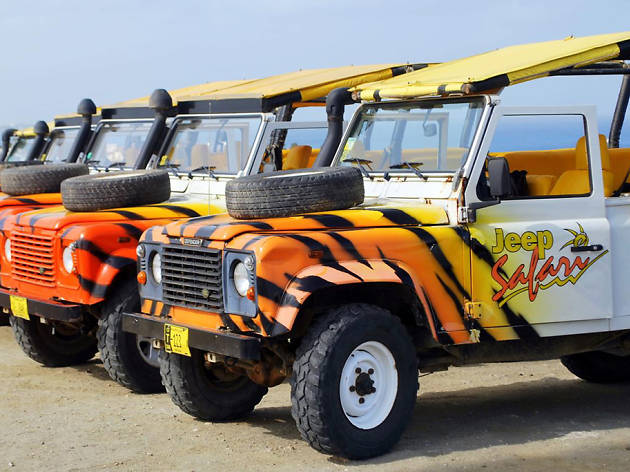 Photograph: Courtesy CC/Flickr/Tex Kap
12. ABC Aruba rugged jeep tour
What is it: It's the jeep tour you won't expect.
Why go: Strap into the bed of a caravan while a driver from ABC Aruba Tours whips you past The Natural Bridge, Bushiribana Gold Mill Ruins, Arikok National Park and the Natural Pool at 'Conchi' at high speeds. We don't want to spoil the surprise, but we'll give you two tips: don't eat a big meal before you go and definitely hold on tight.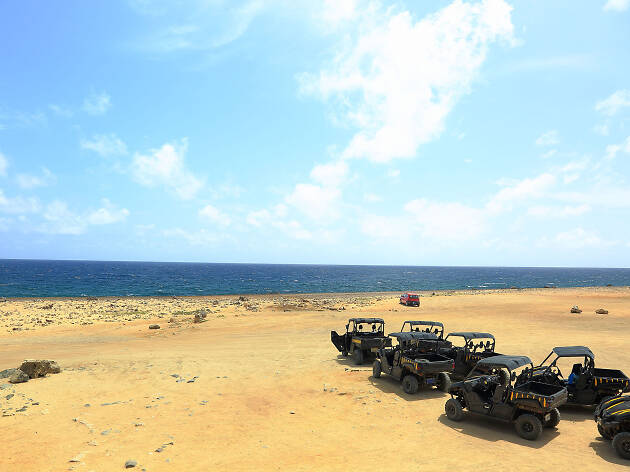 Photograph: Shutterstock
13. ABC Aruba UTV off-roading
What is it: A guided tour that lets you drive a UTV as you go off-roading in the desert
Why go: Yes, ABC Aruba is on this list twice, and for good reason. During this action-packed excursion, feel the dirt hit your face as you skid through the desert, onto the beach and down public roads. You'll be two to a car and driving behind a guide, who will stop to let you jump off cliffs, snorkel in the Indian Caves and explore Dos Playa Beach.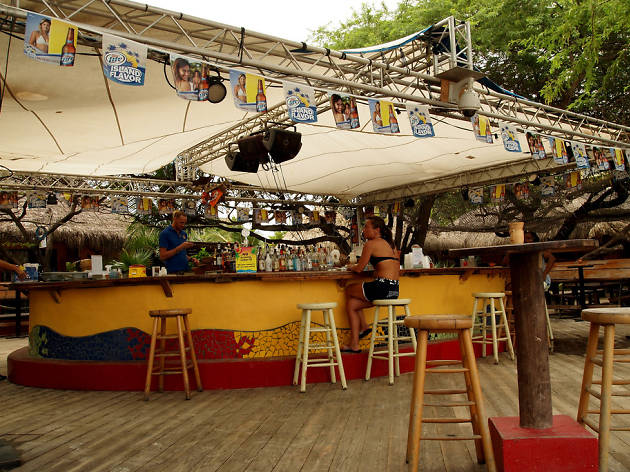 Photograph: Courtesy CC/Flickr/Steve Bennett
What is it: The place for beach tennis—like beach volleyball or badminton, but played with a fat paddle and a deflated tennis ball.
Why go: Beach tennis originated in Aruba! Plus, there's a court at one of Palm Beach's most popular bars, MooMba Beach Bar, and it's just $5 per person to play. The rules are simple: Hit the ball over the net, and if your opponent misses it, you get a point.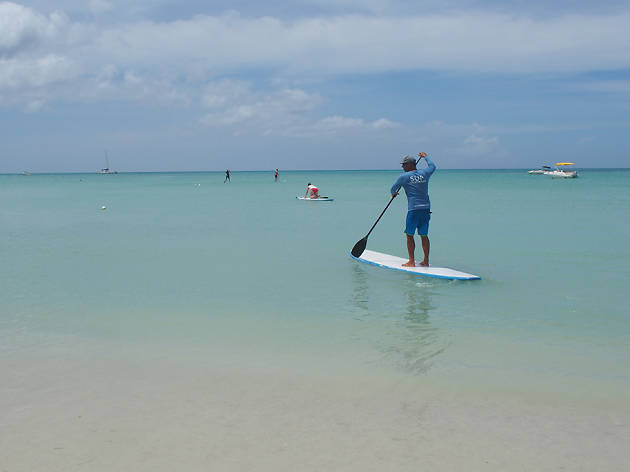 Photograph: Courtesy CC/Flickr/Heather Cowper
15. Aruba Surf & Paddle SUP lessons
What is it: Guided paddle boarding through Aruba's mangroves.
Why go: This isn't your average SUP tour. Dennis, the friendly owner of Aruba Surf & Paddle Boarding School, will take you around Mangel Halto, a part of Aruba known for its mangroves and shallow waters. He's a passionate local, so expect a trip that's part SUP lesson, part eco tour, part whatever he wants—even if it means ducking while Dennis pushes your board through a bridge drainage pipe.
Craving a taste of paradise?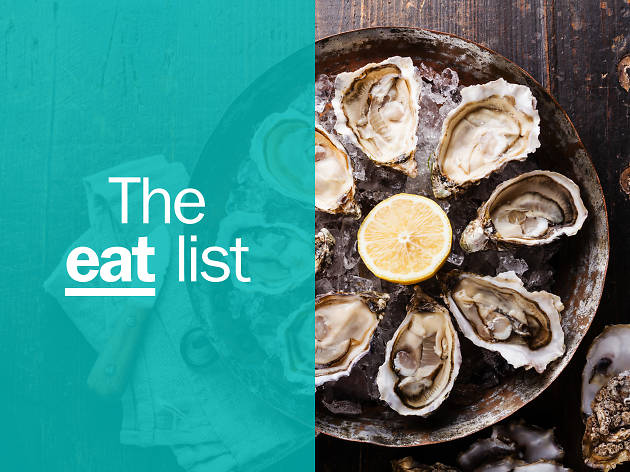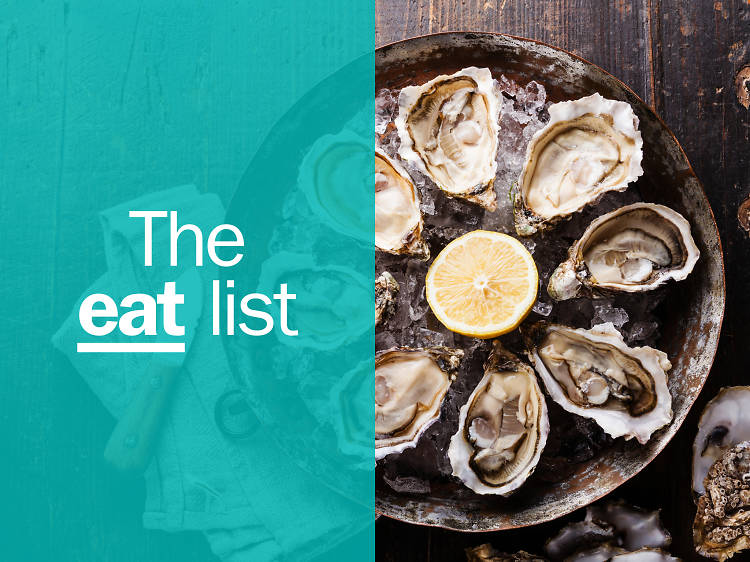 Figure out what you're craving—whether it's mile-high açaí bowls, coffee from a cafe-turned-late-night bar, fried shrimp in a shack (one of the top things to do on-island, in our opinion) or a romantic toes-in-the-sand dinner with award-winning seafood—and find it at one of our favorite restaurants, listed below.
Best selling Time Out Offers