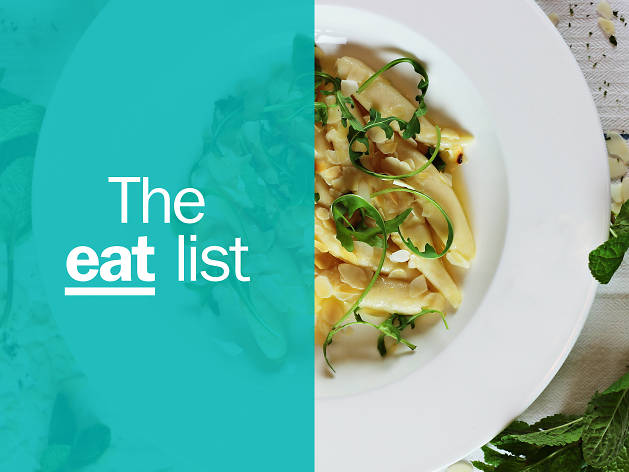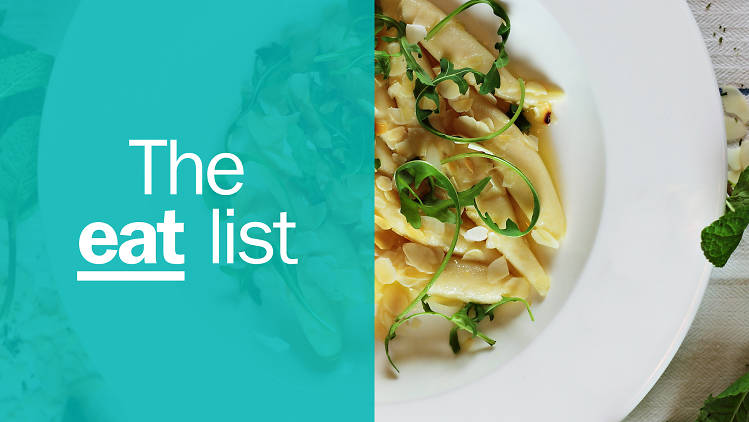 The 11 best restaurants in Auckland
Taste your way through the city with our guide to the best restaurants in Auckland, from fine dining to cheap eats
The best restaurants in Auckland make up a scene that reminds of an excited twentysomething who has just entered the prime of their life. A huge wave of immigration—primarily from Asia—has blown the culinary scene wide open, meaning $10 Sichuan spicy dumpling joints cosy up next to innovative high-end, ten-course tasting-menu joints.
The inner-city neighbourhood of Ponsonby has some real gems if you're looking for things to do to satsisy your inner foodie; there's a concentration of first-rate restaurants in Britomart and around the base of the Sky Tower and, if you want good authentic Asian food, the enclaves of Dominion Road (largely Chinese) and Sandringham (Indian) can't be beaten.
Start perusing our round-up of fab eateries immediately.
Best restaurants in Auckland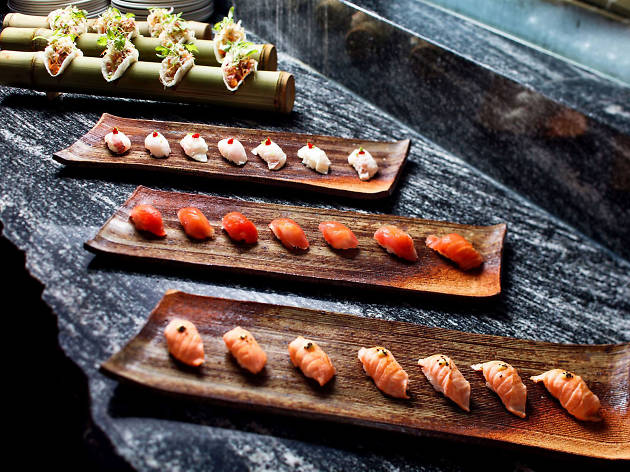 What is it? World-class modern Japanese from an internationally acclaimed chef, minus the intimidating vibe.
Why go? Masu suits anyone who loves Japanese flavours but is open to new interpretations on the theme. The black cod, grilled lamb cutlets and crayfish spicy miso tacos fly out the door. The menu tells you you're eating high-end Robata-style Japanese sharing plates using the very best of New Zealand produce, but the attentive slick service, huge space and kick-ass fitout – complete with the theatre of a very open kitchen – make you wonder if you're in New York, London or Melbourne.
Price: High-end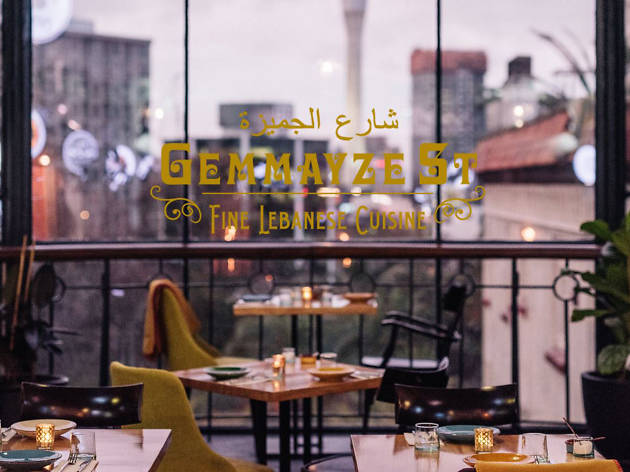 Photograph: Keira Stephenson
What is it? A vibrant, modern upscale Lebanese eatery in a fantastic heritage arcade.
Why go? Gemmayze Street is for anyone who loves sharing dishes packed with bold Middle Eastern flavours. As good for a fun date as it is for group, plates like octopus with pickled green chilli, coriander, pomegranate and squid ink or duck with red cabbage, fig, onion will blow you away.
Price: Mid-range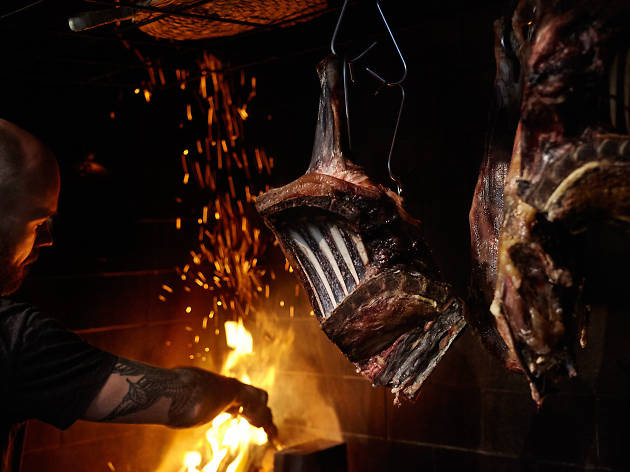 What is it? A ten-course dining experience for those obsessed with good food. An Auckland evening you won't forget.
Why go? There are only 25 seats and there's only one option: a ten-course degustation served by the chefs themselves. You will taste combinations of flavour and texture you've never experienced anywhere else, with a bias towards traditional techniques like open fire cooking, fermenting, pickling and preserving. Ed and Laura Verner love connecting land, sea, producer and diner for an all-round food lovers dream.
Price: Blowout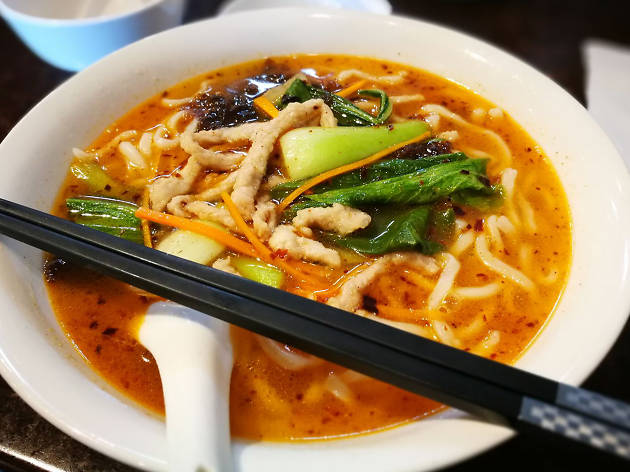 What is it? One of Auckland's favourite dumpling stops, Mr Zhou's is for everyone from hipsters to big family groups. Make sure you order a side of their excellent cucumber salad with your pillowy packages of meat or tofu goodness.
Why go? The dumpling wars have been raging for some years in Auckland but places like Mr Zhou's are perennial favourites (Barilla and Eden Noodles are also very popular just a couple of streets away on Dominion Road – Auckland's Asian food capital). Inhaling a dozen pork and fennel dumplings bathed in your perfect mix of black vinegar, soy and chilli is a quintessential cheap and cheerful Auckland experience.
Price: Budget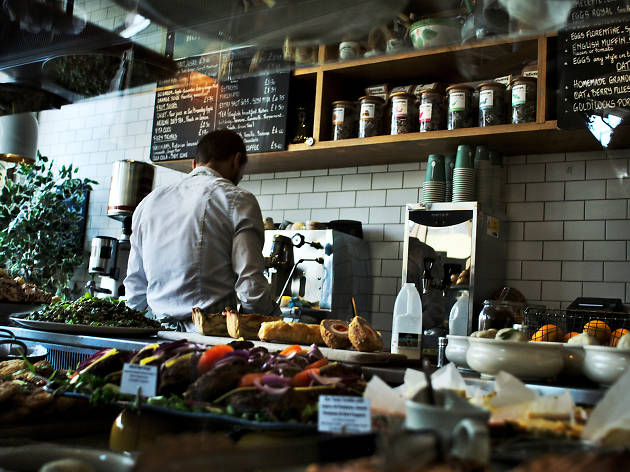 What is it? Perfect for loud groups of friends, Satya Chai Lounge is for anyone looking for a new format for their favourite Indian flavours. Prepare to become obsessed with the kurryaage chicken (Indian spiced Japanese style fried chicken) and the legendary dahi puri.
Why go? An unmarked white door with no obvious signage leads to a rustic fit-out of crate seats and sacks with Indian adornments. This foray into a less traditional format for Indian food (sharing plates of largely finger food rather than curries on rice) has been unbelievably popular. There's a huge focus on local craft beers, which complements the food and vibe perfectly.
Price: Mid-range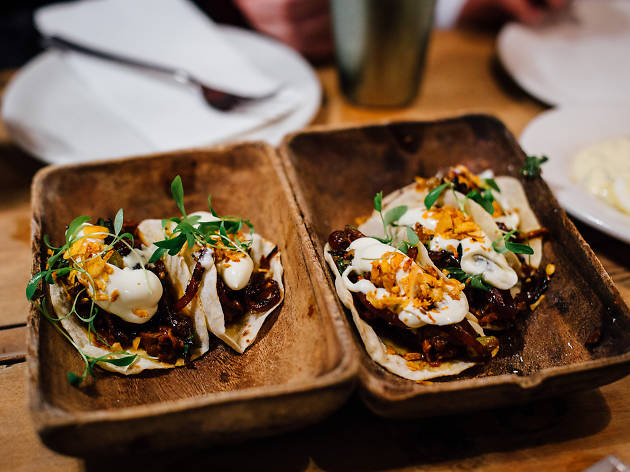 What is it? A lively all-day eatery, loved for its fantastic oyster bar.
Why go? Al Brown is one of New Zealand's best-known chefs and this stylishly casual joint has been consistently packed since the day it opened. Fresh, seasonal New Zealand produce and flavours are elevated with international influences to make shared plates interesting, but proudly unpretentious. There's often a wait, but it's 100 per cent worth it. Try the lamb ribs with skordalia and cumin paprika oil or the famous hapuka sliders with pickled lemon mayo and watercress.
Price: Mid-range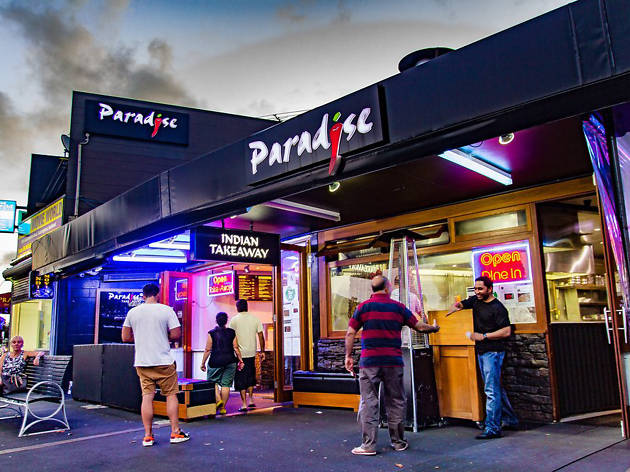 What is it? Right in the heart of Auckland's Little India, this cheap and cheerful restaurant is all about the biryani and excellent curries.
Why go? If you breathe in the intoxicating smell and look at the spiced grilled meat and chefs slinging fresh naan in the window, you may think for a moment you're actually in Hyderabad. Locals love the biryani but the curries are also excellent, especially the eggplant with tamarind. There's a separate buffet and takeaway too (complete with free meals for those in need)
Price: Budget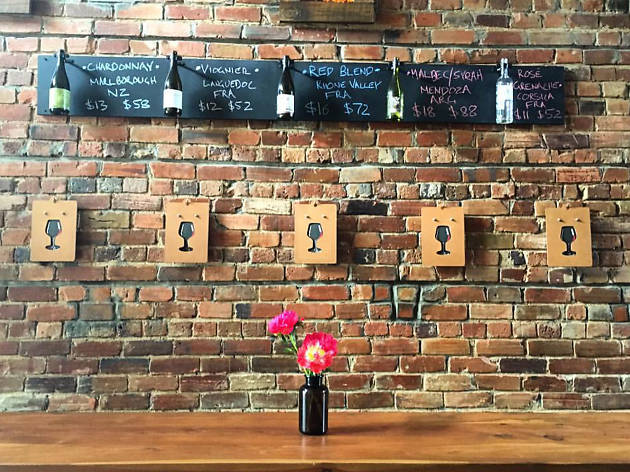 What is it? Apero is as perfect for an after-work drink and small bites as it is for dinner with friends. Leslie's rustic sausage and goat's cheese croquettes with Kamahi honey are crowd favourites.
Why go? Going to Apero is like catching up with those food obsessed friends who also have a great wine cellar at their place. Run by a couple who've worked for years in Auckland's best restaurants, this small casual spot with wooden tables and exposed brick serves first rate European sharing food. Leslie's a French kitchen genius and Mo is like a wine clairvoyant, knowing exactly the right drop for anyone who walks through the door.
Price: Mid-range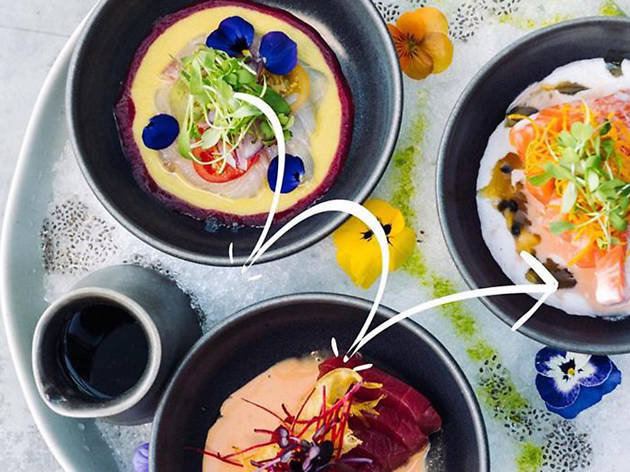 What is it? The place where Japanese and Peruvian foods make sweet, sweet harmony.
Why go? Ever had tuna sashimi tostadas? Or charcoal black meringue with poached pear and yuzu ice cream? Now's your chance at Auckland's Azabu. This unique fusion restaurant is sleek and decked out in industrial cool, with vibrant atmosphere (and delish cocktails).
Price: Mid-range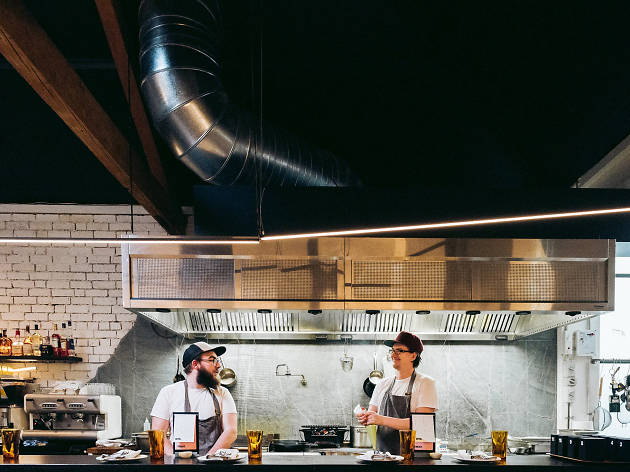 Photograph: Josh Griggs
What is it? Think seasonal bites served yum cha style followed by shared dishes like grilled fennel, tomatoes, whipped goat curd and pearl barley or tuatuas with chorizo XO style sauce and fried vermicelli.
Why go? If you're a noisy group or a cosy couple looking for a different way to eat, Culprit's the place. Kyle Street and Jordan Macdonald are champions of local New Zealand produce and producers. An eclectic range of innovative bites influenced by Kyle and Jordan's travels through the states and Europe come out on trolleys for your starters, followed by the option of larger shared plates from the menu afterwards. The hip loft space is great, with excellent service and a lovely sociable bustle.
Price: Mid-range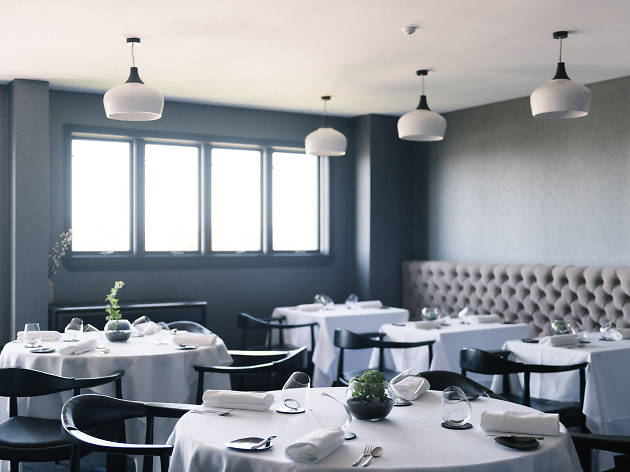 Photograph: Josh Griggs
What is it? Arguably one of the best degustations in town, Sid Sahrawat's high-end Indian food is a glorious combination of art, science and gastronomy. But don't fear, taste hasn't been sacrificed for aesthetics – it's the whole gorgeous package. Perfect for a very special date.
Why go? If you want the finest Auckland has to offer, book in at Sidart. If you don't have the budget for a degustation, then you could also visit Sidart's sister venue, Cassia. There, you'll find a more casual à la carte modern Indian offering.
Price: Blowout
Discover Time Out Market: the best of the city under one roof
Now time to map out your itinerary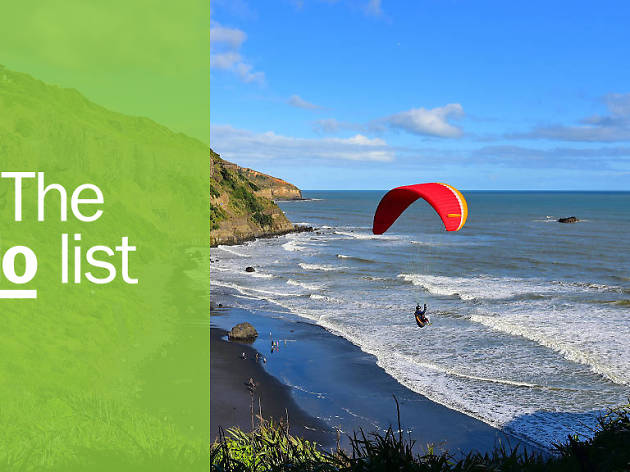 Nicknamed the City of Sails, the sea is a huge part of Auckland's identity. Its isthmus location means water is never far, be it inner city beaches or wild west coastline. It's a great place to be outdoors, but there are also excellent city options like theatre, galleries, shopping and more. Here are the 11 can't-miss activities in Auckland.
Best selling Time Out Offers