Where to have New Year's Eve dinner in Austin
Later, 2017! Ring in 2018 with a festive New Year's Eve dinner—and a champagne toast, of course.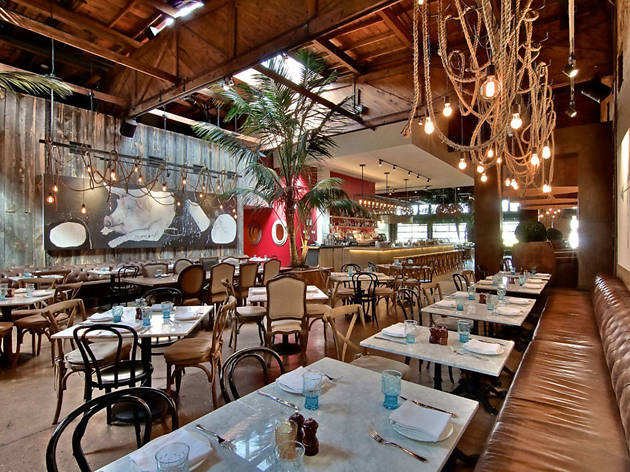 Sequin dresses, sparklers, champagne waterfalls—New Year's Eve can be excessive, even for those who enjoy lavish shindigs to ring in a brand new year. If you're planning on avoiding Austin's top New Year's Eve parties and are looking for a classy meal instead, consider these New Year's Eve dinners that are choosing filets over fireworks. From fine-dining restaurants to classy Italian restaurants, these dinners will have you ending 2017 on a seriously delicious note.
RECOMMENDED: Our guide to New Year's Eve in Austin
New Year's Eve dinners
1
What: This East Austin Italian restaurant recently launched Sunday dinner, but they'll be swapping out their Sunday menu for a New Year's Eve prix-fixe special. Choose from three cicchetti (appetizers), like the heavenly puffy potatoes or a creamy truffle arancini, then select a small plate (oysters, little lettuce, celery root soup), pasta and a main entrée. Dessert options include a tiramisu or frozen parfait. Dinner will be served from 5:30 to 10pm.
Price: $70
Reserve: 512-220-9421 or reserve online
Book now
Read more
2
What: Just outside the city, Apis is offering a lavish New Year's Eve dinner for the whole family. A prix-fixe menu includes items like diver scallop crudo, pickle sweet shrimp, dry aged ribeye and a molton dark chocolate cake for two. Early seating 5-6pm, late seating 8pm.
Price: $85 adults / $30 children
Reserve: 512-436-8918
Book now
Read more
3
What: Launderette's third annual New Year's Eve Extravaganza invites Austinites to revel in an evening of bubbles and a four-course meal. Start with delicate dishes like tuna crudo or foie mousse, then move onto a second course of escargot, agnolotti or rack of lamb. The third course includes cacio e pepe, king crap legs or Texas wagyu strip, while a final dessert course lets diners finish up with chocolate custard tart, an apple hot toddy or ricotta beignets. Dinner reservations can be made from 5 to 10pm.
Price: $85
Reserve: Reserve online
Read more
4
What: Downtown's newest French restaurant is celebrating its first New Year's Eve with a five-course menu from chef Derek Salkin. Roasted sunchoke soup, seared scallops, caviar, salted baked beets and galette de rois are all on the menu, which starts being offered at 6pm.
Price: $90 / $65 wine pairing
Reserve: 512-580-7651 or email info@lepolitiqueaustin.com
Book now
Read more
5
What: Goodall's Kitchen is located at Hotel Ella, meaning that if you're planning on drinking too much champagne during dinner, a cozy bed is just steps away. Celebrate 2018 with a four-course meal that includes dishes like chilled Katama Bay oysters, wagyu NY strip, duck breast and lamb shoulder. Dinner is served from 5 to 11pm.
Price: $98
Reserve: 512-495-1800 or email goodalls@hotelella.com
Book now
Read more
6
What: The W Hotel's Trace is offering a five-course New Year's Eve dinner that'll have you feeling full well into 2018. Choose from a first course that includes baby lettuce or sunchoke soup, followed by tuna carpaccio or tomato tart. A third course features agnolotti two ways (caramelized shallots, tallegio, truffle brood and breadcrumbs), then a choice of Niman Ranch strip sirloin or butter poached lobster. Dessert is a medley of chocolate and truffles—the perfect way to end the year.
Price: $115
Reserve: 512-542-3660
Book now
Read more
7
What: If you're already planning on hanging out downtown on New Year's Eve, Searsucker is a great place to start your night. The restaurant is serving a four-course meal, where diners can choose among curried squash soup, snapper crudo, beet terrine, rack of lamb, funghi pappardelle and more. A choice of peanut butter cheesecake, banana pudding and Texas cheese helps you finish 2017 on a sweet note.
Price: $75
Reserve: 512-394-8000 or reserve online
Book now
Read more
8
What: One of the more affordable options, Contigo's New Year's Eve feast is a three-course spread with a bevy of delicious dishes to choose from: chilled shrimp roulade, turnip tortellini, Texas quail, prime rib (for an extra $25), and grapefruit tart or a chocolate sundae for dessert. A champagne and cranberry sorbet palate cleanser is the perfect segue into the end of the meal. Dinner is available from 5 to 10pm.
Price: $55 / $25 wine pairing
Reserve: Reservations can be made online
Book now
Read more
9
What: Don't want to commit to a prix-fixe meal on New Year's Eve? The downtown Mexican restaurant is offering items from their à la carte menu, including polanco ceviche made with winter citrus, crab, avocado mousse and blue corn tostada, and carnitas tacos with crispy head cheese, radish salad, salsa macha and serrano salsa. Dinner starts at 5pm.
Price: Prices vary
Reserve: 512-499-0300 or email info.austin@lacondesa.com
Book now
Read more
11
What: For an ultra-luxe night out, head to the Four Seasons' TRIO for a five-course New Year's Eve dinner. Start with the chef's selection of amuse-bouche before choosing from dishes like crispy quail, smoked brisket and kimchi dumplings, wagyu ribeye and west coast halibut. Want something flashy for dessert? The Black & Gold is made with Valrhona 68% dark chocolate, blackberries and 23k gold leaf. Seatings are offered from 5 to 11pm.
Price: $125
Reserve: 512-685-8300 or reserve online
Book now
Read more
12
What: This dreamy South First restaurant is putting its ingredients front and center during their New Year's Eve dinner, a four-course meal with supplemental add-ons available. Cauliflower soup, rice-crusted fish, and duck and potato terrine are all on the menu, as is a heavenly chocolate halvah torte. Add foccacia, caviar pie or oysters if you want to take your dinner up a notch. Seatings from 5 to 9:30pm.
Price: $75 / $55 wine pairing
Reserve: 512-215-9778 or reserve online
Read more
13
What: Chef Victor Ibarra is pulling out all the stops for this four-course New Year's Eve meal at one of Austin's best Italian restaurants. Appetizers like a citrus salad, marinated salmon and scallops, and creamy polenta kick things off, followed by house made risotto, spinach fettucine, filet mignon and more drool-inducing options. For dessert, choose from warm chocolate soup, due delizie or torta di cioccolato. Seatings are available at 5, 6:45 and 8pm.
Price: $85
Reserve: 512-719-3377 or email andiamoitaliano@gmail.com
Book now
Read more
Catch the fireworks after dinner
Here are our favorite spots to help welcome in 2018.
Read more