The best summer camps in Austin
A place of timeless friendships and great adventures—the best summer camps in Austin suit kids with every interest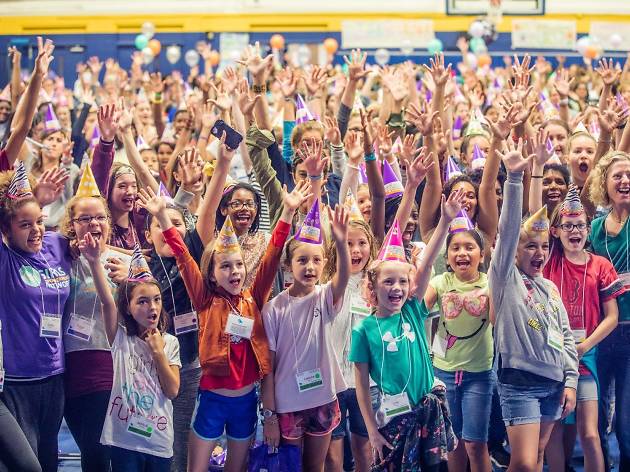 The finish line for the school year is near and summer in Austin is right around the corner, which means registration for summer camp is ramping up. While there are plenty of things to do with kids in the city (hello, water parks), signing them up for day- or week-long camps can be enriching and transformative. From technology to girl empowerment, film making to magic, our guide highlights a handful of highly creative summer camps in Austin that'll make your kids' summer one to remember.
Best summer camps in Austin
If you're looking to curb your kids' nature-deficit disorder by letting them reconnect and appreciate the wilderness in their own backyard, look into Earthy Native School Camps. Instead of hide-and-seek and campfire singalongs, these themed camps involve hands-on nature exploration, animal adventures and survival skill training to lure little ones away from screens. Week-long day camps at McKinney Falls State Park in southeast Austin and overnight wilderness adventures in Bastrop offer real projects—building shelters, land navigation, water purification—and activities like animal and plant identification and making body paint from rocks and dirt.
Dates: June 4-August 10
Price: $265-285/week-long day camps ages 3.5-12, $595/week-long sleepaway survival camps for ages 9-12
Inspiring the conservation of native Texan flora and fauna, Lady Bird Johnson Wildflower Center embraces environmentalist values via week-long camps. During full-day activities, your child becomes a botanist, horticulturist and conservationist by exploring themes from the natural world in science experiments, arts and crafts and outdoor adventures to gain a new perspective on their local environment.
Dates: June 4-July 27
Price: Week-long camps for ages 6-11 are $200 for members, $250 for non-members; preschool camps (9am-noon) are $160 for members, $180 for non-members
Attractions, Libraries, archives and foundations
Let your little ones investigate a creative, interactive and stimulating world created just for them in week-long camps produced by the Thinkery, which offers five camp locations across Austin. Working directly with experienced teachers and research students, your budding scientist will practice design-thinking methods and project-based learning through themes like Secret Agent Robot, Medieval Minecraft, Engineering with Sound and Once Upon a Design.
Dates: June 4-August 17
Price: $350 for members, $385 for non-members ages 4-6; $330 for members, $365 for non-members ages 6-11
4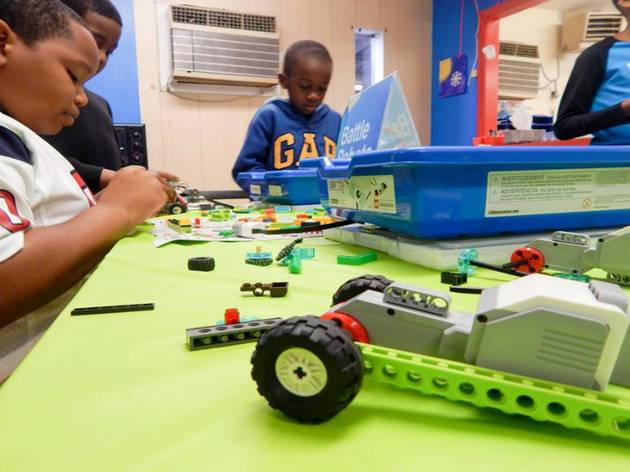 With immersive week-long camps titled "Hovercrafts and Things That Go Zoom," "Time Traveller's: Age of Dinosaurs" and "Lego Robotics: Stomp and Chomp," you'll wish Idea Lab had been around when you were camp-age. Inspiration for the wide array of programs held in over a dozen established schools and facilities around Austin come from STEAM fields—science, tech, engineering, art and math—and focus on giving your kids' grey matter a creative workout.
Dates: June 4-August 10
Price: $180-$250/week depending on location, ages 5-12
Prepare for some seriously adorable camp pics when your child attends the canine-focused summer camps at The Dog Alliance. Certified dog trainers and teachers keep campers busy with training lessons, puppy pettings, canine body language reading and dog biscuit baking, among other pup-tastic activities broken into age-appropriate "All About Puppies" and "All About Dogs" programs.
Dates: June 11-August 3
Price: $175-$275/week for ages 5-14
Outdoor adventure, horse riding and camaraderie go hand-in-hand at the Cornerstone Farm camps. Advanced and first-time riders are equally welcome for week-long horse-riding lessons, trail rides, equine grooming and handling techniques.
Dates: June 11-July 27
Price: $400/week for ages 6-15
Move over, Scorsese. Offering the ins-and-outs of cinematography, screenwriting, claymation and directing for the screen, the Austin Film Festival's 16th annual summer camp series will transform your teen's screen obsession into a self-expressive hobby (or future occupation). After taking the director's chair and shouting "cut!" and "action!" for a week, budding filmmakers will show off the fruit of their labor at the Galaxy Highland Theatre.
Dates: June 4-July 27
Price: $195-$390/week depending on the program, ages 9-18
If your kiddo has the gift of illusion or wants to learn how to pull off a trick or two, the Fantastic Magic Camp will be their summer haven. The two-week day camps build kids' self-confidence and artistic abilities through daily juggling, puppetry and improvisational comedy, and teaches the "four Ps" of magic (preparation, poise, presentation and performance).
Dates: June 4-August 17
Price: $590/two-week camps for ages 5 through 12
"Here's to strong women. May we know them. May we be them. May we raise them." This should be the unofficial slogan of CampGEN, a series of week-long girl empowerment camps put on by the Girls Empowerment Network. Own My Power- and Use My Power-themed programs take action against all the negativity young girls face, teaching them self-compassion and stress management through activities like art, yoga and role play.
Dates: June 18-22 and July 16-20
Price: $330/week for ages 9-15
Looking for engaging animal sanctuaries?
These animal havens are perfect for critter-loving kids.