The best Airbnbs in Barcelona
Looking for somewhere to stay in the Catalonian capital? We've rounded up the best Airbnbs in Barcelona
Whether you're looking to stay right in the heart of the city, enjoy a bit of downtime on the outskirts of town, or simply laying your hat down somewhere in between, the best Airbnb venues in Barcelona will have you well covered. Boats, neoclassical villas, art nouveau mansions, a beachhouse moments from the water... yeah, these aren't your average city-break spots. And you know what? Even the best places can work out inexpensive, leaving you more money to spend on all those great restaurants, bars and events in Barcelona.
Barcelona's best Airbnbs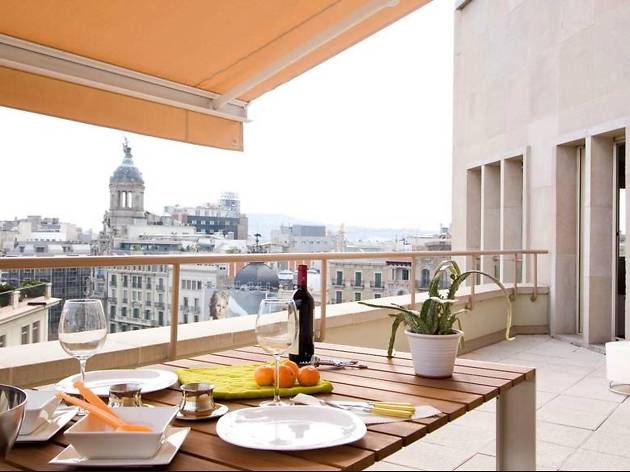 ©Airbnb
Attic flat in Paseo de Gracia
This super-central flat not only has the location, it's got some seriously lush views, too. Taking breakfast and gazing out across all the gorgeous nineteenth-century architecture around here should be one very special start to anyone's day. And inside? A super-clean, modern, one bedroom flat with space for four guests.
Image ©Airbnb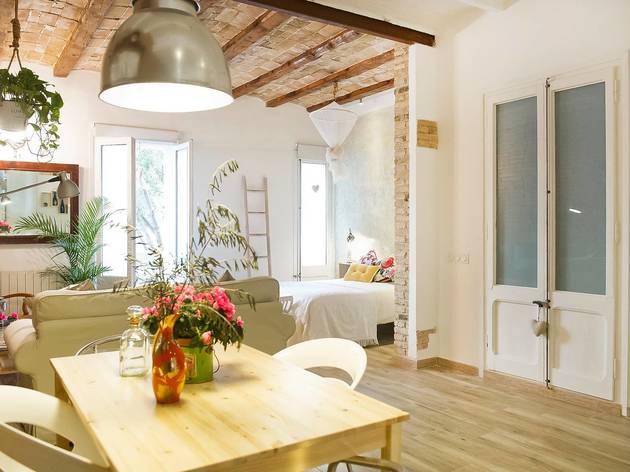 Renovated, vintage apartment in Eixample
Just two minutes from Sagrada Familia and with a bus going to the beach stopping right outside the door, this bright and breezy, wonderfully rustic apartment is a great spot for exploring Barcelona. Plus it sleeps four (in two bedrooms), so works out nice and cheap.
Image ©Airbnb
You don't get many better locations than this awesome double bedroom right in the middle of the gothic quarter. It's part of a B&B housed in a gorgeous, listed nineteenth-century building (loads of high, ornate ceilings and palatial doorways) with Las Ramblas right around the corner and street performers entertaining on the street below. Grab a seat on your private balcony and enjoy.
Image ©Airbnb
A beautiful yacht in Port Olimpic
Of course you don't have to stay on land. And sure, Airbnb enables you to book massive superyachts (scroll down, big spender) but here's a cheaper way top spend your nights bobbing on the waves. Parked up in port of Olimpic Barcelona, this very smart little yacht has three rooms, two bathrooms, a living room and plenty of space to lounge up top. And if you want to go for a sail? Your host can sort that out for you, too.
Image ©Airbnb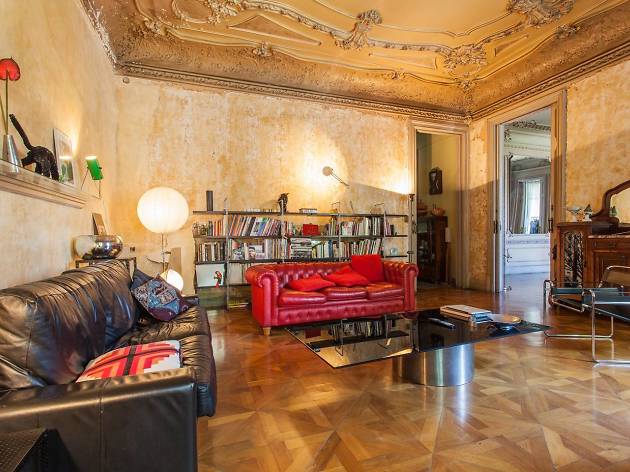 An art nouveau architects' flat
This spacious two-bed flat in Plaza Lesseps, in the trendy area of Gracia, is definitely one for design fans. It's housed within a belter of an art nouveau building (dating back to 1906) and the apartment itself has a great look – think distressed walls next to ornate original features, buffed wooden floors and modernist furniture.
Image ©Airbnb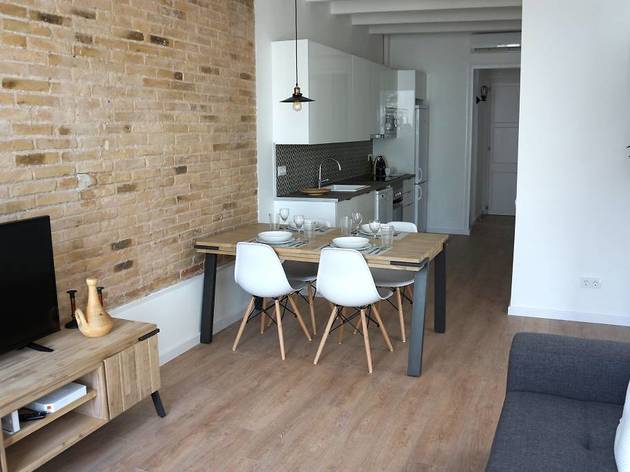 Industrial-style apartment
The key to this cute little apartment is price. It's able to comfortably host six guests (via two bedrooms, four beds and a sofa bed) and it looks the part, too. It's recently been renovated and is tricked out with exposed brickwork, wooden beams and loads of natural light. And it's just ten minutes from downtown Barcelona, too.
Image ©Airbnb
Design loft close to the beach
This stylish loft apartment is close to Polblenou – a part of town with loads of very trendy cafés and high-quality tapas bars. And the flat itself? It's a modern, open-plan and design-led loft with a cute little terrace to soak up a little sun. It's away from the more touristy areas, but transport is good.
Image ©Airbnb
©Airbnb
Hotel apartment close to Sagrada Familia
Fancy an Airbnb stay but also quite like the comfort of a hotel? This stunning three-bed apartment could be for you – you'll have access to a gym and spa, plus there's a daily cleaning service, too. And who doesn't like fresh linen? And then there's that terrace – just look at it.
Image ©Airbnb
Fancy something just a little bit luxurious? This huge neoclassical villa pretty much defines the term – it's got a swimming pool, Jacuzzi and eighteenth-century Chinese vases for heaven's sake. And sure, it's expensive, but it can house 16, so you can really make it work.
Image ©Airbnb
Because who's never wanted to spend a few nights on a luxury yacht? This very swanky-looking boat can host eight across its four bedrooms, plus there's a hot tub and a great location moored at Port Olímpic, meaning the Gothic Quarter and El Poblenou are close by.
Image ©Airbnb