Barcelona markets: The top ten
Your ultimate guide to the best of Barcelona's markets – fresh meat, fish, fruit, veg and so much more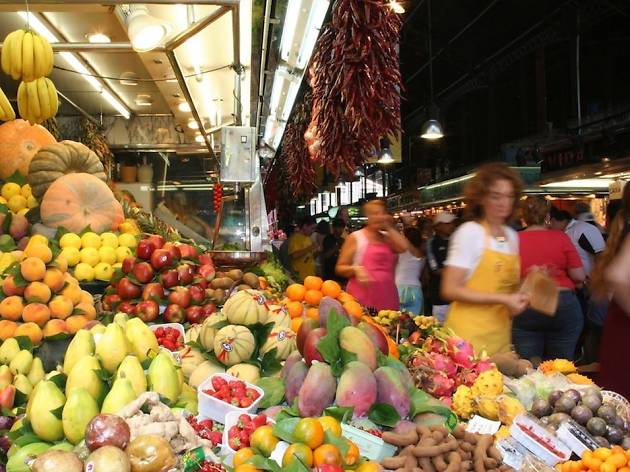 Food is an integral part of Catalan culture and Barcelona is the perfect example of this, with its 39 food markets spread throughout the city's neighbourhoods, each displaying an array of fresh products. Here are a select few of the most popular markets to get those taste buds going.
1
La Boquería is the best-known market in Barcelona and has become somewhat of a tourist attraction thanks to its location on the bustling La Rambla. Hosting a wide range of fresh food, it's the perfect stop to have a bite to eat while taking in the sites of central Barcelona. Whether you choose to find a seat at one of the many teeming countertops or pick up something on the go, you'll find a huge variety of food, from salads and sandwiches to snack cones filled with ham or shrimp. Losing yourself in the crowds thronging the aisles is a great way to soak up the atmosphere, while the tantalizing smells from fresh fish and charcuterie entice you in.
Neighbourhood: The Raval
La Rambla, 89
Liceu (M: L3)
Opening hours:
Mon-Sat 8am-8.30pm; Sun closed
Where to eat:
Bar Central. One of the busiest and most popular bars in the market that excels in its fresh fish dishes.
El Quim de la Boquería. Another highly regarded bar whose signature dish is baby squid with eggs.
Bar Pinotxo. Owned by the lovely Juanito, this is a must-visit for their delicious chickpea dishes.
Read more
2
Easily spotted from Plaça Nova, Mercat de Santa Caterina is most distinctive for its vibrantly coloured, undulating rooftop designed by Catalan architect Enric Miralles, a representation of the colours of the fruit and vegetables found in the market, which encapsulates Barcelona's modernista tradition. Less chaotic than La Boquería, it's still a popular spot for tourists and locals alike, creating a vivid and lively atmosphere. The stalls sell a beautiful assortment of fresh produce including meat, fish, cheese, fruit and vegetables, making it easy to visualise the architect's inspiration for the unique roof design.
Neighbourhood: The Born & Sant Pere
Av. Francesc Cambó, 16
Jaume I (M: L4)

Opening hours:
Mon-Wed 7.30am-3.30pm; Thu-Fri 7.30am-8.30pm; Sat 7.30am-3.30pm; Sun closed
Where to eat:
Bar Joan. Frequented by both tourists and locals, their flavoursome Catalan dishes are popular among all.
Read more
3
Mercat de Sant Andreu
This local market is located in a delightful colonnaded square in the charming neighbourhood of Sant Andreu. It may not be huge, but it has everything you could need in terms of fresh meat, fish, fruit and veg, as well as herbs and condiments. There are more stalls, shops and bars beneath the colonnade itself, including florists and bakeries. A personal favourite is Chocolat, specialising in tea and, well, chocolate, the passionate chocolatiers sell high quality chocolates, ice creams and a variety of teas. The chocolate covered comfit orange peel is not to be missed.
Neighbourhood: Sant Andreu
Plaça del Mercadal, 41
Sant Andreu (M: L1)

Opening hours:
Mon 8am-1:30pm; Tue-Thu 8am-2pm; Fri 8am-8pm; Sat 8am-2:30pm; Sun closed

Where to eat:
Restaurante Rabasseda. This little restaurant in the colonnade sells a variety of dishes which use products from the market.
4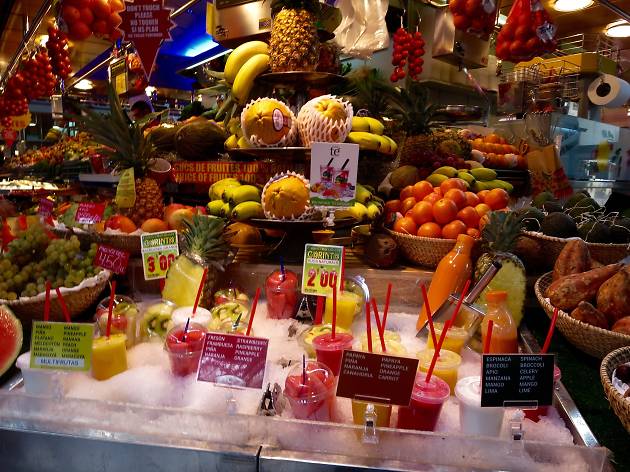 Mercat de la Concepció
La Concepció is particularly well known for its flower market, located at the back of the market. Here you'll find all types of flowers and greenery, ideal for anyone with gardening ambitions. Entering the market is an unusual experience. The space opens up in front of you like a large warehouse; to your right an appliances shop, to your left and below you, a supermarket. Yep, that's right, below you. In fact, to get to the market stalls you must walk across a bridge suspended over the supermarket; quite the grand entrance. The market itself comprises of a fantastic range of fruit, veg, meat and wine stalls. The fresh fruit and mixed juices are particularly delicious.
Neighbourhood: The Eixample
Carrer d'Aragó, 313
Girona (M: L4)

Opening hours:
Mon & Sat 8am-3pm;
Tue-Fri 8am-8pm; Sun closed
Where to eat:
Forn Pastisseria L'Eixample. Originating in 1910, this bakery sells beautiful sweet and savoury pastries. Alternatively swing by one of the fruit stalls for freshly cut fruit if you're looking for a healthier option.
5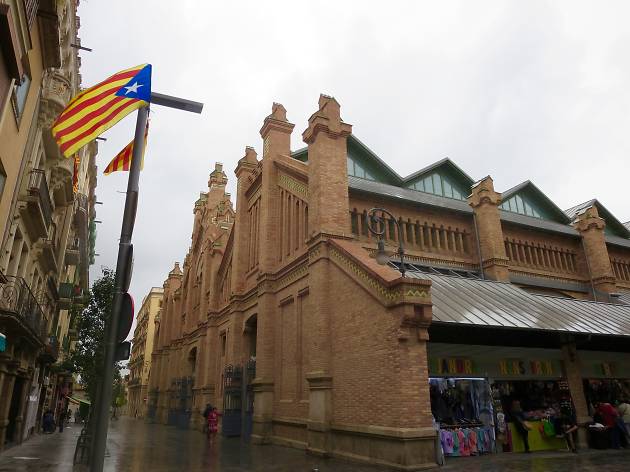 Mercat de Sants
Located in the neighbourhood of Sants, near Montjuïc, Mercat de Sants is another example of stunning modernista architecture; a large and spacious brick building with ornate details and charming original features. Inside it has a surprisingly modern feeling, its high vaulted ceiling providing a light and roomy atmosphere. The stalls offer the usual fresh produce as well as several counters where you can buy ready-made meals and snacks such as pastas, croquettes, empanadas and salads.
Neighbourhood: Sants-Montjuïc
Carrer de Sant Jordi, 6
Plaça de Sants (M: L1, L5)

Opening hours:
Mon 8am-2.30pm; Tue-Fri 8am-8.30pm; Sat 8am-3pm; Sun closed
Where to eat:
Arrom. Swing by Arrom to pick up some exquisite charcuterie and cheese, or stop and take a seat at the counter for a sandwich, prepared before you, with delicious fillings including Iberian ham, pork or a selection of cheeses.
6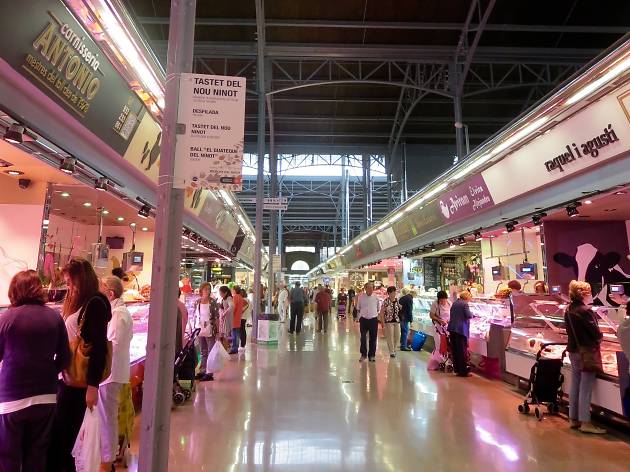 Mercat del Ninot
Having reopened in May 2015 after a five-year refurbishment period, El Ninot has a much more modern feel than some of the other markets. It's spotless and spacious; the cavernous roof that covers the stalls below is constructed from steel and glass, creating a light and airy atmosphere. Even during the busy lunch hour, there's still enough room in the wide aisles for all of the many customers cruising the stalls to find something to eat.

Neighbourhood: The Eixample
Carrer de Mallorca, 157
Hospital Clínic (M: L5)
Opening hours:
Mon-Sat 8am-9.15pm; Sun closed
Where to eat:
The Res. A small bar tucked in a corner of the market, it's best-known for its charcuterie, and serves delicious tapas and a variety of other dishes. The 'croquetas de jamón' (ham croquettes) are particularly delectable.
7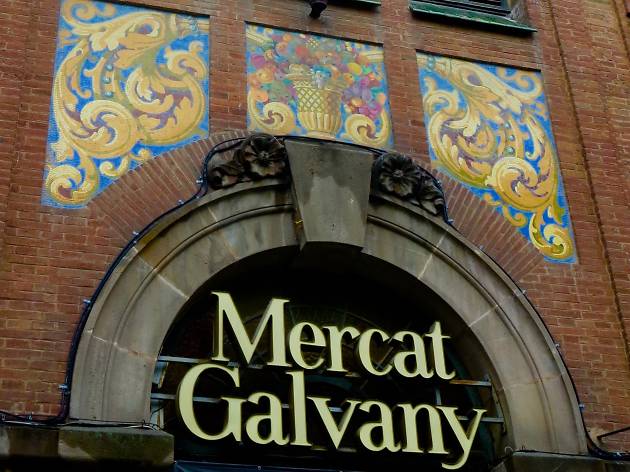 Mercat de Galvany
A Sarrià-Sant Gervasi neighbourhood favourite, Galvany differs a bit in style from many of the typical Barcelona markets. In place of the usual steel and wood or glass construction, this market is housed in a beautiful brick building that resembles a village hall or church. This image is completed with a couple of small stained-glass windows, although the elaborate mosaicked depictions of fruit over the main door are the most attention-grabbing elements. Inside you'll find an impressive display of high-quality produce from cheese and charcuterie to spices and sushi. It may not be the biggest market in town, but you can get everything you need here with the bonus of lovely surroundings.
Neighbourhood: Sarrià-Sant Gervasi
Carrer de Santaló, 65
Diagonal (M: L3, L5)

Opening hours:
Mon-Thu 7am-2pm; Fri & Sat 7am-2.30pm; Sun closed
Where to eat:
El Café del Galvany. Join the locals who've been frequenting the market for years and grab a snack at this little bar. Take a break from shopping and soak up the ambience.
8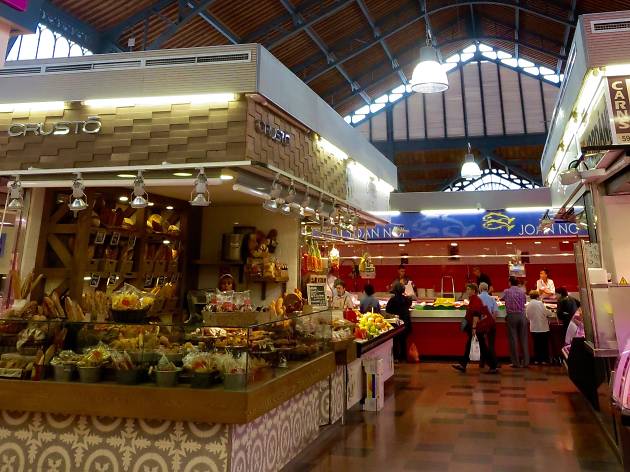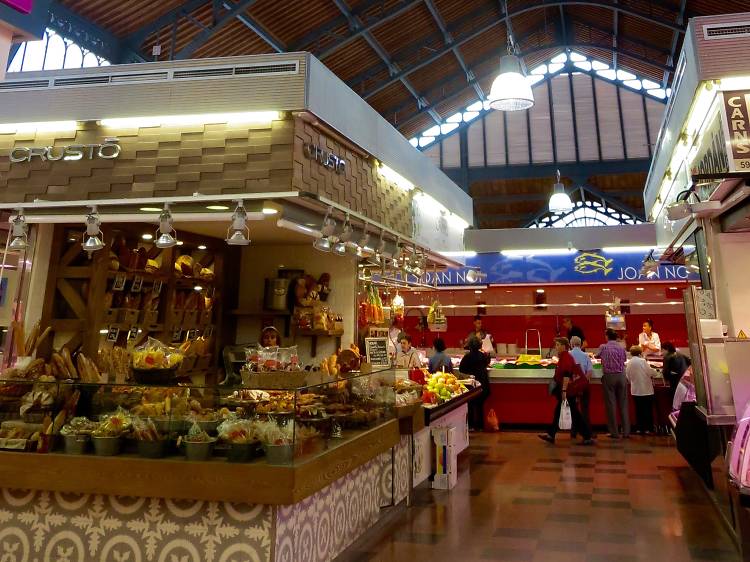 Mercat de la Llibertat
La Llibertat is slightly more intimate and has a local, village market feel to it. There are fewer stalls around the outside of the market and instead the intricate, metal ornamentation above the doors and on the roof draw your eyes upwards. Inside you'll find a Bonpreu supermarket as well as the fresh food stands. Seafood stalls are particularly prevalent here; indeed the stock of one is so fresh you can watch it as it crawls around its tank.

Neighbourhood: Gràcia
Plaça de la Llibertat, 27
Fontana (M: L3)

Opening hours:
Mon-Fri 8am-8.30pm; Sat 8am to 3pm; Sun closed
Where to eat:
El Tast de Joan Noi. Savour exquisite fresh fish cooked to perfection right in front of you at this popular bar.
La Pubilla. Not inside, but nearby the market, La Pubilla's take on traditional dishes made with fresh market ingredients are highly recommended.
9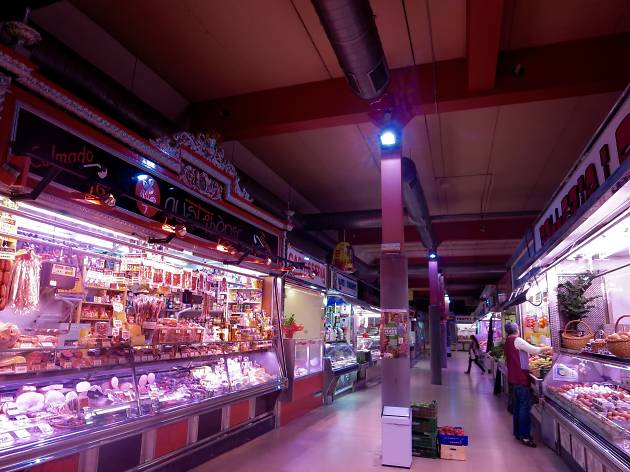 Mercat d'Hostafrancs
Further down the road from the Mercat de Sants, Hostafrancs is perhaps the most eclectic market in the mix. Round the outside are various bargain clothing, accessories and homeware stalls and, whilst the inside does focus on foodstuffs, you'll also encounter the occasional stand selling other goods. Upstairs there's even a stationery shop selling paper products, pens, books, toys and more.. In short, you can find pretty much everything on your list at this market.
Neighbourhood: Hostafrancs
Carrer de la Creu Coberta, 93
Hostafrancs (M: L1)
Opening hours:
Mon-Thu 7am-2pm, 5.30pm-8pm; Fri 7am-8pm; Sat 7am-3pm; Sun closed
Where to eat:
Bar del Mercat. Stop by this counter for some tapas, traditional dishes and sweet or savoury pastries, all made with produce from the market itself.
10
What immediately strikes you on first visiting L'Abeceria is the incredibly varied street art covering the shutters around the perimeter, each painted by local street artists, creating a bright and intricate mural. The shutters cover the stalls surrounding the outside of the market; these sell clothes, homeware, leather goods and other assorted merchandise. Inside is dominated by fresh produce, including a central fish section. Visit the market in the morning to join the locals of the Gràcia neighbourhood and their shopping trolleys congregating to do their daily food shop, bantering with the vendors and gossiping with friends.
Neighbourhood: Gràcia
Travessera de Gràcia, 186
Fontana (M: L3)

Opening hours:
Mon-Thu 7am-2.30pm, 5.30pm-8pm; Fri 7am-3pm, 5pm-8.30pm; Sat 7am-3pm, 5pm-8pm; Sun closed
Where to eat:
Il Cafè di Pietro. Situated just in front of the market, this bar serves a selection of excellent sandwiches.
Read more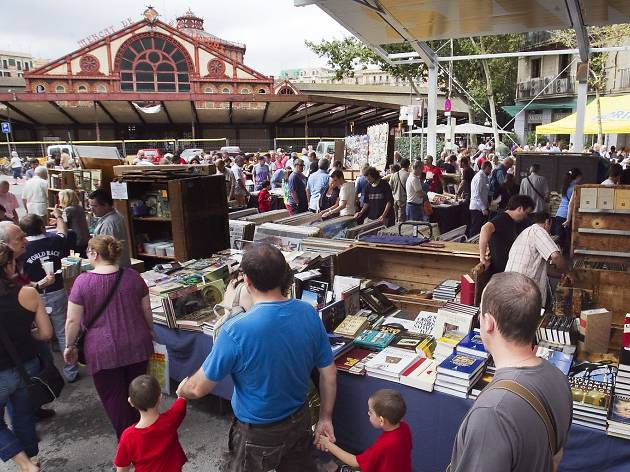 Mercat de Sant Antoni (reopening soon...we hope)
Although the eye-catching building of Mercat de Sant Antoni is currently under construction, it's worth a visit when it eventually reopens for its extensive mix of stalls and ornate structure. In the meantime, it's still a must for bookworms due to its huge, long-standing second-hand book fair held outside the market every Sunday. There's also currently a clunky temporary structure housing the food stalls.

Neighbourhood: Sant Antoni
Carrer del Comte d'Urgell, 1
Sant Antoni (M: L2)