Shopping Barcelona: Christmas gift ideas
Be inspired by unusual gifts in Barcelona's shops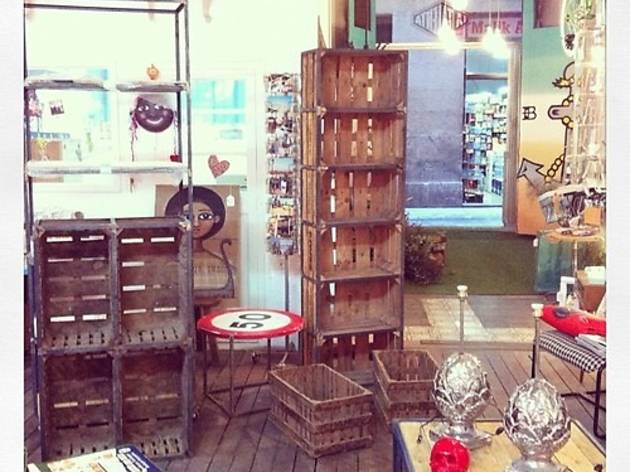 We've come up with some great suggestions for your Christmas shopping days, where you can buy gifts suitable for everyone on your list from your secret Santa at work to your auntie in Australia. You'll find presents for kids, clothes and accessories, home decoration ideas, art, and more.
If you've got a bit of the Apolo in your blood, you've probably already visited their shop, and if you haven't, you won't want to wait another minute. You'll find wall to wall Apolo merch, but in addition to the usual jackets, tote bags and T-shirts (made in collaboration with Loreak Mendian), you can also pick up albums by local bands, as well as music books and magazines.
Read more
It's hard to tell what L'indiscret is from the street, with its hodgepodge of books, music, clothing, and little pieces of art. What it is is a pop-up store of work by designers, musicians, and independent publishers where what's on offer changes every three months. They also have an active cultural programme, with weekly presentations and gigs by authors and musicians whose works are on sale.
Read more
El Bigote del Sr. Smith is one of the spaces that makes up the heart of culture on C/Joaquín Costa. It's a working art gallery – where artists who don't have space in conventional galleries can make a mark – and it's also a co-working space, a place where workshops are put on, and a small shop that sells Krasznai ceramics  and We Love Colors tights, among other wares.
Read more
Magnesia is a window on the work of artists from around the world, discovered by owner Leticia during travels or while scouring websites. The furniture in the store is recovered, the floor is made of original hydraulic cement tiles, and everything with a price tag on it is dripping with creativity: the Lieke van der Vorst illustrations to the Duermevela bowls, the Brooklyn Rehab ceramics, the Shara Porter patterened cushions and the Depeapa brooches. You're bound to fall in love.
Read more
Federica Sandretti, better known as Lafede, is the creator of this multidisciplinary space – a concept store that functions as a shop, and also hosts brand presentations, concerts, and exhibitions, and even shape-shifts into a studio for Italian architecture. But above all, you should memorise these names: Paco Rueda, Woouf!, and Sheriff & Cherry. If you're on the hunt for clothes, cushions or eyewear, with the added plus of being made by young designers, you've come to the right place.
Read more
Despite its beginnings in 1996 as a bookshop specializing in the Humanities, La Central has become one of the benchmark spaces for readers, authors and publishers. You can find titles on anthropology, architecture and design, art and film, photography, but also collections of poetry and artworks, among others. La Central has one of the best selections of foreign-language novels in Barcelona, with a great variety of books in English, and not just bestsellers or classics. It's also a great spot to pin down hard-to-find editions you've been searching for to add to your shelf.
Read more
Against all logic and common sense in these hard economic times, Primavera Sound has opened its own shop. Located in El Born (C/ Ases 1), it was created with two intentions in mind. The first, more commercially oriented one, is to sell music by Catalan, national and international groups – on vinyl of course – merchandising, concert tickets, books and DVDs. The second is more social: to become a meeting point for music lovers and fans of independent music. Quite a miracle now that shops are closing down and even emblematic establishments are disappearing in the city. At the same time, Primavera Sound has also launched its own recording and management company, El Segell del Primavera.
Read more
Show more