Getaway to Garraf: Exploring sea and land with a look back at the past
This trip takes you to a Roman villa and an Iberian settlement before you venture out to sea and back again to explore a trail on land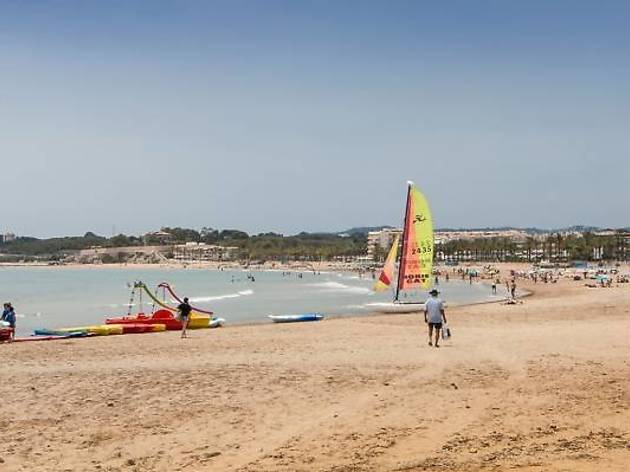 To the south of Barcelona, the county of Garraf was one of the first to become a popular summer destination, particularly the town of Sitges, and today it's still a region with lots to offer visitors. As well as the lovely beaches, there are plenty of other attractions, including the mountainous backdrop, where you can explore the paths and enjoy splendid panoramas, or the multitude of museums and cultural centres. Our suggestions aim to help you to discover another side of the region, with perhaps less well-known sites away from the crowds.

IN COLLABORATION WITH BARCELONA ÉS MOLT MÉS AND THE DIPUTACIÓ DE BARCELONA

Afternoon day 1: The Darró archaeological site
Spend your first afternoon in the region's capital, Vilanova i la Geltrú, which has several interesting possibilities for the visitor. Today you're going somewhere you've likely never been before: the Darró archaeological site, situated to the west of the Passeig Marítim and spanning both sides of the railway line as well as occupying the Sant Gervasi hill. Before going, we suggest you make a reservation by calling 93 815 42 02.
Between the fifth and first centuries BC, an Iberian settlement was located here, and then a Roman villa occupied the site until the fourth century AD – nearly a thousand years of ancient history in a single spot. Initial excavations began in the middle of the 20th century, but they became more continuous and methodical as of 1983. The digs mean that today you can observe parts of the settlement occupied by the group of Iberians known as the Cessetani, and discern dwellings, cisterns, silos, drainage channels and metallurgic furnaces. During Roman times, a villa was constructed here that used some of the Iberian works to its advantage. So you start your getaway in Garraf with a journey back in time.
Our recommended excursion for today is ideal during spring or summer. To admire the beaches of the Garraf from the sea and to cool off a little, it's hard to resist spending an entire day enjoying the waves, sun and refreshing sea spray. If you prefer to spend hours stretched out dozing on the sand, we respect that and wish you sweet dreams. But you might be interested to learn that there are dozens of different ways to enjoy the Mediterranean. Kayaking, sailing on a catamaran, recreational fishing, canoeing, waterskiing, jet-skiing, windsurfing, diving... whatever strikes your fancy. The choice is yours, and it won't be hard for you to find sailing schools and nautical clubs, including the Estació Nàutica in Vilanova i la Geltrú, or other companies along the shoreline offering these and other activities, complete with all the necessary equipment and safety measures.
If you happen to be visiting in autumn and would prefer a land-based activity, there are also plenty of organisations offering excursions where you can hunt for and pick wild mushrooms. That way, you can explore some of the wooded terrain in this county as well.
Day 3: Canyelles-Olèrdola-Puig de l'Àliga
After your day on the water, you're back on terra firma and, if it's not too hot, you'll head out from your accommodation equipped with provisions, water, hats, sunglasses, sun cream, and especially comfortable shoes. There are several trails around Garraf, so you can select one according to your preferences, your fitness level and the amount of time you have available. As an example, we suggest a 13km trek of medium difficulty.
The route in question is circular (apart from a slight detour), so you can set off from wherever is most convenient. You could start in Canyelles, where the castle will catch your attention as you first stroll around the village. Although its foundations were laid in the 15th century, it was progressively added to in several subsequent stages. Today it's a private home and has been declared a Cultural Asset of National Interest.
Next you head toward the Pla del Bosc, a wooded plain dotted with farmhouses and vineyards. Shortly afterward, the path leads upward until you're high up enough to look back and enjoy views of the places you've just come from. Then take the path toward Olèrdola, which takes you into a different county – Alt Penedès – which is also a worthwhile incursion. Once the capital of Penedès, Olèrdola is possibly one of the most historically important sites in the region due to its archaeological finds. The trail you're leads to Sant Miquel Mount, with its buildings and ruins from different periods and one of the branches of the Archaeology Museum of Catalonia.
You could take a look at modern Olèrdola, but you still have a way to go on your route, so double back a little and follow the signs to Puig d'Àliga (Eagle Hill). With a height of 465 metres, this is an emblematic and popular location for walkers, offering generous views of the Penedès and Garraf regions up to the Pyrenees. On a clear day, it's not unusual to see the mountains of Mallorca from here. When you've stilled your mind and satisfied your soul, continue on the path that will take you to Canyelles once more and, when you're ready, it's time to pack up and head home after two and a half enjoyable and active days in the Garraf.