Festa Major de Gràcia 2017: Daily programme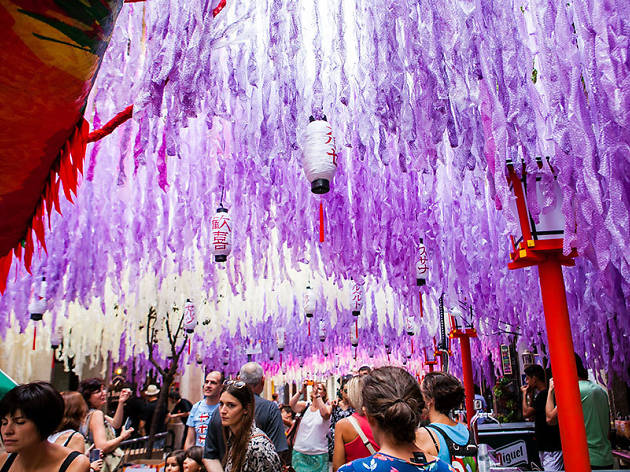 This summer the neighbourhood of Gràcia gets dressed up like never before, because it's celebrating the bicentennial of its Festa Major, one of the favourite street festivals of the year, as much for locals as for visitors who come through for the festivities. From August 15 to 21 you'll find a massive programme of activities for all tastes filling the streets and squares of Gràcia with music, food and parties, including concerts, fairs, 'correfocs' ('fire runs'), dances and things to do for kids. And of course you can't miss the traditional decorating of the main streets in the barrio just for the occasion.

You can find the full guide online (in Catalan only).

Monday 14
Every Festa Major worth its salt starts off with a bang. So Monday the 14th at 6.30pm, drummers mark the beginning of the party in a parade that starts in Plaça de la Vila, where local actor and writer Agnès Busquets also reads the opening speech, accompanied by actor and journalist Roger de Gràcia, at 7pm.

Tuesday 15
Starting at 8am, early birds can join in the party in C/Maspons with explosive firecrackers and bangers to kick off the festival, followed by a neighbourhood breakfast. Throughout the day you'll find activities for all in the Placeta de Sant Miquel, from a sudoku championship at 6pm to a music creation workshop and face painting for children. Don't forget to head down Travesía de Sant Antoni at 7pm, where you might just find your summer love at speed dating. At night there's a rumba barbecue in Plaça del Poble Romaní at 8pm, and if you want to get your body moving after that, at 10pm get yourself to the open class of lindy hop in 'Swing Square' (Plaça del Diamant).

Wednesday 16
Are you a fan of juggling but you've never found the time to try your hand at it? Well, this Wednesday is your big chance thanks to the Maxi Shows workshop at 11am in C/Perill. Spend a tranquil and traditional afternoon listening to habaneras with Mar Brava in C/Puigmartí, and later, in Plaça de la Revolució, there's a jaw-dropping magic show with Pòker de Iaies. At 6pm take a guided tour of the old air-raid shelter in Plaça del Diamant. Cinephiles will enjoy an open-air showing of cult classic The Rocky Horror Picture Show at 10pm in C/Mozart.

Thursday 17
If you've got the kids with you, check out the storytelling (in English!) in C/Verdi, a family workshop on the Basque musical instrument 'txalaparta' in 'Folk Square' (Plaça del Sol), snacks for children in C/Fraternitat, and also in C/Fraternitat you'll find a game where the little ones star in a story themselves. Of course there's plenty to do for the grown-ups as well, including a poetry slam at 7.30pm in C/Perill, a workshop on cakes from KeMadalenas at 6.30pm in C/Berga, and a concert in C/Jesús with Banda Reggae playing big reggae hits.

Friday 18
Tradition calls on Friday when the 'castellers' (human tower builders) are the stars of the day, with local faves, Castellers de Gràcia, doing the Baixada del Pilar Caminant – this is a walking human tower! – from Plaça del Sol to Plaça de la Vila (7.30pm). Once in Plaça de la Vila, you'll see 'castells' (the human towers themselves) built by groups of castellers: Castellers de la Vila de Gràcia and La Colla Jove Castellers de Sitges. Just afterwards, if you're up for some international fare, the Tasta Gràcia space in the Jardins de Manuel Torrente gardens is putting on Cena Europa ('European Dinner') with dishes from Italy, Greece, Catalonia, Portugal and Denmark. Earlier in the day, there's a chocolate feast in Plaça del Poble Romaní at 5pm and a family-friendly yoga session in C/Jesús at 10am.

Saturday 19
Saturday morning wandering around Plaça de la Vila de Gràcia you'll bump into the Gegants de Gràcia (giants) strolling around, and in the afternoon it's the venue for the big castellers party of this year's Festa Major, featuring the casteller groups Xiquets de Reus, Castellers de Vilafranca and Castellers de la Vila de Gràcia. Earlier in the day you can cool off with a water balloon fight at 11.30am in C/Joan Blanques de Baix de Tot (the bottom of C/Joan Blanques) and an interesting workshop on urban gardens in C/Jesús at 10.30am. Cocktail fans will want to head to C/Berga on Saturday for a course on gin and tonic pairings at 8pm – but be sure to have booked your spot in advance.

Sunday 20
More fun ways to escape from the heat are on the bill today with a pool and water games at 11.30am in C/Llibertat, and an hour later, there's a foam party in C/Berga. At 5.30pm, you and the kids can catch a puppet show from masters of the craft La Puntual in Placeta de Sant Miquel. At the same time, in C/Maspons there's an original event called 'Escape with Gràcia', an escape room game for the whole family. And rounding out a day full of laughs is an improv show with Nòmades Teatre Crític de Gràcia in C/ de Progrés at 9pm.

Monday 21
It's the last day of the Gràcia festival, but there's still plenty to do, including a musical vermouth session, featuring Adeline singing in C/Joan Blanques de Baix de Tot, the popular Festa Major Gimcana obstacle course in C/Tordera at 6pm, and of course, the correfoc, which lights up at 10.30pm and goes from Sant Domènec, along Sant Pere Màrtir, Pere Serafí, Ros de Olano, Torrent de l'Olla, l'Or, Verdi, Perla, Torrijos, Travessera de Gràcia, Torrent de l'Olla, Diluvi, and then to Plaça de la Vila.

And to bring the entire Festa Major de Gràcia 2017 to a resounding close, at 2am it's the final raucous send-off with firecrackers and bangers that puts the exclamation mark at the end of the festival. Until next year!