Barcelona by bicycle
Want a great way to get to know the city? Rent a bike!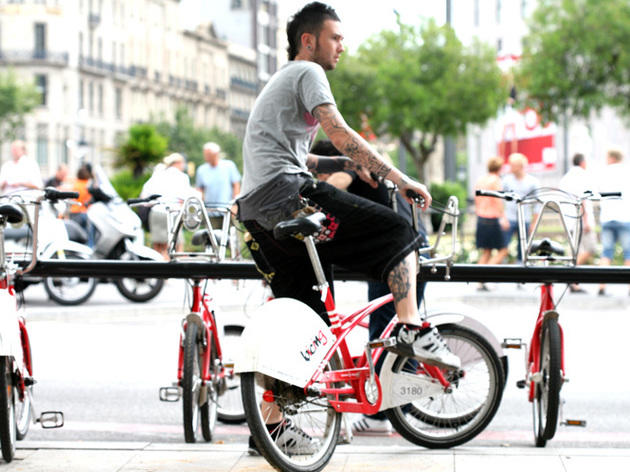 Don't think your only options for getting around Barcelona are by a crowded tour bus, an expensive private tour or even public transport. Get outside when the weather's just right, see the sights in your own time, and get to know the city close-up. Though the Bicing bikes you see all around the city are for residents to cut down on car traffic, there are plenty of companies that hire out bikes by the hour or by the day. We give a list of some to keep in mind when you're itching to get out on two wheels.
Bicing is Barcelona's version of the public transport concept available in many European cities. By paying an annual fee of €46.46 (though the city government is considering a significant increase) members of Bicing get a card they can use to take a bicycle from one of the terminals placed all over the city. The first 30 minutes are included in the fee, but if you exceed that time limit, you'll have to pay 73 cents for every extra half hour. The bikes cannot be used for more than two hours in one journey, and once you've arrived at your destination, you must leave it at the nearest terminal.

If you're a city resident, you can sign up at the Bicing website (www.bicing.cat) or in person at their offices in Plaça de Carles de Pi i Sunyer, 8. Bicing operates 365 days a year, 24 hours a day (except Mon-Fri, when the stations are out of service between 2am and 5am). There are plenty of companies dedicated to both hourly bike rentals as well as organised bicycle tours to help you get to know the city. Here are our picks among the bunch.

Taller Bicicle
This is one of the cheapest options for renting bicycles by the hour or day at €5 for two hours or €54 for one week, and it's also a great place to get your own bike repaired.

Vilamarí, 80. At the corner of Corner with Consell de Cent. Tue-Sun 10am-2pm, 4pm-8pm. 93 424 91 06. www.tallerbicicle.net

Barcelonabiking.com
They've got urban, highway and mountain bikes for hire (€5 an hour for urban bikes) and they also do guided tours in Barcelona's main barrios, mountain tours and specialised tours for business groups. From the third day on, you pay just €7 per day.

Baixada de Sant Miquel, 6. 656 356 300. www.barcelonabiking.com

Biciclot
Down by the beach, on Passeig Marítim Barceloneta, you'll find Biciclot, where they rent bicycles by the hour (€5) or the day (€63 for a week), and they have discounts for groups, children and students. Their guided tours, starting at €22, have themes such as tapas or Gaudí, and they'll also let you customise your own.

Passeig Marítim Barceloneta, 33. 93 221 97 78. http://bikinginbarcelona.net

BornBike
If you decide to hire a bicycle from BornBike, they'll provide you with a map of the city with all the must-see spots marked and the necessary information provided to make sure you don't miss a thing. The tours they put together are similar to others, but if after doing one of those you'd like to keep discovering the city on your own, BornBike will give you a discount on one of their two-wheelers. Two hours will cost €6 and they also have tandem bicycles. A tapas tour will cost you €28.

Marquesa, 1. 93 319 00 20. www.bornbikebarcelona.com

Un cotxe menys
Located in the Born, Un cotxe menys ('One Less Car') not only hires out bikes (€5 per hour, €10 for half a day, €15 for a full day) and does tours in Barcelona, but they also organise tours throughout Cataloniaa (Olot, Terra Alta, el Delta de l'Ebre, among others). Olympic Barcelona, historic Barcelona and Modernist Barcelona are just some of the routes you can find on their website, along with specialised gymkhana courses.

Esparteria, 3. 93 268 21 05. www.bicicletabarcelona.com

Segway Barcelona
If you like the idea of two wheels and being outside, but you're not so keen on pedalling around all day, you might be up for a guided tour by Segway, those electronic, two-wheeled scooter that you stand on. The Barcelona Segway Tour (€59) and the Barcelona Segway Tour XXL (€79) pass through iconic barrios like Barri Gòtic, Barceloneta and the Eixample. They also offer a tour through Girona at €70 per person. Another option is the Segway Packs, which range from €70 to €80 and include a Segway tour and another tourist activity, such as tapas, a spa visit or dinner at the Hard Rock Café.

Baixada Caçador, 6. 933 104 108. barcelonasegwaytour.com/es/segway-tours.html

ePTV Bikeboard
Here their speciality is the sale, rent and distribution of electric vehicles with two or three wheels: electric mopeds, electric bicycles, electric scooters and more. Hiring a vehicle for one hour costs between €6 and €25, depending on the type and model. They also offer guided tours through Barcelona at www.bcnetours.es for about €20 to €60. If you're not fond of the routes they offer, you can design your own, whether it's for one, two or 20 people.

Ramón Turró, 5-7. 932 218 61. www.eptv-bikeboard.es/