Heads up! We're working hard to be accurate – but these are unusual times, so please always check before heading out.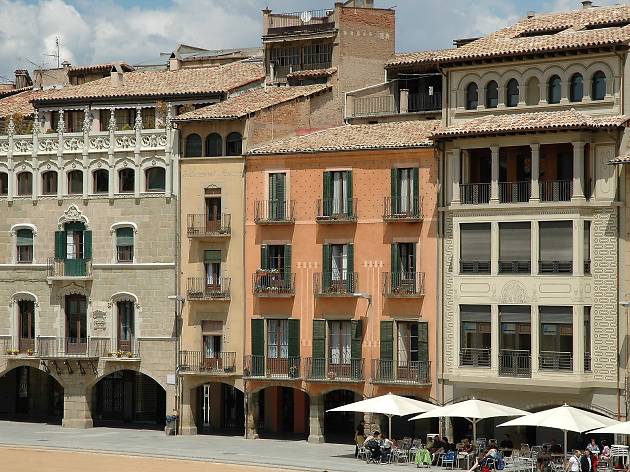 Getaway to Osona: Charcuterie and cycle routes
Explore Calldetenes, Tavertet and some of the treasures of Vic
The opportunities offered by a region like Osona are endless, with a bounty of natural attractions, charming villages, activities and gastronomy. Given the impossibility of exploring them all in only 48 hours, we've decided to concentrate on just a few places. For example, Calldetenes, which is located just two kilometres from Vic, the capital of the region, and which offers excellent views of the Vic Plain as well as Tavertet, a charming village that's a site of National Cultural Interest.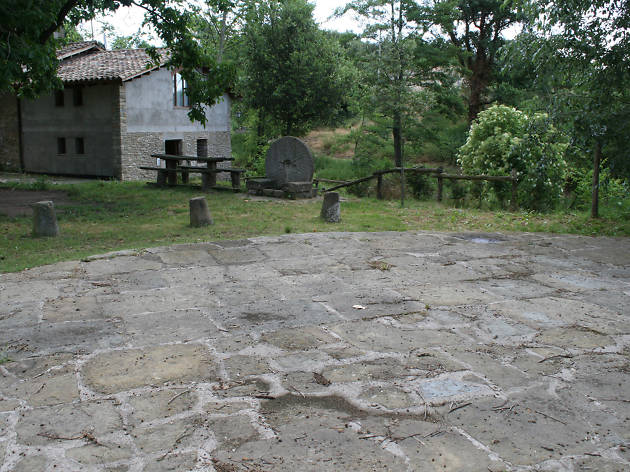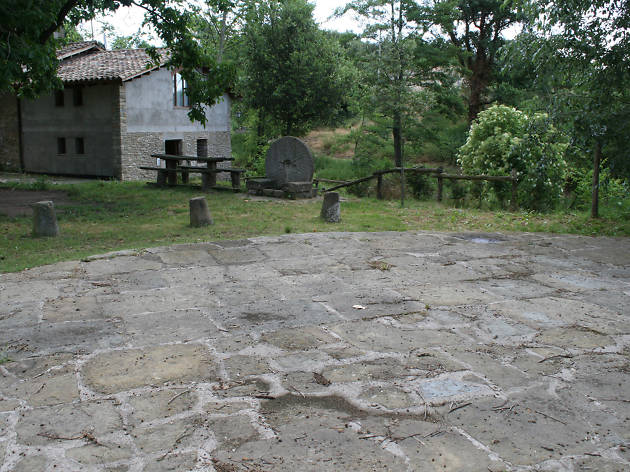 Calldetenes
is one of the smallest villages in
Osona
. It's located a stone's throw away from Vic and that means that its hilltops, such as San Marcos (580 metros), offer splendid views of the Vic Plain. Here and on the surrounding hills you can observe the geological composition of the land, which is marked by the presence of grey-blue rock called the marl of Vic, or dead rock, due to its lack of consistency – it dissolves almost like sugar in hot coffee – which gives the landscape its unique, water-carved appearance. Walk around the streets of Calldetenes, explore the Romanesque church of San Martín de Riudeperes, and take a (previously booked) guided tour of the 12th-century
Calvaria Flour Mill
. You'll also be happy to know that Calldetenes is a village with an abundance of good restaurants.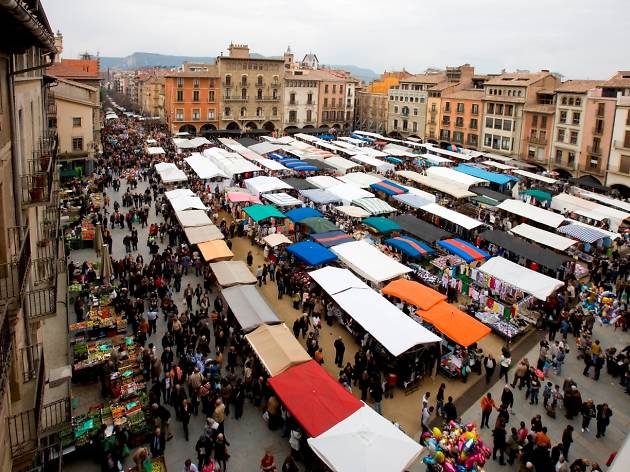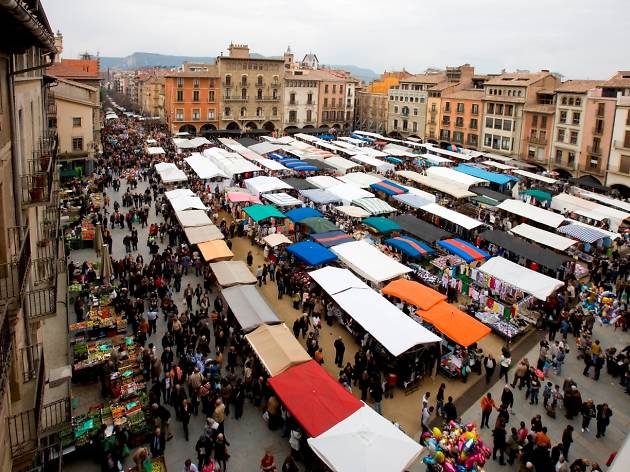 Day 2: A visit to the market
Saturday is market day in Vic, and we're not talking about just any market. The one here is one of the most popular and iconic markets in Catalonia and has been held continuously since the 9th century. Its stalls are set up all around the magnificent main square, which, with its elegant buildings and porches, is the nerve centre of the city.
You'll be spending the rest of the day in Vic, exploring some of the city's treasures. First head to the Cathedral, set in the heart of the old town centre. Surviving from the original 11th-century construction are the Romanesque bell tower and crypt. The rest of the building makes up a journey through the history of European art, with examples of Gothic, Renaissance, Baroque and Neoclassical styles. Art experts point to the Gothic cloister, the Gothic alabaster altarpiece by Pere Oller, the Baroque chapel of Sant Bernat Calbó, and the mural decorations by Josep M. Sert, which date from the last century.
Finish your day in Vic with an original and fun activity. While the Cathedral is one of the city's artistic and cultural treasures, its gastronomic treasures include a large variety of charcuterie. During your morning visit to the market you saw plenty of cold sausages for sale and probably gave way to the temptation of buying at least a 'fuet' sausage or two. But have you ever tried making a cold meat sausage? At Ca la Teresona (a charcuterie founded in 1837) you can make your own sausages, and even learn how to label them with your name. You can later follow the drying process from home on the FuetCam, and go to pick up your personalised sausage a short time later.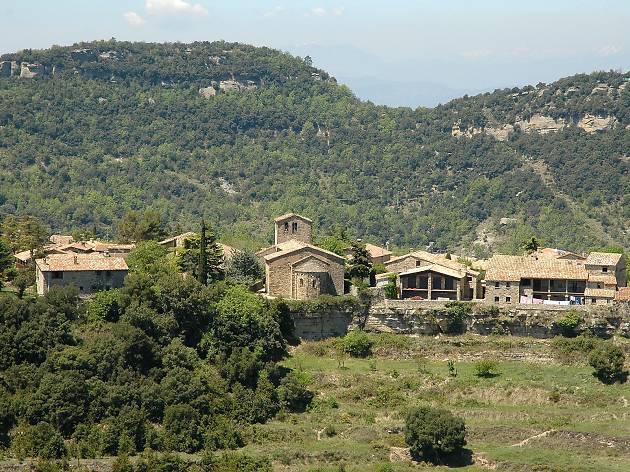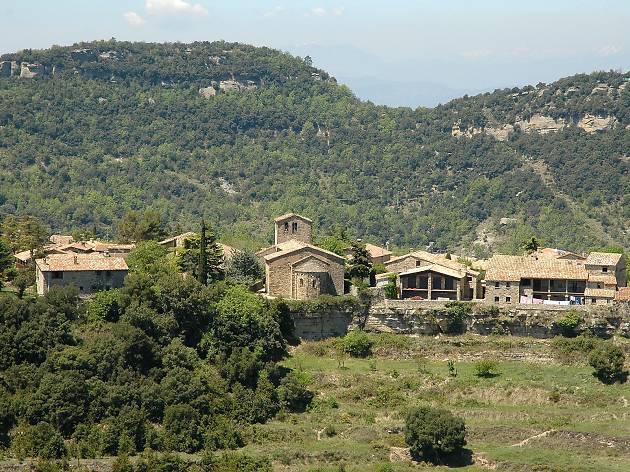 It's the last day of your visit to Osona and it's time to do some exercise; the region offers dozens of cycling routes for a range of abilities. If you like the idea of mountain biking but are not particularly fit, or if you simply want to take things easy, a short and simple trail is Route 01, Tavertet - Pla del Castell - Tavertet, which is relatively flat and only a little over 7 km long. It will take you to some interesting spots in the Collsacabra range, including viewpoints of the castle and the Sau Reservoir. That leaves you a few hours to visit a beautiful village called Tavertet, a site of National Cultural Interest, located at the top of vertiginous cliffs overlooking the River Ter. With its lofty views, isolated position and abundance of houses dating from up to 400 years ago, it seems that time has stood still here, and visitors often report a pleasant feeling of freedom. Perhaps that's why an association devoted to interculturalism and spirituality has set up its headquarters in the village. Now, with fresh air in your lungs, the memory of stunning views in your mind and feeling spiritually refreshed, it's time to begin your journey home.