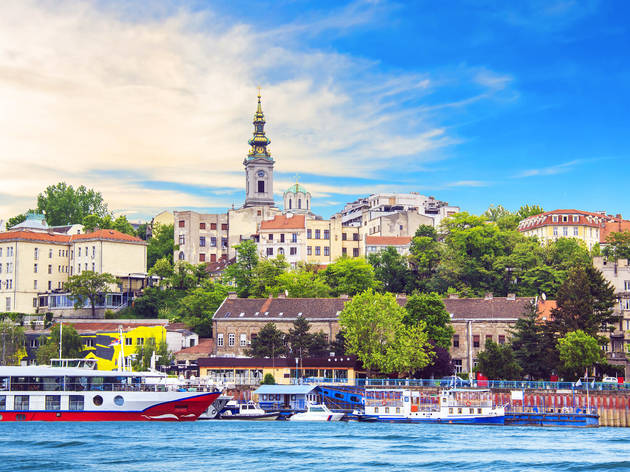 Essential Belgrade: kebabs, fruit brandy and floating clubs
Want to ace your trip to Belgrade? Here are all the bars, clubs, restaurants and attractions you must visit
What's the deal with Belgrade?
Besides producing a world tennis legend in Novak Djokovic, southeastern Europe's landlocked Serbia has plenty to show off about. Tourism is rising thanks to Exit Festival in second city Novi Sad, but word is also spreading about the capital, Belgrade, and its status as a year-round party city. It might not be classically beautiful, but you'll still get the views thanks to its conjoining rivers that cut across the city, the Sava and the Danube – and these rivers are home to splavovi, floating river clubs. Plus, the city has no shortage of bombed-out buildings transformed into postcommunist clubs, unusual bars and creative hubs. Before you hit the town, line your stomach with hearty Serbian cuisine and have a shot or two of national drink rakija, a fruit brandy that's consumed like water on any occasion.
If you only do one thing
Belgrade Fortress might be the top tourist attraction, but it's number one for a reason. Inside the former defensive outpost you'll find Kalemegdan Park, a zoo, a dinosaur park, a military museum, a Roman well (it's not Roman and it doesn't have any water in it) and hidden Ružica Church, with its chandelier made from bullets.
Belgrade Fortress. Photograph: Shutterstock
Dine in style
Thanks to its riverside location, Stara Carinarnica gets some of the city's best seafood. Try smuđ, catfish and carp in an old customs house that looks as if time has stood still since it was built in 1723. Or check out Ambar: its lunchtime menu of unlimited Balkan small plates costs 1,950 Serbian dinar (around £14.50).
Eat on the cheap
Belgraders seem to have a hankering for hangover food (probably to help power through all that partying). Local delicacies include pljeskavica (the hamburger's illegitimate brother) at Loki, ćevapi (like a Serbian kebab served with chopped onion and sour cream) from To Je To and a banging breakfast burek (essentially a breakfast burrito but with flaky pastry) from bakery Pekara Čarli.
Drink like a local
Head to Kafeterija: a one-stop-shop complete with a barber, a playroom for kids and a shop for beans to take home. When the sun sets, trade caffeine for rakija at Rakia Bar, where they have more than 100 flavours.
A splav in Belgrade. Photograph: Flickr / lab604
Stay up late
Pre-drink at Cetinjska, a cluster of bars, breweries and music venues surrounding a disused car park. Make your next port of call riverside clubbing hotspot Klub 20/44 (aka 'the boat') or the abattoir-turned-brutalist club Drugstore.
Soak up the vibes
Wander around Belgrade's markets and get a feel for how the locals shop. A labyrinth of stalls showcase everything from organic vegetables to street food and bric-à-brac. The biggest is Kalenić Farmers Market, but the Zeleni Venac neighbourhood's striking architecture and views makes its market worth a look in too.
Get cultural
The Nikola Tesla Museum explores history while honouring the late inventor, one of the region's most important figures (just ask Elon Musk). KC Grad is a cultural powerhouse that functions as a home to workshops, exhibitions, dining and nightly music events.
Exit Festival. Photograph: Wikimedia Commons / Bernard Bodo
Take a day trip
Time your trip to coincide with Exit Festival, which takes place at the start of July in Novi Sad's Petrovaradin Fortress. Only an hour's drive away from the capital, start at Novi Sad's public square Trg Slobode and then amble around Dunavska Street to see pretty pastel bookshops, boutiques and cafés.
Hang out in this 'hood
One of the city's oldest neighbourhoods, Dorćol, is one of its most exciting, with an indie, artsy vibe and a bit of that watery life, since it's split by the Danube. Start the night with cocktails at D Bar and then take things up a gear at Bure Baruta karaoke bar. Sleep it all off at one of the area's most popular bistros Smokvica, which doubles as a B&B (and the second 'B' is magnificent).
Only in Belgrade...
Make a splash at the year-round parties on floating river clubs called splavs (short for splavovi). Dance until the early hours at the likes of Hot Mess, Shake 'N' Shake and Lasta.
After more travel inspiration?
Europe is king when it comes to city breaks. With just a couple of days to spare, it's possible to immerse yourself in a completely different culture, different landscape, different climate. Of course it's popular – so be prepared to book accommodation up to six months ahead.