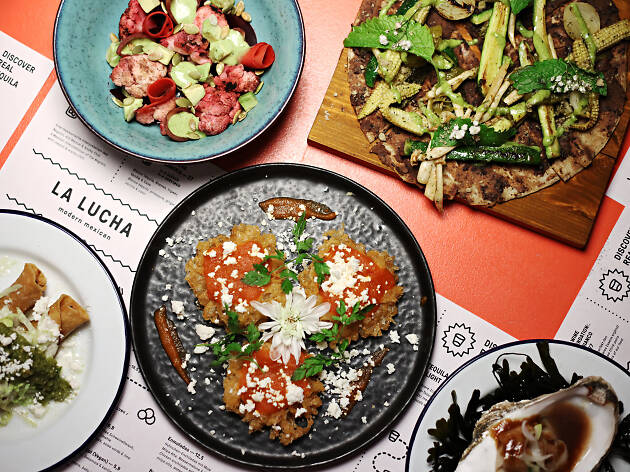 The 12 best places to get brunch in Berlin
Berlin's jumped on the brunch bus with a smattering of excellent openings. Here's where to head for brunch in Berlin
Berlin's usually the first to jump on any bandwagon. But this trend-obsessed city is only just waking up to the brunch revolution that swept other metropolises half a decade ago. From fried chicken to tabbouleh, high-quality cold cuts to gourmet vegan doughnuts, finding a good, generous, genuinely exciting brunch in Berlin has never been easier.
The secret to its mid-morning meal success? The German capital's long been a magnet for expats from around the world, and so many of its restaurants, markets and brunch spots aim to offer a taste of home to weary travellers. And we must say some of their worldly spins on regional classics put the originals to unfortunate shame. Whether you're feeling hung over from last night or not, pig out (and chill out) at one of the very best brunch spots in Berlin. Just remember to get out and see the city at some point too.
RECOMMENDED: Full guide to the best restaurants in Berlin
Best brunch in Berlin
Photograph: Brammibal's Donuts
What is it? Vegan doughnuts dressed to the nines.
Why go? It's no surprise vegans flock to Berlin, and Brammibal's Donuts makes the pilgrimage all the more worth it. Stocked with freshly coated vegan doughnuts to pair with dairy-free flat whites in Insta-friendly pink cups, the three locations are hotspots for Berliners hoping to indulge their sweet tooth or enjoy a just-toasted bagel. Come early; the stock is known to run out by midday when it's sunny.
Price: Mid-range
Photograph: Southern Vittles
What is it? Berlin's first taste of soul food.
Why go? Fresh from Knoxville, Tennessee, Craig Vega's bringing the soul back to Berlin. His menu at Southern Vittles is a list of heavy hit after heavy hit: delectable hushpuppies, crisp green tomatoes, and everyone's favorite fried chicken with waffles. The race to be Berlin's best fried chicken is a close one – but Southern Vittles pulls a clear victory.
Price: High-end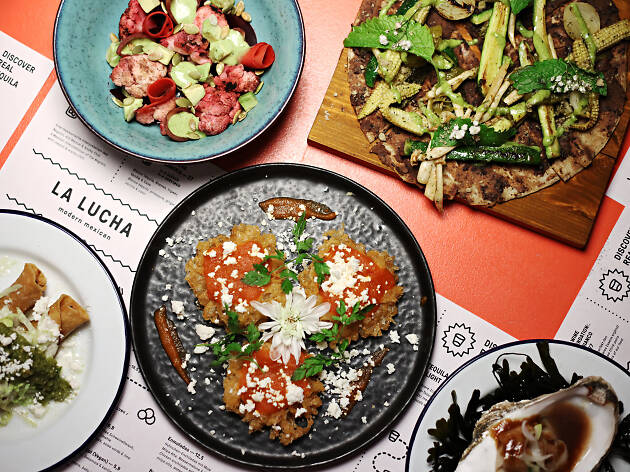 Photograph: La Lucha
What is it? Mexican sharing platters served all day long.
Why go? Though La Lucha's been around for a year or two now, their weekend brunch menu is a more recent addition. It comes with the same zesty tacos and fresh guacamole that's made it a mainstay on Berlin's Paul-Lincke-Ufer, but be sure not to miss the tear-apart sharing platters (think dirty nachos, fresh surf and turf, and a divine Mexican take on the Full English). Go for a pitcher of the house tamarind-chilli Margarita and plan to stay for a second – brunch is served well into the evening every Sunday, so take your time and order another round.
Price: Mid-range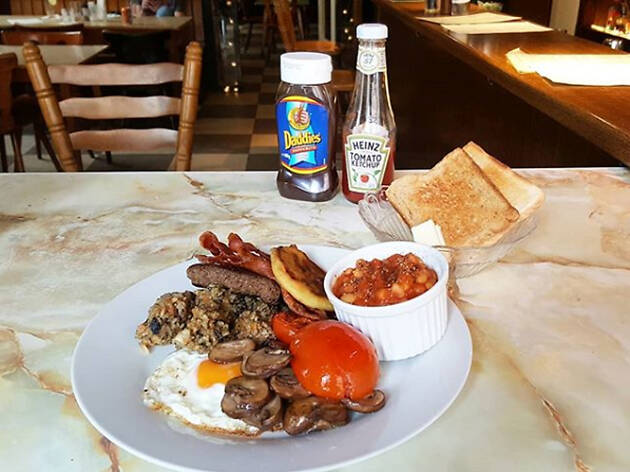 Photograph: Das Gift
What is it? Scottish flavours in the heart of Neukölln.
Why go? Many miss the sounds, sights and scents of home. And for Scots in Berlin, Das Gift's monthly brunch is where to get a glimpse, whiff, taste – and so much more – of home. Serving hangover-friendly fry-ups, fresh pancakes and BLTs, this Scottish pseudo-pub packs out for its brunch on the first Sunday of each month. Curl up in the cosy backroom or find a seat on a benches outside, then grab an Irn Bru for the full authentic experience.
Price: Mid-range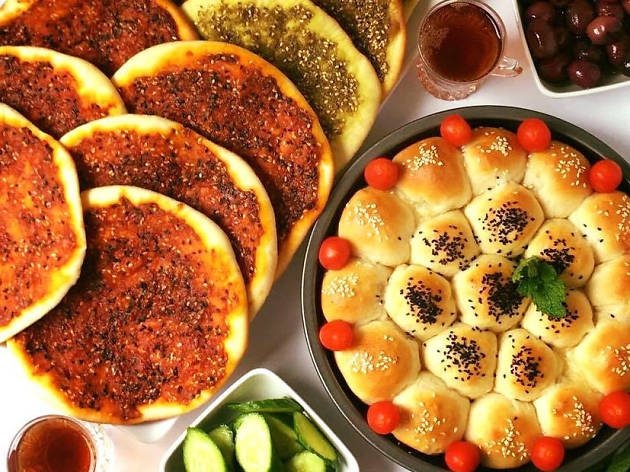 Photograph: Azzam
What is it? Locally renowned hotspot for a hearty Lebanese brunch.
Why go? Berlin's rich with kebab shops and hummus by the ladle, but Lebanese takeaway Azzam gives its competition a run for their money. Swing by for a brunch of delicately seasoned tabbouleh, the chunky chickpeas of a musabaha plate, or the fatteh, in which deep-fried pita chips are drizzled with a sweet, tangy mix of cashews, yoghurt, and spices.
Price: Budget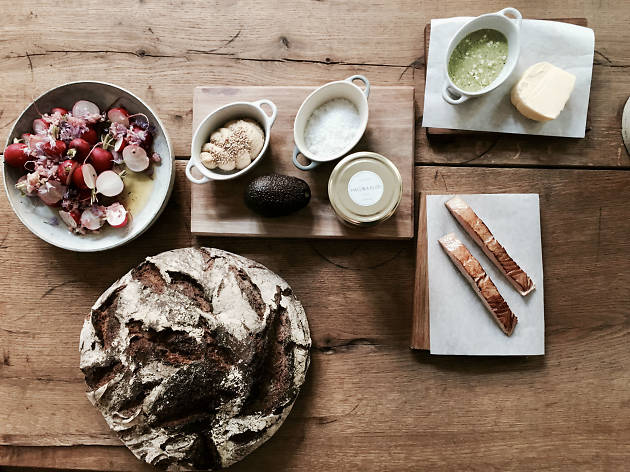 Photograph: Hallmann & Klee
What is it? Classic German brunches for a refined palette.
Why go? There's a simplicity to the classic German brunch platter of cold cuts, sliced cheese and hearty bread rolls, but no one nails it quite as well as Hallmann & Klee. Paper-thin slices of cured meats come paired with a fragrant smattering of hard cheeses, as well as a fresh assortment of pestos and pastes to adorn the in-house bakery's offerings. It's a bit pricier than the typical Neukölln breakfast spot, but well worth it if you take your time and make the most of the meal.
Price: Mid-range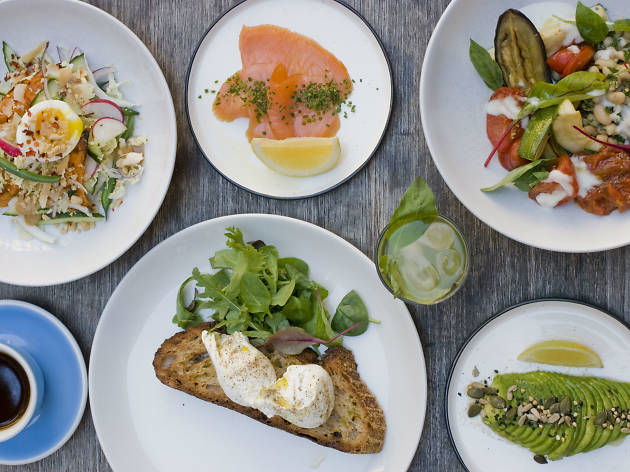 Photograph: Father Carpenter
What is it? A busy courtyard oasis in the city's shopping district.
Why go? Tucked away in a quiet courtyard off a busy shopping street, Father Carpenter is a little-known foodie wonder in Berlin's city centre. With a menu lush with pastries, sandwiches and tempting toasts, try to nab a courtyard table in the summer – the line for a seat in the sun's been known to outdo Berghain's queue when the weather's nice.
Price: Mid-range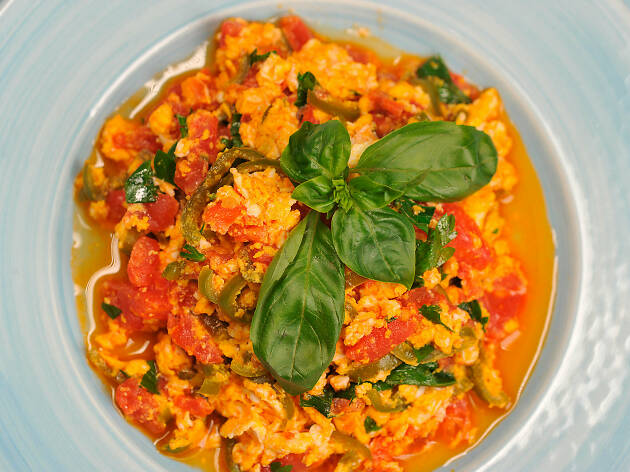 Photograph: Shutterstock
What is it? Turkish meats for a savoury treat.
Why go? With plenty of Turkish joints spread across the city, La Femme stands out as one of Berlin's best. Tear into a plate of cheese and relishes with a few fresh simits – circular sesame-seed breads – or try the menemen, a traditional dish of scrambled eggs with any number of toppings from tomato and spinach to olives and garlic sausages.
Price: Budget
Photograph: Silo Coffee
What is it? One of Berlin's first brunch superstars.
Why go? For years, Berlin lagged behind in the brunch department; Australian-owned coffeehouse Silo shook the city out of its droll rut to the tune of fresh baked eggs and avocado toast. Pop by for a dose of third-wave coffee or for hearty French Toast made with fresh brioche and poached apples, then swing by the Sunday flea market around the corner.
Price: Mid-range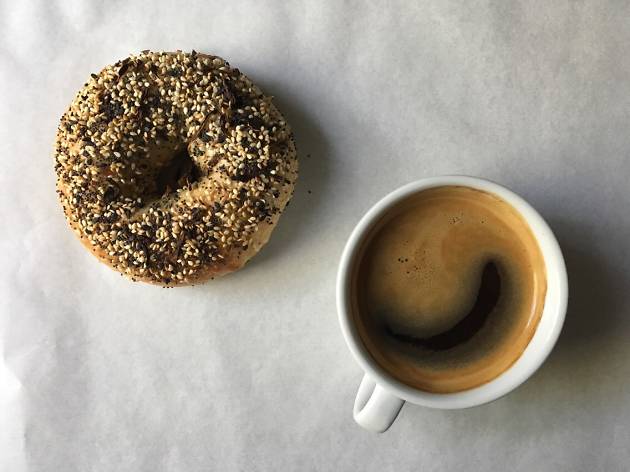 Photograph: Fine Bagels
What is it? A fine taste of New York.
Why go? Hand-rolled and boiled, the New York-style bagels at Fine Bagels in Friedrichshain are the best in the city. The shop is also home to one of Berlin's most extensive collection of English-language books for sale, so cosy up in a window seat with a weekend read and be sure to try something from the extensive list of schmears.
Price: Budget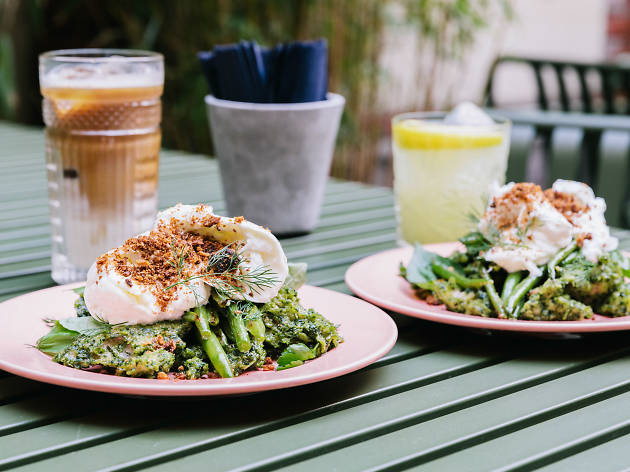 Photograph: Hallesches Haus
What is it? High-end brunch with decadent pastries.
Why go? Styled like a high-end outfittery for weary travellers and traders, Hallesches Haus is home to a menu full of classic scrambles and homemade granola, plus decadent pastries we can't get enough of. Fuel up at the Instagram-friendly café before heading across the canal to sightsee around Checkpoint Charlie or down the road to Bergmannstrasse for shopping.
Price: High-end
Show more
After a one-of-a-kind souvenir?
We don't know about you, but whenever we go somewhere we want to take a piece of it away. By that, we mean an object, something we've picked up that'll help us remember our stay. And the best place to do that? A flea market – of which Berlin offers plenty.