The 11 best places to get brunch in Berlin
Germany's party-hard capital knows how to refuel the morning after: here are the top places to get brunch in Berlin.
From high-quality cold cuts to ornate vegan doughnuts and from fried chicken to tabouleh, the best brunch in Berlin scene is simmering with cheap and tasty bites for the discerning eater. The city is a cultural hub and home to people from all over the world, and restaurants and edible offerings are no different—just take a look at the local markets. Dig into a sweet treat, settle down to savour one of Germany's classic breakfast buffets or pop by a market for an on-the-go treat with a street food twist. Feast your eyes on our list for a city-wide survey of what's cooking in the German capital and, when ready to burn off your calories, check out our list of best tours of Berlin.
Best brunch in Berlin
1
Brammibal's Donuts
What is it? Vegan doughnuts dressed to the nines.
Why go? It's no surprise that vegans flock to Berlin, and Brammibal's Donuts makes the pilgrimage all the more feasible. Stocked with freshly-coated vegan doughnuts to pair with non-dairy flat whites out of an Insta-friendly pink cup, the shop is a hotspot for Berliners hoping to indulge their sweet tooth, or to snack on a crisp tempeh-bacon bagel. Come early: the stock is known to run out by midday.
Price: Mid-range
2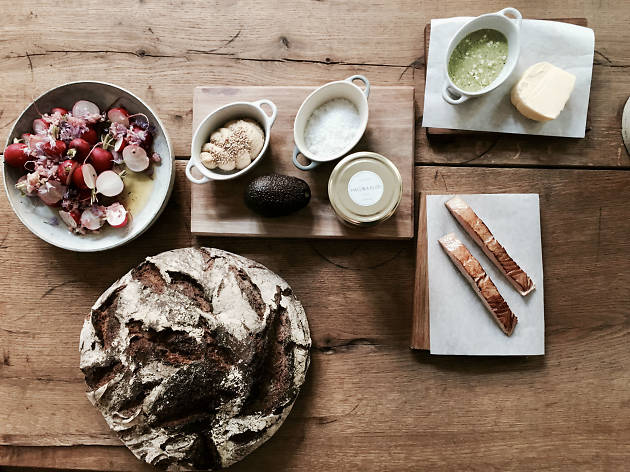 Hallmann & Klee
What is it? Classic German brunches for the refined palette.
Why go? There's a simplicity to the classic German brunch platter of cold cuts, sliced cheese, and hearty bread rolls, but no one nails it quite as well as Hallmann & Klee. Paper-thin slices of cured meats come paired with a fragrant smattering of hard cheeses, as well as a fresh assortment of pestos and pastes to adorn the in-house bakery's offerings with. It's a bit pricier than the typical Neukölln breakfast spot but plan to take your time and make the most of the meal.
Price: Mid-range
3
Silo Coffee
What is it? Berlin's first brunch superstar
Why go? For years, Berlin lagged behind in the brunch department; Australian-owned coffeehouse Silo shook the city out of its droll rut to the tune of baked eggs and avocado toast. Pop by for a dose of third-wave coffee or for a hearty French toast made with fresh brioche and poached apples. Then swing by the Sunday flea market around the corner.
Price: Mid-range
4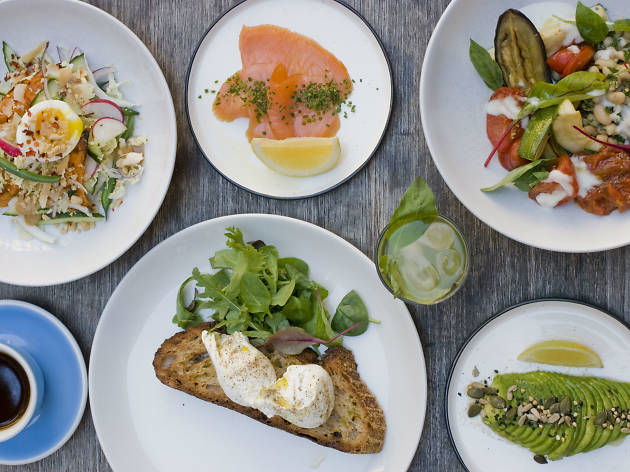 Father Carpenter
What is it? A busy courtyard oasis in the city's shopping centre.
Why go? Tucked away in a quiet courtyard off the busy shopping streets, Father Carpenter is a hidden gem in Berlin's city centre. Here you'll find a menu lush with pastries, sandwiches and tempting toasts. Try to nab a courtyard table in the summer — but be warned, the line for a seat in the sun's been know to outrun Berghain's queue when the weather's nice.
Price: Mid-range
5
Southern Vittles
What is it? Berlin's taste of the Deep South.
Why go? Fresh from Knoxville, Tennessee, Craig Vega's bringing the soul back to Berlin. His menu at Southern Vittles is a list of heavy hit after heavy hit: fresh hush puppies (small balls of deep-fried cornmeal batter), crisp green tomatoes, and everyone's favourite – fried chicken and waffles. The race to make Berlin's best fried chicken is a close on and Southern Vittles' Southern flair pulls a clear victory.
Price: High-end
6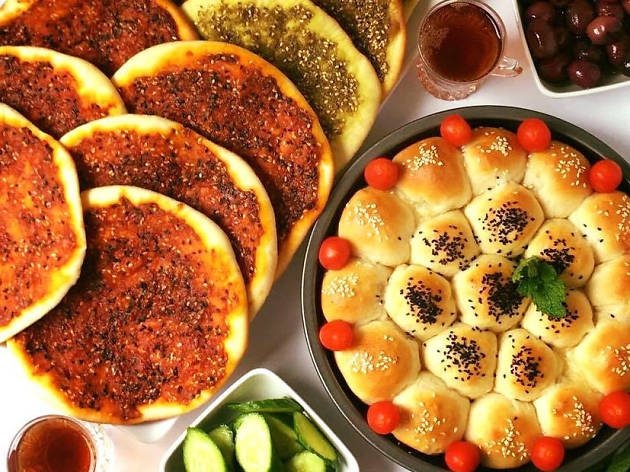 Azzam
What is it? Locally renowned hotspot for a hearty Lebanese brunch.
Why go? Berlin's rich with kebab shops and hummus by the ladle, but Lebanese takeaway Azzam gives its competition a run for their money. Swing by for a brunch of delicately-seasoned tabouli, the chunky chickpeas of a musabah plate, or the fatteh, where deep-fried pita chips are drizzled with a tangy and sweet mix of cashews, yoghurt, and spices.
Price: Budget
7
Picasa
What is it? Neukölln's living room and brunch buffet.
Why go? A hidden gem on a sleepy street in the south of the city, Dritter Raum is the neighborhood's living room. Swing by on a Sunday for a brunch buffet with plenty of vegan options; stay until the evening to watch cult-classic crime show 'Tartort' with the locals.
Price: Budget
8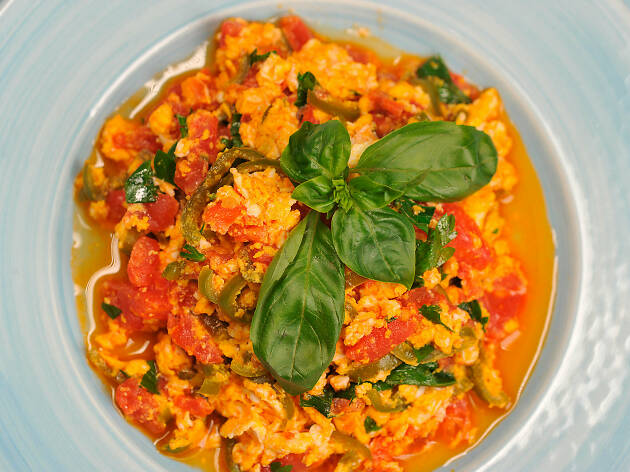 Photograph: Shutterstock
What is it? Turkish meats for a savoury treat.
Why go? With plenty of Turkish joints across the city, La Femme stands out as one of Berlin's best. Tear into a plate of cheese and condiments with a few fresh simits – circular sesame-seed bread – or try the menemen, a traditional dish of scrambled eggs with any number of toppings from tomato and spinach to olives and garlic sausages.
Price: Budget
9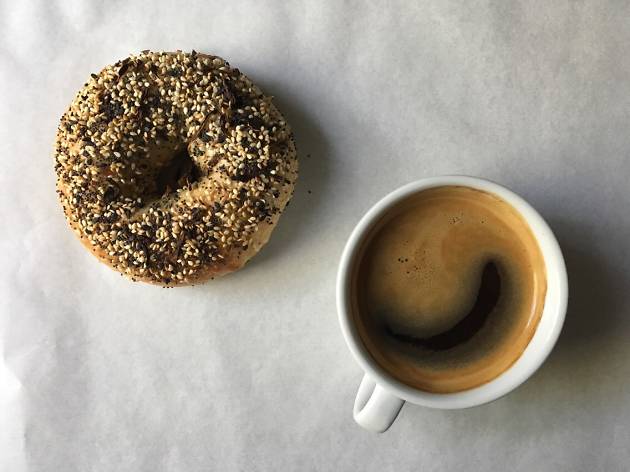 Fine Bagels
What is it? A taste of New York.
Why go? Hand-rolled and boiled, the New York-style bagels at Fine Bagels in Friedrichshain are the best and most varied in the city. (The menu ranges from classics like sesame, rye and poppy seed to sweet treats like cinnamon sugar and honey oat and more unusual choices like poppy egg and rosemary salt.) The shop is also home to one of Berlin's most extensive collection of English-language books for sale, so cosy up in a window seat with a weekend read and be sure to try something from the extensive list of schmears.
Price: Budget
10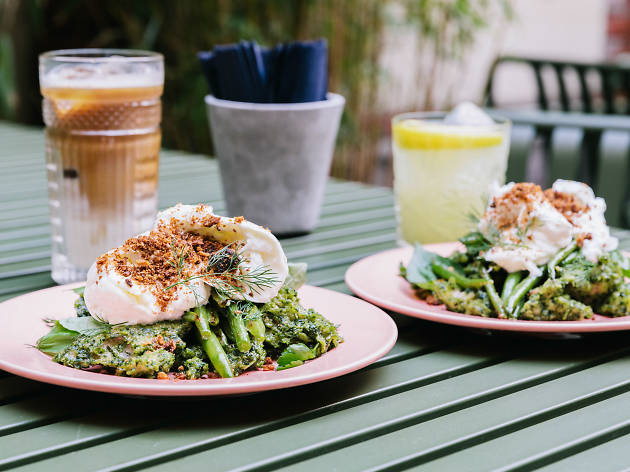 Hallesches Haus
What is it? High-end brunch with decadent pastries.
Why go? Styled like a high-end outfitter for weary travellers and traders, Hallesches Haus is home to a menu full of classic scrambles, homemade granola, and decadent pastries done to the nines. Fuel up at the Instagram-friendly (think house plants galore!) café before heading across the canal to sightsee around Checkpoint Charlie or down the road to Bergmannstrasse for shopping.
Price: High-end
11
Markthalle Neun
Markthalle Neun Brunch Market
What is it? Monthly street food fair with a brunch twist.
Why go? The monthly brunch market at Markthalle Neun is not to be missed. Vendors dealing snacks from South Korea to Sardinia line the halls, passing out on-the-go portions ready to be devoured. Table space is hard to come by, but feel free to take your brunch to-go for a walk in any of the nearby parks. Lausitzer Platz is just a couple of minutes walk away or head a little further and you'll get to the huge City Park with its mini golf course and public swimming pool.
Price: Mid-range
Planning out your days in Berlin?
Shopping, Markets and fairs
Shoppers will find designer clothes, locally-sourced home goods and secondhand spoils all across the city. From the Bite Club's monthly food market, which brings the city's best restaurants into a single space, to the bohemian Boxhagener Platz Market, selling second-hand furniture and old records, the German capital is replete with top-quality markets that will especially be appreciated by those on a tight budget.